Welcome to beautiful Croatia and one of its most stunning parts – southern Dalmatia. It's a landscape characterized by pristine nature, beautiful beaches, and a warm and clear Adriatic Sea. Southern Dalmatian coast is among the most beautiful ones in Croatia and many of its beaches have been proclaimed as some of the most beautiful ones in Croatia and even in the world.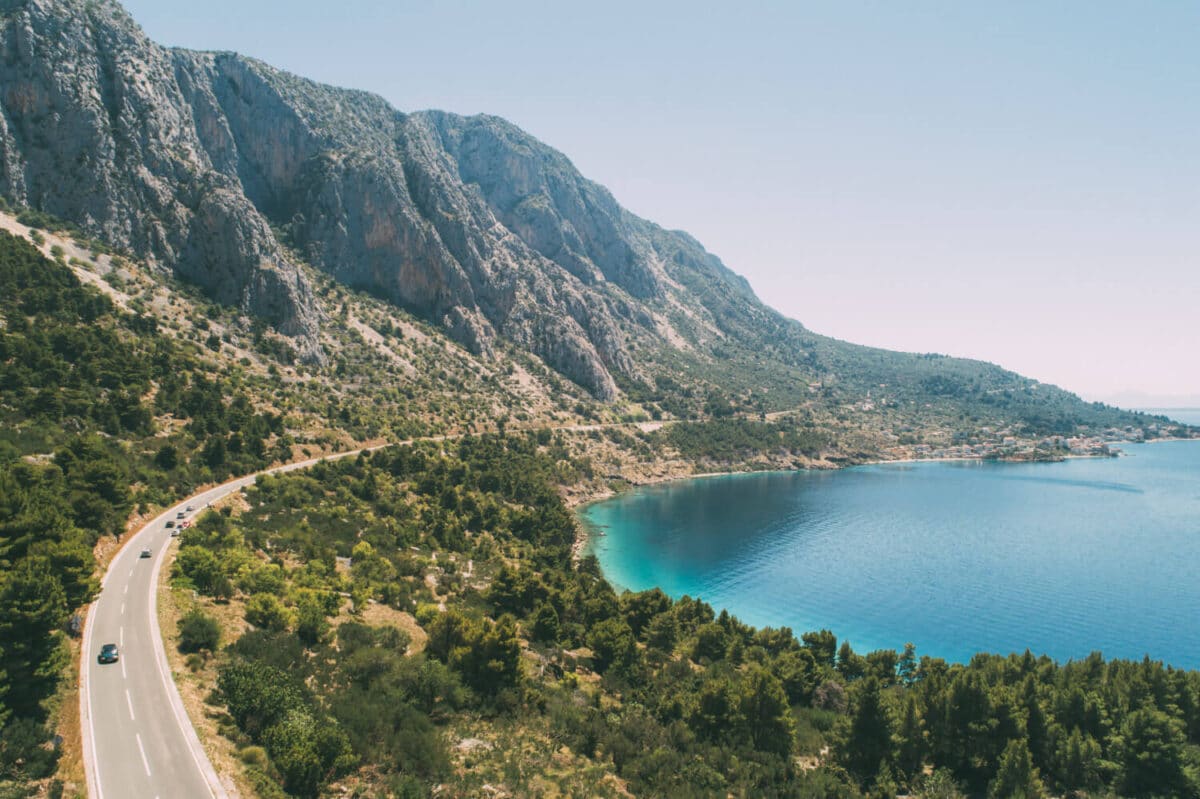 Southern Dalmatian islands, on the other hand, are places of rich biodiversity and a chance to see how life was like back in the time when tourism wasn't the prevailing economic branch. There are still many fishermen settlements, especially on the islands that are farther away from the coast.
We write this guide through southern Dalmatia to give you an image of what to expect of this heavenly piece of Croatia. So let's start our journey through the south of Dalmatia.
what do we mean when we mention southern dalmatia?
In the beginning, we need to define what we mean under the southern Dalmatia term. It's all the coastline and inner part of Dalmatia south of the city of Makarska. Regarding the southern Dalmatian islands, the boundary is drawn to the north of the Brac island.
So, all the landmass south of Makarska and following larger islands: Brac, Hvar, Vis, Korcula, Mljet, and Lastovo. Peljesac peninsula is also the part of southern Dalmatia.
As you already might know, Dalmatia is a much larger region of Croatia, and the main city in central Dalmatia would be Split, while the largest city in northern Dalmatia is the city of Zadar. With that being said, the largest city in southern Dalmatia is Dubrovnik. But we'll talk about the cities later on.
how to come in southern dalmatia
After you have an idea of what southern Dalmatia in this article is, nothing is stopping us to take you into the further exploration of this southern part of Croatia. First of all, how people usually come to southern Dalmatia? Knowing the peculiar shape of Croatia, you might notice that Dalmatia is the farthest region of Croatia for those coming from the western European countries.
Visitors from the neighboring and near countries (Slovenia, Italy, Austria, Czech republic…) usually come by car. They have a solid 10+ hours of driving but it's manageable if you plan your road trip right. The most famous route to come to southern Dalmatia is the main Croatian motorway connecting Dalmatia with the rest of the country. It's also the fastest and most convenient way if you are coming by car. But still, if you have a few hours extra and want to see more of Croatia, we recommend you use regional roads instead.
Another popular way of getting to Dalmatia, especially if you are coming from countries that are far away from Croatia, is by airplane. Flying has never been cheaper and more and more people are visiting Croatia this way. The largest airports in Dalmatia are Split, Dubrovnik, and Zadar airports. After you land in Croatia, we recommend you rent a car and we'll explain why just below this paragraph.
best way to explore
By car. There's no doubt about it. You'll have the most freedom if you choose to explore southern Dalmatia by car. Almost all the places will be at your disposal, it's convenient, it's not so expensive. You'll enjoy it.
Another option is by using public transport, it could be done, but not so easy and it's much more complicated than southern Dalmatia road trip. At last, renting a car will be less expensive than paying for all these public transportation tickets. And when it comes to public transport in southern Croatia, the bus is pretty much the only cheap option.
planning your dalmatia road trip
To get the most out of your southern Dalmatia road trip, you need to have a car and know what places to visit along the way. We'll help you with the best parts and you'll need to rent a car on your own. A good piece of advice would be to choose a proper time of the year for the Dalmatia road trip. As you'll see later in the text, summer might not be the best option.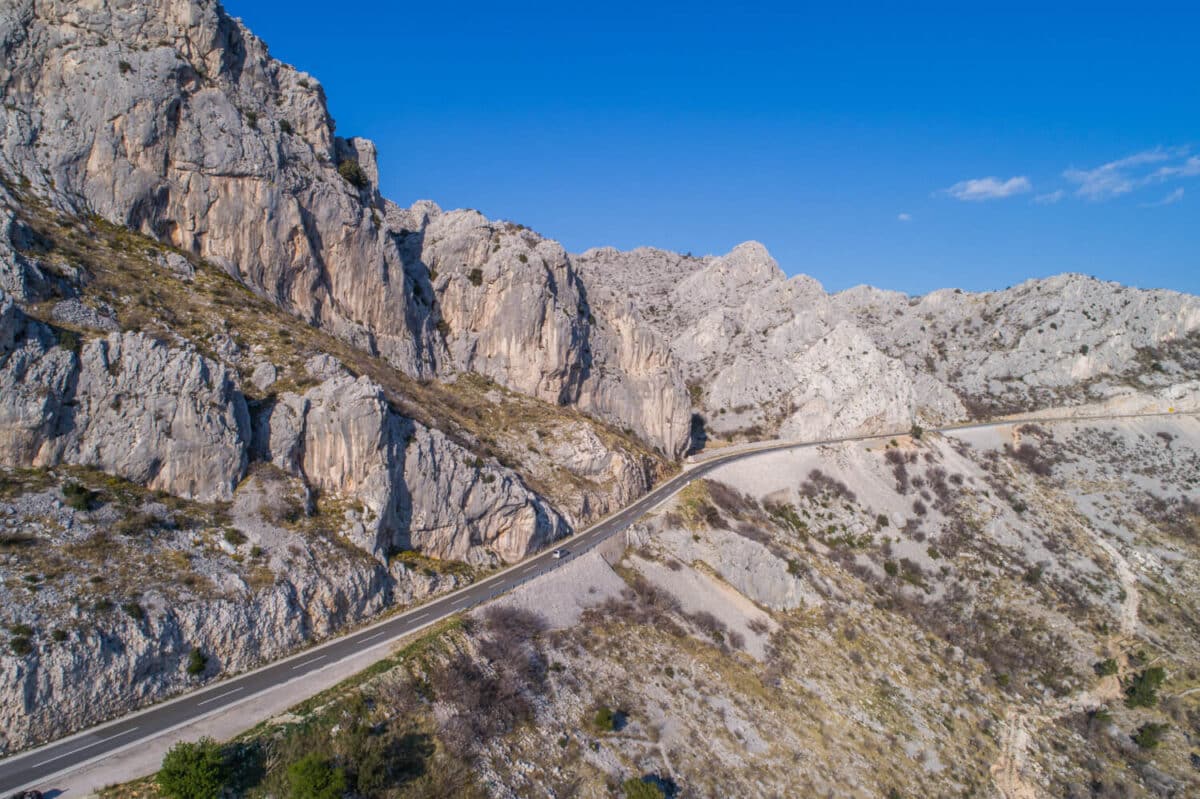 Also, it would be good to make a plan of all the places to stay and visit and calculate how many days you need to do so. You'll have the find proper accommodation along the way. Since tourism is the most developed economic branch in Dalmatia, you'll have no problem with this. However, we recommend you book the accommodation as soon as possible, even before you come to Croatia if that's possible.
crossing the border with bosnia and herzegovina
One thing you must know when planning your Dalmatia road trip is that there is a border crossing on your way to Dubrovnik. We won't get into the details but the fact is that Croatia is split into 2 parts with this border. So to travel further down to Dubrovnik, you need to drive few kilometers through Bosnia and Herzegovina. It's not a problem, but if you are traveling in the summer months you can expect to end up in a queue and waiting for few hours.
The good news is that the bridge to Peljesac is being built and it will connect the Croatia territory in the year 2022. The other way you can avoid this border is if you take the Ploce to Trpanj ferry.
the best time of the year to visit southern dalmatia
Summer is the time when most tourists come and visit Dalmatia. The weather is nice and dry, and days can be somewhat hot to do anything else than lay on the beach. Most of the days are sunny and occasional summer storms don't last long. A pretty good time to visit Dalmatia, don't you think?
Well, yes, but high season is also the time when there are many people around and roads can get congested by all the cars. This doesn't sound like a perfect Dalmatia road trip and it isn't. In July and August, despite the good weather, everything else is a bit harder, you drive on the roads slower, waiting queues are longer, accommodation is harder to find…
Don't get us wrong, Croatia is superb during the whole summer season, it's just we always suggest that you visit Dalmatia in the preseason and postseason period. June and September are also beautiful months, the weather is still warm and the sea is perfect for swimming. And the best part is that everything is less crowded. Try it yourself and visit Dalmatia in September.
natural wonders to experience in southern dalmatia
Now the southern Dalmatia is saturated with beautiful landscapes and natural wonders, just like the rest of Croatia is, but it's somehow special in this part. There are many things to see in a not so very large area.
Starting with the city of Makarska. It's located in the part called Makarska Riviera, one of the most famous parts of southern Dalmatia. Makarska Riviera is a blend of the Adriatic Sea and Biokovo mountain. The beaches of Makarska Riviera are among some of the most stunning ones in Croatia. Driving along the Makarska Riviera is the experience for itself since this route has been proclaimed as one of the most scenic routes in Europe.
Then there is already mentioned Biokovo mountain, one of the largest mountains of Croatia and part of it is a nature park definitely worth visiting. Behind the Biokovo mountain, there is a vast area of Dalmatian hinterland full of places to discover. The most famous and largest city of Dalmatian hinterland is Imotski and 2 famous lakes are situated near it – Red and Blue lake.
Driving further south, the next thing you'll reach is the city of Ploce and Bacina lakes near it. The city of Ploce is an industrial city, but the nature around it is simply mesmerizing. Bacina lakes are a group of 7 connected lakes and it's one of the most relaxing landscapes of southern Dalmatia.
Not so far from Bacina lakes, the unique landscape of Neretva valley is situated. It's the only river delta in Croatia and it's famous for its tangerine plantations. Other than that, this place is full of long sandy beaches that are not so common in Croatia, so you have to visit it if you love this kind of beach. Finally, the Neretva delta is among the most popular places for kiteboarding in Croatia.
Vrgorac city and Jezero Valley are located more inland of the city of Ploce. Jezero valley is the largest vineyard in Croatia with few traditional wine sorts that are among high-quality wines in Croatia. Vrgorac is an old city and it's famous as the birthplace of Tin Ujevic, one of the most popular Croatian poets.
Going more to the south and you reach Dubrovnik coastline. The first larger city you'll stumble upon is the city of Ston, famous for its historic walls. This city is also an entering point to the Peljesac peninsula. But we'll talk about southern Dalmatian islands later in this text. Trsteno Arboretum is definitely a nice place to visit when you go toward Dubrovnik, the largest and most famous city in southern Dalmatia.
Konavle region below Dubrovnik is at the sole south of Croatia and it's a long valley situated in between 2 hills. Konavle has a significant past as part of the Dubrovnik republic. Pasjaca beach is one of the most famous beaches around Dubrovnik.
dalmatia adventure travel and tours
Southern Dalmatia is known as one of the best places for adventure tours in Croatia. There are many adventure options you can choose from for your outdoor experience. Ziplines and rock climbing are among more adrenaline-driven adventures in Dalmatia, while kayaking tours are perfect for exploring the southern Dalmatian coast and southern Dalmatian islands. Hiking to the prominent peaks of Biokovo mountains is a must thing to do if you are a hiking enthusiast visiting Croatia.
We organize or kayaking tours on Makarska Riviera, Bacina lakes, and Neretva valley. Each of these places is perfect for kayaking in Dalmatia. Bacina lakes kayaking tour is among our most popular tours while Makarska night kayaking tour is among the most unique ones.
We always suggest you participate in any outdoor activity along the way and enjoy your holiday in Croatia with full lungs.
southern dalmatian coast and beaches
You already know that the southern Dalmatian coast is among the most beautiful coastlines in Croatia. There are more beaches here than in any other part of Croatia. Most of them are pebble beaches with pebble sizes ranging from rock large as fists to smaller ones, not so larger than the sand.
Many secluded beaches are not so easy to reach, Hvar island is full of these for example. To reach these beaches you need to hike a bit, but it's definitely worth it. Secluded beaches are usually less crowded than the ones located near the tourist places of the southern Dalmatian coast.
The only place where you can find a real sandy beach is the mouth of the Neretva river. It's a place worth visiting even if you don't like swimming at sandy beaches.
southern dalmatian islands
When talking about southern Dalmatian islands, we already mentioned the largest ones: Brac, Hvar, Vis, Korcula, Mljet, and Lastovo. We'll include the Peljesac peninsula in this section too. Brac and Hvar islands are among the most famous islands in Croatia. They are also the closest ones to the southern Dalmatian coast. Both of these islands are very famous tourist destinations and there are many places to visit them.
Vis and Lastovo are islands that are further away from the southern Dalmatian coast, but it's still not too hard to reach them. They are even more unique and traditional ways of life are more preserved than on the islands closer to the shore. Lastovo is also a place of protected nature and one of the less light polluted parts of Croatia. Vis is famous because of its underground military tunnels that were built in the time of the Tito regime and are one of the main attractions of this island today.
Peljesac peninsula is the second largest peninsula in Croatia, right after Istria in the north. You can get to Peljesac either by land or by ferry from the city of Ploce. Ferry option is common among people who don't want to cross the Croatia – Bosnia and Herzegovina border. Peljesac peninsula is also full of vineyards and its wines are among some of the most recognized Croatian wines.
Korcula island is located just across the Peljesac peninsula and you can reach it if you take the ferry from Orebic. The ferry ride is very short and you'll be exploring Korcula in no time. The most famous places of Korcula are old Korcula town, known to be the birthplace of famous traveler Marco Polo, Lumbarda with its beautiful nature and beaches. The rest of the Korcula island is also beautiful.
Finally, we get to the Mljet island which is the southernmost larger island in Dalmatia. The only national park on the southern Dalmatian coast is situated on the island of Mljet and we'll discuss it in the next section.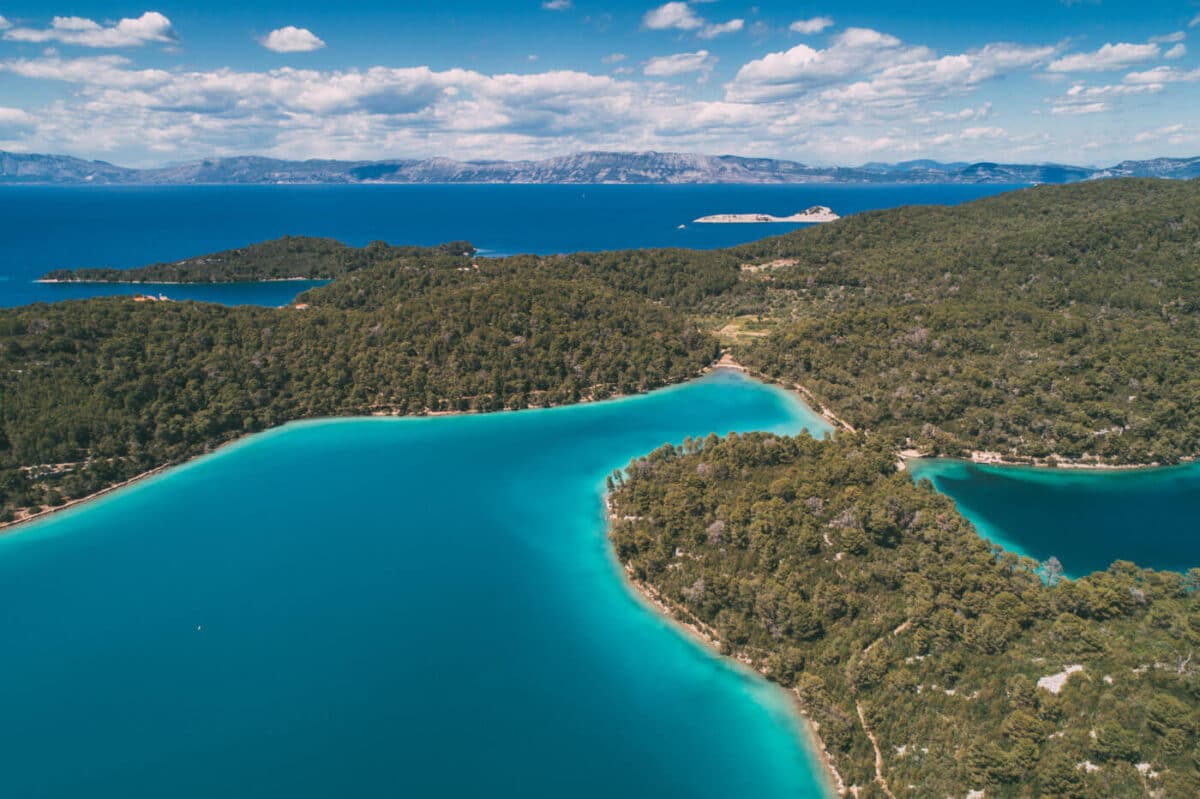 Reaching the southern Dalmatian islands is done by ferry lines and most of these are operated by Jadrolinija. You can find the schedule and ferry prices on their main website.
mljet national park
There are 8 national parks in Croatia. That already tells you enough about the nature of Croatia. However, Mljet is the only national park on the southern Dalmatian coast. We have visited it in the middle of the Coronavirus crisis back in 2020 and we were one of the few people to be at the park on that day.
What a magical experience that was. But it's not only that Mljet national park is worth exploring, the whole Mljet island is beautiful and filled with great places and adventures.
most famous cities in southern dalmatia
And finally, we come to the most famous cities in southern Dalmatia. We'll mention a few of them and these are Dubrovnik, Makarska, Korcula, and Hvar. There are some other cities similar in size, but these are the most visited cities on the southern Dalmatian coast.
Dubrovnik is definitely the most famous city of the Croatian south and maybe of all Croatia. It's famous because of its rich historic past and appearance in the Game of Thrones TV show. It's one of the cities with the most preserved old city cores in Croatia. Dubrovnik is characterized by its stone walls and many tourists come to visit it each year.
Makarska is the largest city of Makarska Riviera. It also has an older city core but not as old as other cities mentioned in this part. Still, it's a pretty famous place to visit when driving along the southern Dalmatian coast.
The city of Hvar is located on Hvar island and it's also one of the most famous tourist destinations in Croatia. It has a very developed marine infrastructure and it's a very popular yachting destination in Croatia.
Korcula city is a small Dubrovnik. It's situated on the Korcula island and it's famous for its old city core and as the birthplace of Marco Polo. It's a place we suggest you visit.