Traveling through Croatia can be a very rewarding experience. In fact, traveling anywhere can be rewarding. But enough with the philosophy, you are here because you want to know how to get from Dubrovnik to Split and is it better to go from Dubrovnik to Split by car or some other transport option. We have traveled this route numerous times and we'll do our best to present you with all the options in the best possible way.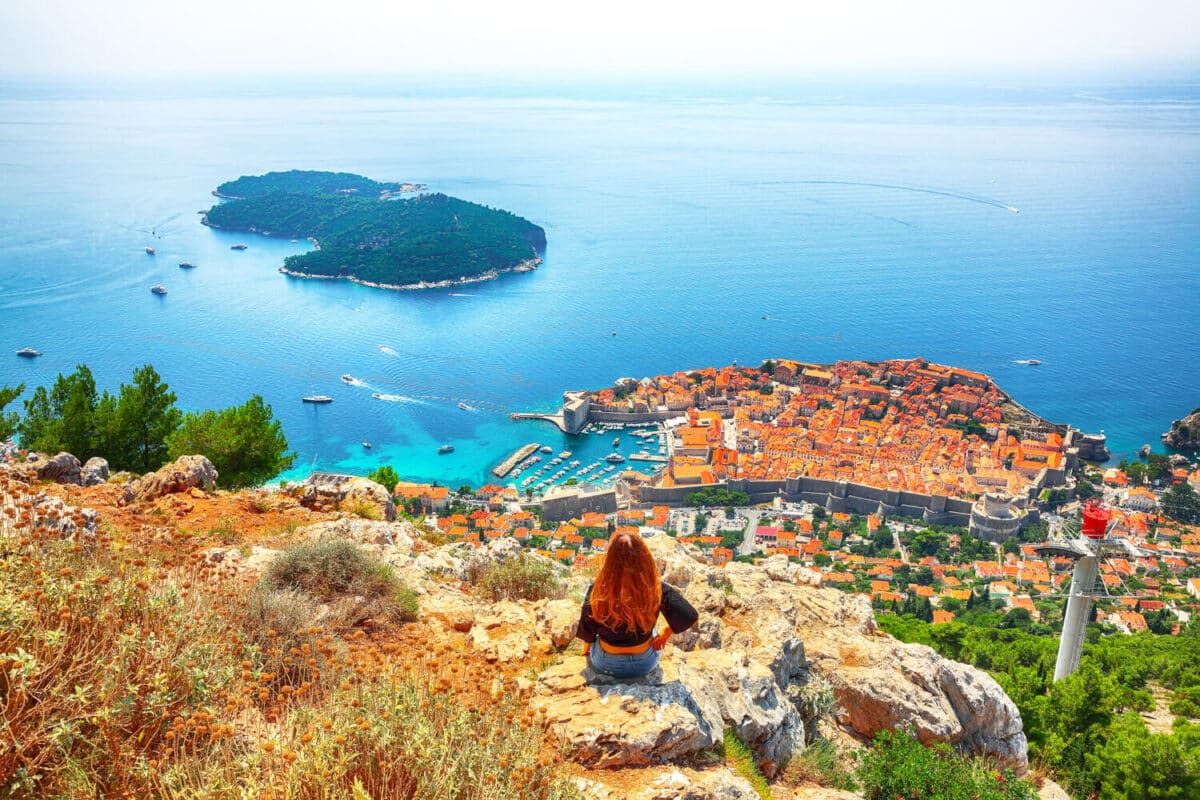 Croatia is a beautiful country. Our national tourist board like to say that we are a small country for a big vacation. And we believe it's true. And you know what else do we believe? That vacation without traveling around isn't a real vacation. We can't imagine flying to one particular place and then spending our whole vacation right where we landed.
We know that there are many kinds of persons and personalities and that's perfectly fine, enjoy your vacation any way you choose. But this article is for all the explorers out there, for people attracted by the road and new experiences. Buckle up, we're starting our journey from Dubrovnik to Split.
arriving at dubrovnik
The first thing you need to do if you want to travel from Dubrovnik to Split is to arrive in Dubrovnik in the first place. You probably know about this old historic city. Everybody has heard about it and there is a good reason for it. Dubrovnik attracts more and more visitors with each passing year and sometimes all the tourists seem to look like a river of people flowing through the streets of Dubrovnik.
Dubrovnik is located in the south of Croatia and it's the largest city in this part. That being said, it's kind of a long drive to reach Dubrovnik by car if you are coming from some of the European countries that are in the north, west, or east of Croatia. A lot of people choose to come to Croatia by car every summer. But when it comes to Dubrovnik, getting there by airplane is the best possible option. It's fast, convenient and many airports are connected with Dubrovnik.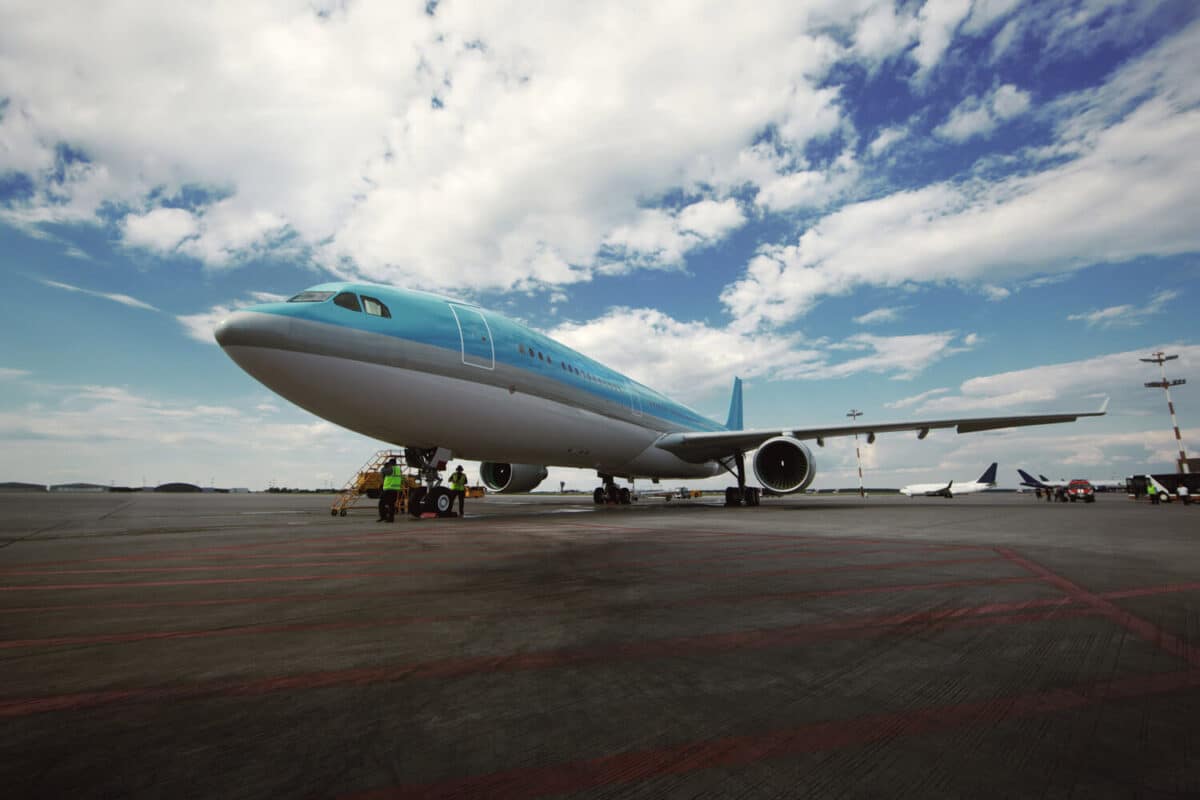 Once you land at the Dubrovnik airport, all the possibilities are open to you. We suggest you rent a car for further exploration. It's not too expensive and it gets cheaper if you book it few months before your arrival in Croatia. We believe that car is one of the best options when it comes to exploring and experiencing the beauty of Croatia.
Even if you don't want to rent a car, there are few more options you can use to travel around. First, you'll need a way to reach the city of Dubrovnik from the airport. You can use either taxi or airport shuttle to do that.
about dubrovnik and the best things to do in dubrovnik
Once you are in Dubrovnik, we suggest you spend few days there before you embark on your journey from Dubrovnik to Split. You'll fall in love with this city immediately. Dubrovnik is the city with one of the most preserved old city cores among all other Croatian historical cities. The city was once the capital of the famous Dubrovnik Republic, a state of skilled merchants and explorers. It was the most developed city in this part of Europe in these past times. Today, Dubrovnik is the leading city when it comes to Croatian tourism.
There are many things to do in Dubrovnik which will broaden your overall experience of this eternal city. The old city core is full of different kinds of museums and just walking through these old parts of the city feels like the walk in the museum. Many restaurants are serving traditional food and we suggest you have dinner at one of these.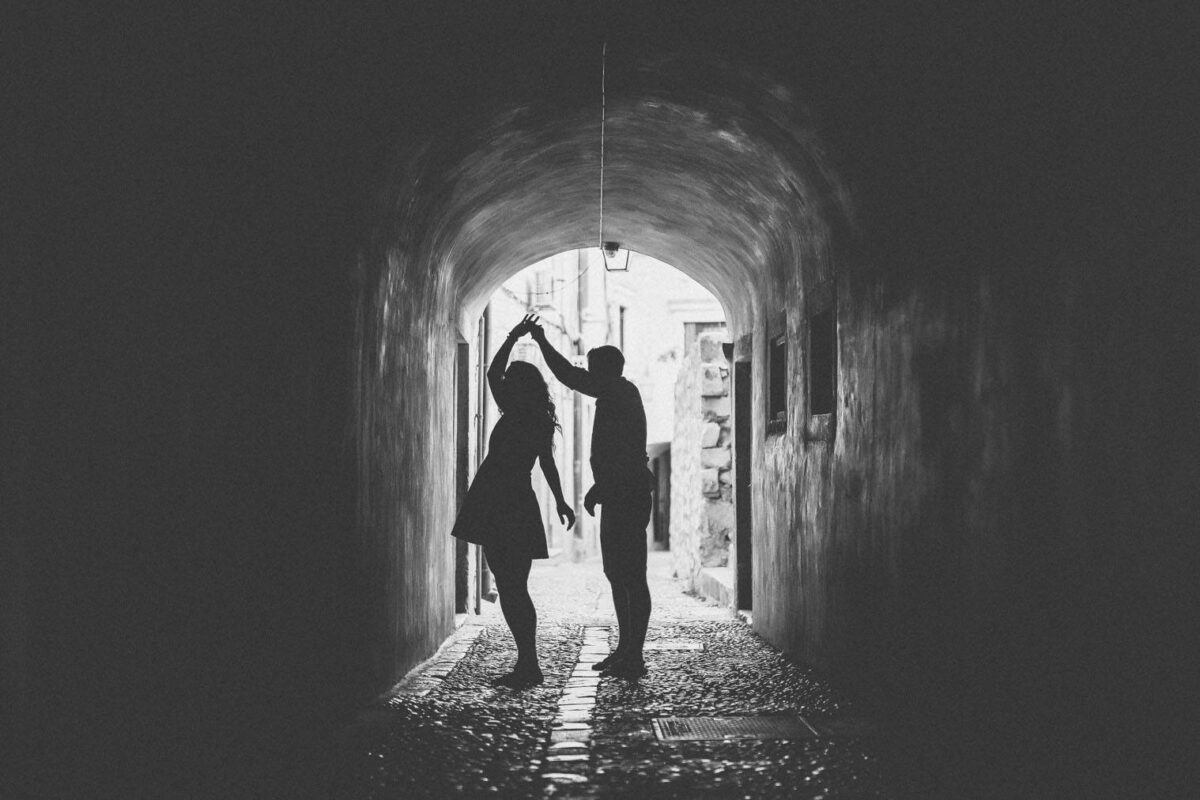 If you are a couple visiting Dubrovnik, we have already made few articles about things to do in Dubrovnik for couples so read them and find few good ideas for you and your partner. Since we are also the elopement photographers, we do a Dubrovnik couple photo sessions regularly so let us know if you want to have nice memories from Dubrovnik. You can visit our Love and Ventures website if you are interested in elopements or couples ideas in Croatia.
introduction to traveling from dubrovnik to split
So you have spent your time in Dubrovnik and now you are ready to move on and venture into other places and experiences. Your final destination might be Split, but there are many other places to visit in southern Croatia. We'll talk about these in one of the later sections of this article.
Traveling from Dubrovnik to Split usually takes around 4 hours if you are not going to make any stops during this road trip. The distance between these 2 cities is 230 kilometers and there are few things you need to know about this route such as border crossing with Bosnia and Herzegovina. More about that in the section below.
If you are traveling between these cities in the summer, you can expect the roads to be more crowded because a lot of people are traveling from Dubrovnik to Split and vice versa. But still, it never gets too bad that it's impossible to handle.
We suggest you take some advice from this article when planning your trip from Dubrovnik to Split.
from dubrovnik to split by car
We always say that that the best way to explore Croatia is by car. We admit that we sound a bit boring while repeating this statement over and over again, but we can't help it. If you are considering traveling from Dubrovnik to Split by car, you can either reach Split in around 4 hours or you can spend a few days discovering the best places of southern Dalmatia (a part of Croatia where both Split and Dubrovnik are situated).
Driving in Croatia is easy, we drive on the right side and most roads are pretty wide. Trust us, you won't have any problems, just follow the traffic rules and enjoy the ride. There is no motorway between the cities of Dubrovnik and Split at this moment. To be more concise, you can take the motorway at the city of Ploce, which is around 2 hours of driving away from Dubrovnik, and you can use it to reach Split and the rest of Croatia faster. But we suggest you take the scenic route instead since the beautiful Makarska Riviera starts near the city of Ploce and this part is known as one of the most scenic road routes in Croatia.
The good thing about traveling from Dubrovnik to Split by car is that you can stop whenever you want to and you can visit almost any place on the route.
crossing the border in neum
One of the most important things to know is that you'll need to cross a border with Bosnia and Herzegovina on your way from Dubrovnik to Split. This border is closer to Dubrovnik and you'll need to drive for around 10 minutes through Bosnia and Herzegovina to reach Croatia once more.
Technically, you can avoid this border crossing if you go to Trpanj on Peljesac island and then take the ferry to the city of Ploce. This will be a longer way and a bit more expensive, but you'll get to see the Peljesac peninsula which is one of the most stunning landscapes of Croatia.
You'll need to cross this border if you are going from Dubrovnik to Split by car or by bus. The bridge that will connect Croatian south with the rest of the country is currently being built and it's expected to be finished before the summer of 2022.
dubrovnik to split by bus
Traveling from Dubrovnik to Split by bus is easy and convenient. It's also rather cheap. The bus is your best option to reach Split quickly and many bus lines connect Dubrovnik with Split and rest of the Croatia. If you are traveling from Dubrovnik to Split by bus in the summer, you can expect the bus to be full so make sure you book your seat as soon as you can.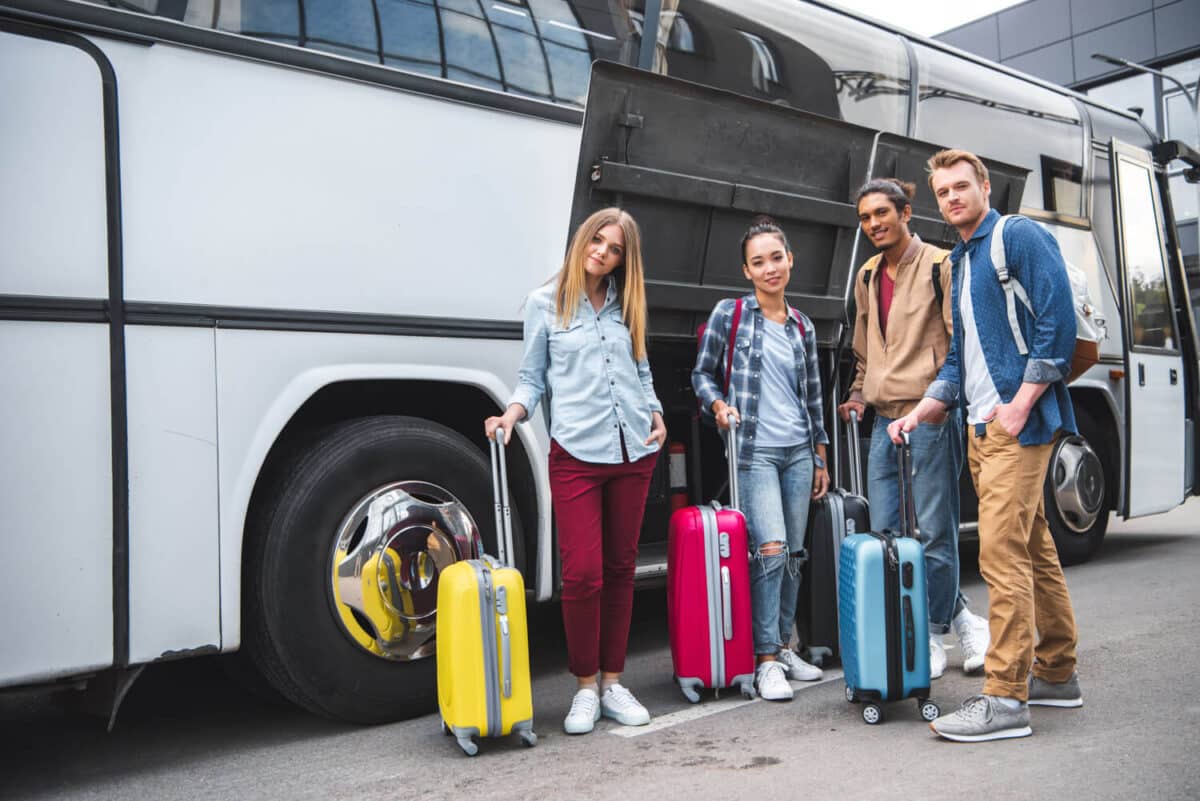 You'll need to cross the border mentioned in the section above so make sure you have your documents with you and not in the bag you put in the bunk. The only bad side of going from Dubrovnik to Split by bus is that you can't decide when you want to stop and you can't visit any of the great places of the Croatian south.
dubrovnik to split by ferry
Now, this is a cool option of going from Dubrovnik to Split that is completely different from the rest. All the other options use the land to travel around while going from Dubrovnik to Split by ferry gets you out in the sea. It's also a convenient way of traveling between these 2 cities. There are few lines that you can take and these range between slower and larger ferries and faster catamaran lines.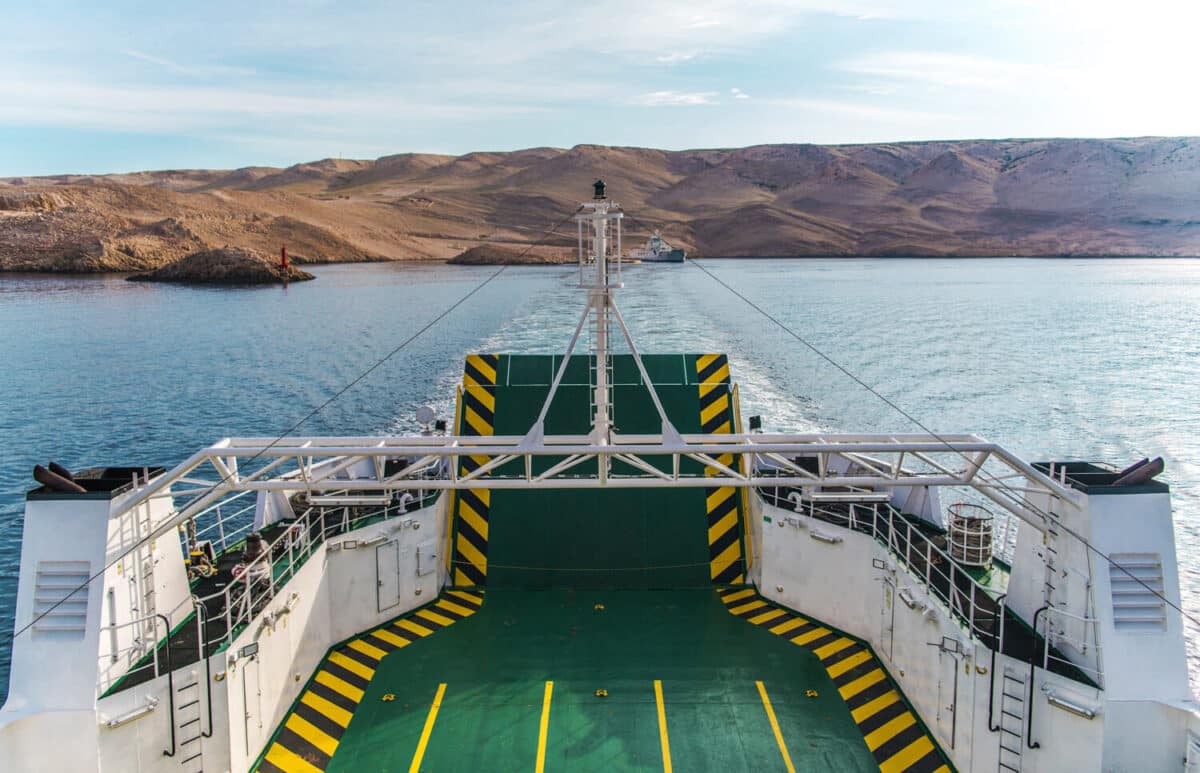 Both of these have their own advantages and disadvantages. Catamarans are pretty fast and more expensive while traditional ferries are slower and cheaper. Anyways, if you are going from Dubrovnik to Split by ferry, you can expect your journey to last for a bit less than 4 hours. There is one daily ferry line that connects Dubrovnik and Split in the season.
dubrovnik to split by train
Unfortunately, it's impossible to go from Dubrovnik to Split by train. Yes, we know, we would like a train line between these cities to exist. And it probably will never exist since the terrain is hard for building the railway line and there are many other options available so Dubrovnik to Split by train transport option is not necessary.
what to see and experience in the south of croatia
There are some places you need to visit on your journey from Dubrovnik to Split.
Trsteno Arboretum isn't so distant from Dubrovnik and it's brimming with various types of plants. It's a very nice place to visit and chill for some time.
Ston city is the next place worth visiting. It's the entrance to the Peljesac peninsula as well. Ston city is well known for its old stone walls and saltworks. If you are to keep on exploring Peljesac you have the alternative to arrive at nearby islands – Korcula and Mljet. And when you are visiting Ston, we recommend you try the famous Ston oysters.
The next beautiful landscape you'll stumble upon is Neretva valley. It's a valley made by the Neretva river at the end of its journey toward the Adriatic sea. The most famous place in the whole valley is the Neretva river mouth which is one of the most popular places for kiteboarding in Croatia. Apart from kiteboarding (some call it kitesurfing too), the Neretva river mouth is full of sandy beaches which are not typical for Croatia.
So if you are fond of sand and sun combination, you must visit this place. And not just the mouth of this river is stunning, you'll find a lot of nice places all across the Neretva valley. Our Norin river kayaking tour is organized in one of the wildest parts of the Neretva valley – the Norin river.
Just 10 minutes of driving away from the Neretva river delta, you'll find a beautiful landscape of 7 Bacina lakes. These lakes are located near the city of Ploce and they are the unique place of intact nature. We organize our Bacina lakes kayaking tour there and every guest we had on the tour was simply stunned by the Bacina lakes. The good thing about the lakes is that they are not crowded even during the high season.
Makarska Riviera is yet another part you need to go through to reach the city of Split. You'll pass through it if you haven't chosen the motorway option in the city of Ploce. Makarska Riviera is a combination of Biokovo mountain and the Adriatic Sea. This whole route has been proclaimed as one of the most scenic driving routes in Croatia. And let us just say that Makarska Riviera beaches are simply amazing and you need to take a swim or visit at least one of these beaches. Two of our adventure tours are being organized on Makarska Riviera – sunset sea kayaking tour and night kayaking tour.
Biokovo nature park is another cool part to visit on your journey from Dubrovnik to Split. If you are a hiking enthusiast, this is a must-visit place for you. Even if you are not, there is a road going through the park and you can come to the highest peak of this mountain by your car. Be advised that the road to it is pretty narrow so you need to be somewhat of a skilled driver to embark on this adventure. The entrance fee for Biokovo nature park is 50 HRK per adult person. You don't need to pay extra for your car. While in the park, we suggest you visit the famous Biokovo skywalk attraction and Vosac peak.
Finally, you'll reach the city of Omis, right before you enter the Split area. It's also an old and famous Croatian city characterized by beautiful nature and the Cetina river canyon. There are many adventure options in the city of Omis. Recently we did a Via Ferrata trail – a kind of combination between hiking and rock climbing. Omis Ferrata has one of the most beautiful views there are. Rafting on the Cetina river is another popular thing to do in Omis. It's also a rock climbing oasis since the city is surrounded by high mountain cliffs.
mljet national park – the only national park in southern croatia
Mjet national park is the only national park in southern Croatia. It's not so far from Dubrovnik and we suggest you visit it when vacationing in this part of Croatia. The national park is located on Mljet island which is possible to reach if you take a short ferry ride from Prapratno on the Peljesac peninsula.
Not whole area of Mljet island is a national park but the whole island is worth exploring. Mljet is not so large and theoretically, you can see a lot in only one day. We spend 2 days on Mljet island last year and we can't wait to get back again.
Reaching the city of Split and what to do in it
And at the end of this scenic travel, you have reached the city of Split, the second-largest and one of the most famous Croatian cities. You'll immediately see that it's different than Dubrovnik. It's much larger and it has a different architecture. The Split city was founded during the Roman empire times and you'll notice a lot of Roman influence throughout the city.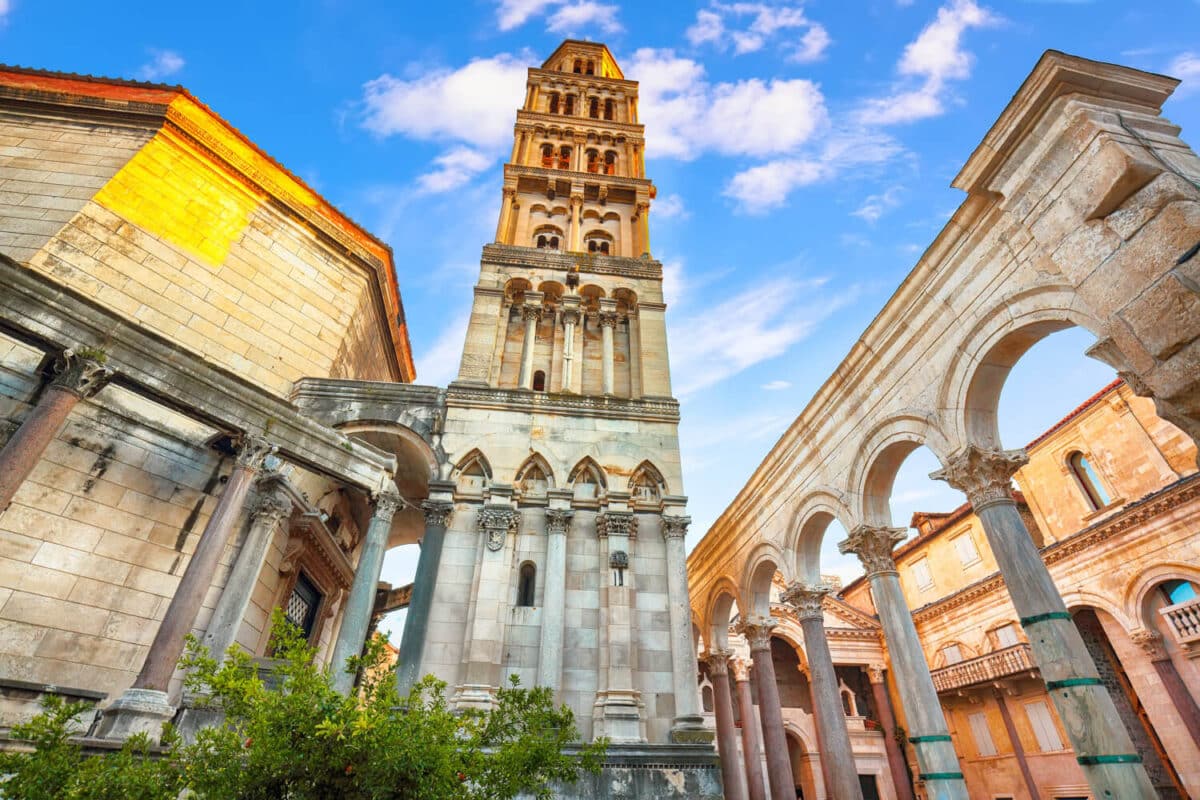 There are many things to do in Split. It's a quite large city with many options. We suggest you explore the old city core first. Diocletian's palace is one of the most famous buildings of Split city. You'll find many other kinds of content right in the old part of the city. A thing you must do is to sit in a local cafe and slowly drink a coffee and enjoy the weather and the sounds of seagulls. It's a kind of meditation local people do every day. You'll fall in love with it immediately.
Hope we helped you with this traveling from Dubrovnik to Split guide. Enjoy your adventures in Croatia!