Makarska Riviera is a stunning piece of Croatia. It's one of the most popular parts of this country, and after you read this article, you'll know why. Not only will you know that, but you'll want to visit Makarska Riviera straight away.
We live in the small city of Ploce which is located at the edge of the Riviera. We spend a lot of summer days organizing and guiding different kayaking tours on Makarska Riviera and we don't ever get bored of its landscape and the adventures it provides to us.
There are a lot of things to do even in the wintertime when the sea is too cold for swimming. In these periods, the Biokovo mountain that stretches along the whole Makarska Riviera becomes the main place of our adventures.
So let us introduce you to this part of Croatia and give you a few reasons to visit Makarska Riviera.
reaching makarska riviera
Getting to Makarska Riviera is pretty easy. There are many available transport options. Most of the visitors come to Makarska Riviera by car although it's located in southern Croatia and thus further from some of the European countries than other Croatian regions. But since it's so stunning piece of Croatia, it's not a problem to drive for few more hours to reach it. If you are coming by car from some of the nearby countries, we easiest and most convenient would be for you to take the main Croatian motorway and get out on the Makarska exit.
But we would suggest you take the regional and local roads since they will take you near some of the most beautiful natural wonders of Croatia. In this case, your trip will last a bit longer but it will pay off.
If you are coming from more distant countries then the airplane is the best option to visit Makarska Riviera. The closest airport is one in the city of Split and it will take you around 1 hour and a half to get to Makarska Riviera. There are many bus lines connecting Split and Makarska, the largest city of Makarska Riviera. But we would recommend you rent a car instead because driving through southern Croatia is the experience for itself.
makarska riviera scenic route
Let's stay on the driving topic just for a while longer. When you visit Makarska Riviera, you'll notice how beautiful it is. It's a blend of the sea and the Biokovo mountain and only driving through it is one of the best experiences. The Makarska Riviera route has been proclaimed as one of the most beautiful road routes in Croatia.
The roads of the Riviera are in very good condition. They can be a bit crowded in the summer months but it never gets too problematic. We drive on the right side in Croatia and the roads are wide enough so you won't have any problem even if you come from the left – driving countries.
the best time to visit makarska riviera
The weather is good most time of the year. We would suggest you rule out only the winter period when planning to visit Makarska Riviera. There's simply not much to do around in that period and a lot of places like restaurants and nature parks are closed. There are still a lot of sunny days and pretty warm ones like in other parts of Dalmatia, but cloudy and windy days still prevail.
It all starts to change from April onward and the weather is good all the way to November. As we approach the summer the weather becomes warmer and the hottest months are July and August. The sea is warm enough for swimming from June to October. If you do not so heat-sensitive, you can swim earlier and later than these periods.
Makarska Riviera is most visited during July and August which are the hottest and driest of all the months in the year. Still, if you ask us, we would suggest visiting Makarska Riviera in preseason or postseason periods. It's still warm and it's much calmer since most of the tourists have gone back home. The sea is wonderful for swimming too and it's easy to get your place on any of Makarska Riviera beaches.
makarska riviera beaches and clear sea
We start with the things that still bring most of the tourists to Makarska Riviera – it's a crystal clear sea and some of the most beautiful beaches there are in Croatia. Summer is the most popular time to visit Croatia and everything is full of tourists. Most of the Makarska Riviera beaches get crowded too.
But some of them are not so easy to reach. We suggest you explore these beaches and choose them for your swimming meditation. Because that's how the swimming feels at Makarska riviera, like a meditation.
The sea is beautiful and warm here and you'll wish you stay dipped in it for a whole day. You'll also want your holiday to last forever. You'll simply fall in love with Makarska Riviera.
beautiful and diverse nature
What would the beaches and the sea be without the nature that surrounds them? Nothing. Nature is the second reason why you should visit Makarska Riviera. It's simply perfect and it makes such a wonderful blend with all the blueness of the Adriatic sea.
You'll find a lot of Medditarenean vegetation here, a lot of pines which will provide you with a nice shade during your beach swimming sessions. All the seagulls will welcome you with their songs and sunsets you're going to see at Makarska Riviera will be some of the best sunsets you have ever seen.
biokovo mountain and nature park
We have to admit that the landscape of Makarska Riviera wouldn't be as half as beautiful if there is no Biokovo mountain. This amazing mountain stretches along the whole Riviera and makes one of the most unique landscapes of Croatia.
Biokovo mountain is a place of adventures and beautiful views. It's perfect for daily hiking tours that will spice up your vacation. Whether you're just passing through Makarska Riviera or staying at it, Biokovo mountain is something you need to visit.
Part of the Biokovo mountain is a protected nature park and it's possible to visit it by car. It's one of the most popular things to do while staying at Makarska Riviera and a lot of people decide to go up there. The road that goes through the park is narrow and we suggest you choose appropriate times to visit the Biokovo nature park.
proximity to nearby islands
Croatia is a country with more than 1000 islands. Not all of them are inhabited and not all of them are large. But many of them are. Some of the most famous islands in Croatia are situated right across Makarska Riviera. We're talking about Hvar and Brac islands here. Even though Vis and Korcula islands are not so far away too.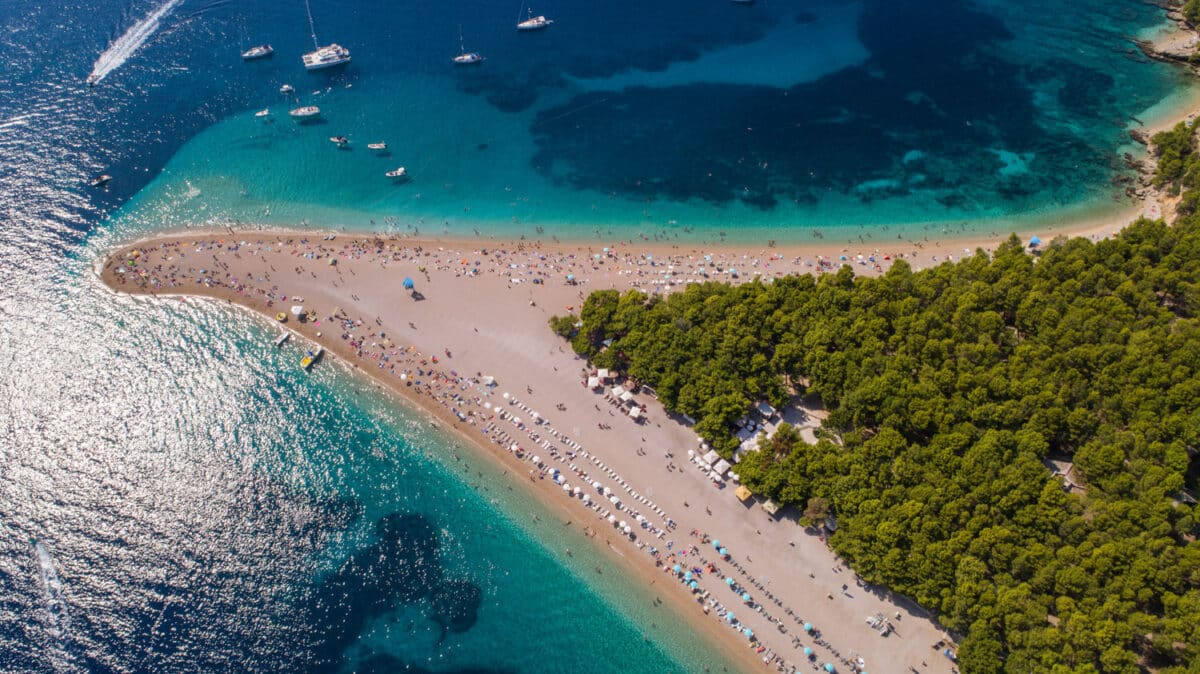 But to reach Hvar and Brac you need only 30 minutes of ferry ride. Ferry for Hvar leaves from Drvenik on Makarska Riviera and reaches Sucuraj on Hvar island and there is a ferry from Makarska to Brac island.
Many boat excursions start from Makarska and sail toward some of the most popular places on both of these islands. Really a good reason to visit Makarska Riviera.
adventure activities
We always leave the best things to be the last. Since we are adventure guides, we know all the adventure potentials of Makarska Riviera. And for us, it would be the first reason to visit Makarska Riviera. There are many adventure options available, ranging from zip lines and hiking tours to cycling, kayaking, and ATV tours.
There is a little bit of everything and everyone can find the adventure for himself. We organize 2 of our most popular tours on Makarska Riviera. The first one is Makarska Riviera sunset sea kayaking. Imagine a paddling session along some of the most beautiful beaches of the Riviera. That's only the part of the tour.
The second tour we organize on Makarska Riviera is a unique night kayaking experience. It's something you need to try if you are not entertained by classical kayaking tours. Paddling under the starry skies and observing the plankton glow with every stroke of your paddle. Truly a magical experience.
other places to explore near the riviera
When you visit Makarska Rivera you can spend your whole time exploring all of its wonders and you would still have enough to. But there are some great places on the boundaries of Makarska Riviera that are great to visit and experience. Let us tell you about a few of them.
When you go toward the city of Split, the first larger city you're going to stumble upon is the city of Omis. It's a city of similar size to Makarska and it also has a significant historic past. It's famous for the canyon of the beautiful Cetina river too. Many different tours are being organized there, and the rafting tours on the Cetina river are some of the most popular ones.
Then there is one of the most famous ziplines in Croatia with the cables crossing the Cetina canyon. The city of Omis is a very popular place for rock climbing in Croatia and we would suggest you try the Omis Via Ferrata trail experience, the unique combination of hiking and rock climbing. 
If you drive in the other direction, more south, the first natural wonder you're going to see are stunning Bacina lakes. It's the true oasis of serenity and you can have some peace and relaxation there even in the high season since it never gets too crowded there. There are many adventure tour options on Bacina lakes such as kayaking and SUP tours or traditional boat safaris. Bacina lakes are situated just 50 minutes of driving away from the city of Makarska and are located near the city of Ploce.
Neretva valley is another significant landscape of the south of Croatia. It's very close to the Bacina lakes and Neretva river mouth is its most famous and most visited place. It's a landscape full of long sandy beaches and since it's one of the most popular places for kiteboarding in Croatia, there are lot of these wind riders there in the summer months. But it's not the mouth of the Neretva river that's beautiful, there are many other places to see and things to do in Neretva valley.
So when you are planning to visit Makarska riviera, consider exploring these nearby places too.
are you ready to visit makarska riviera?
Did we manage to light a spark of interest with this article? We certainly hope so. If you choose to visit Makarska Riviera, you'll find yourself in a place worth exploring in every way imaginable. You'll have a lot of nice things to do and by doing them, you'll make your holiday in Croatia a memorable and pleasant experience.
If you find yourself at Makarska Riviera and want to add some adventure to your vacation, give us a call. Enjoy your stay in Croatia!