Excellent activities make an excellent holiday. The time of laying on the beach and enjoying the sea and sun is over. Everybody wants to add some extra value to their vacation nowadays. That's why we bring you this list of the best Makarska water sports you can enjoy during your Makarska Riviera holiday.
Trust us, you don't want to spend your holiday without exploration. It might feel good to just swim and sunbathe, but in the end, that kind of vacation will leave you empty and not satisfied. And you want just the opposite. Makarska Riviera is one of the most beautiful parts of Croatia and it's worth discovering and exploring.
introduction to makarska water sports
Wherever you have a sea near you, you know that there are going to be some activities that go hand in hand with the sea. The same is with Makarska too. Makarska water sports we listed below are some of the best ways to add some more fun to your vacation.
There's a bit of everything for everybody. Whether you want to feel an adrenaline rush or you just want to relax, you can have it. Our list covers not only the city of Makarska and water sports to enjoy in this city but also everything you can enjoy in a 30 kilometers radius.
There are some unique things you can't do in Makarska, rafting is one example. To enjoy a rafting tour you need to drive to the Cetina canyon near the city of Omis which is just 30 minutes away from Makarska. Not so far for few hours of fun and adrenaline combination in a stunning Cetina canyon.
Then some other water activities are a bit further from Makarska, but still worth exploring. Bacina lakes kayaking or SUP tours are one of these tours that are being organized in a mesmerizing nature of 7 Bacina lakes, a unique landscape located less than 1 hour of driving away from Makarska. Definitely a place worth visiting.
kayaking
When it comes to Makarska water sports we start with one of our favorite activities – kayaking. We have been in the kayaking business for years now and we know everything there is to know about it. Not only the kayaking has numerous benefits, but it's also one of the best ways to explore secluded parts of the coastline.
A good thing is that Makarska and Makarska Riviera have many such hidden coastal gems and some of them are best enjoyed in a kayak. Take a famous Nugal beach for example. It's a beach not so far from the Makarska city center and it has been proclaimed as one of the most beautiful beaches in Croatia. To reach it you can walk through the forest or use a kayak and paddle along the shore.
When it comes to kayaking in and around Makarska, you have many options. You can either rent a kayak and go on an adventure of your own, or you can book a place on a guided adventure tour. We organize 2 kayaking tours near Makarska – sunset kayaking tour and night kayaking tour.
Our Makarska Riviera sunset kayaking tour takes place just 20 minutes of driving away from Makarska and it explores some of the most beautiful stretches of Makarska Riviera coastline. And all this is done in a calm and relaxing sunset mood.
On the other hand, our Makarska night kayaking tour is organized at the same place as the sunset one, but it presents a completely different experience of kayaking during the night. It's one of the most unique tours you can try while staying in Makarska and it's perfect for couples.
parasailing
Parasailing is another popular entry in Makarska water sports. When you are going to visit Makarska, you'll see parachutes with people tied to and being tugged by the speedboats. You can see these in every tourist place in Croatia and they are pretty common in Makarska and every neighboring town.
It's a fun activity everybody wants to try. Basically, you are tied to the parachute that is dragged by the speedboat and you can enjoy the panoramic view of the surrounding landscape as you are being dragged higher and higher in the air.
There are few ways you can enjoy Makarska parasailing, you can go alone, in a pair, or with 2 other persons in a single ride. If you want to go alone, you can expect to pay a price of 320 HRK for 400 meters of parasailing experience. If you want to enjoy it for 600 meters, you're going to pay 450 HRK for it. The same 600 meters distance for 3 persons would cost you 750 HRK.
jet ski
Jet skis are very popular water sports anywhere in the world and the same is with Makarska. If you are a lover of high speed and adrenaline, then this is the best of Makarska water sports for you. Usually, there are areas where you can go with the jet ski you rent and you can't go outside of them. These are usually marked by buoys and the jet ski will automatically turn off if you go outside of the range.
There are many available options to rent a jet ski in Makarska, and the prices for 15 minutes of this water activity will cost you around 200 HRK.
sailing and boat tours
There's nothing more romantic than a good old sailing. Usually, there is a constant wind that blows along the coastline almost every summer afternoon and Makarska is no exception to that. And when there's the wind, sailing and windsurfing are the best activities to enjoy.
Many clubs do some kind of sailing tours and these are usually made by larger sailing boats. The duration of the tours ranges from daily excursions to few day adventures.
There are many boat tours available in the Makarska area and speedboats are especially popular since they can transfer you quickly to nearby famous places. And there are many interesting places you can explore by boat. The islands of Hvar and Brac are 2 of the most popular islands in Croatia and they are located just across Makarska. Many boat tours leave Makarska each morning to visit some of the most popular places on these islands such as Zlatni rat beach on Brac island.
You have the option to join one of the organized tours as well as rent a boat of your own. If you have a valid boat driving license, then you don't need a skipper with you. If you don't have it, then the skipper will join you and safely take you wherever you want to go.
cetina river rafting
Rafting is one of the Makarska water sports which is more in the adrenaline rush activities domain. All of the rafting tours near Makarska are being organized near the city of Omis, in the canyon of the Cetina river. Many agencies are doing these kinds of tours since rafting is one of the most popular activities you can do on the Cetina river.
Omis city is just 30 minutes of driving away from Makarska. There are also some offers with the transfer included so make sure you check these if you are interested in the Cetina rafting tour. The price of the Cetina river rafting tour is around 30 Euros per person and many agencies offer you to pay few extra Euros to have the lunch included in the tour. Cetina river rafting tours usually last for 3 and a half hours.
There are 8 persons and a guide in each boat and a few stops are made during the tour so you can swim or jump from the cliffs in the Cetina canyon. There are many other things to see in the canyon so make sure you check it if you are going to the Cetina rafting tour by your car.
diving and snorkeling
Diving and snorkeling are must if you love to explore below the surface of the beautiful Adriatic Sea. The sea around Makarska is very clean and clear and it's very suitable for both diving and snorkeling. If you are not sure about the difference between these two, let us say that diving is usually done in deeper parts while you are always near the surface when snorkeling.
If you are an inexperienced or beginner diver, we recommend you to find a local diving club and go on a tour with them. If you are an experienced scuba diver, you just need to show your license and they could rent you needed equipment.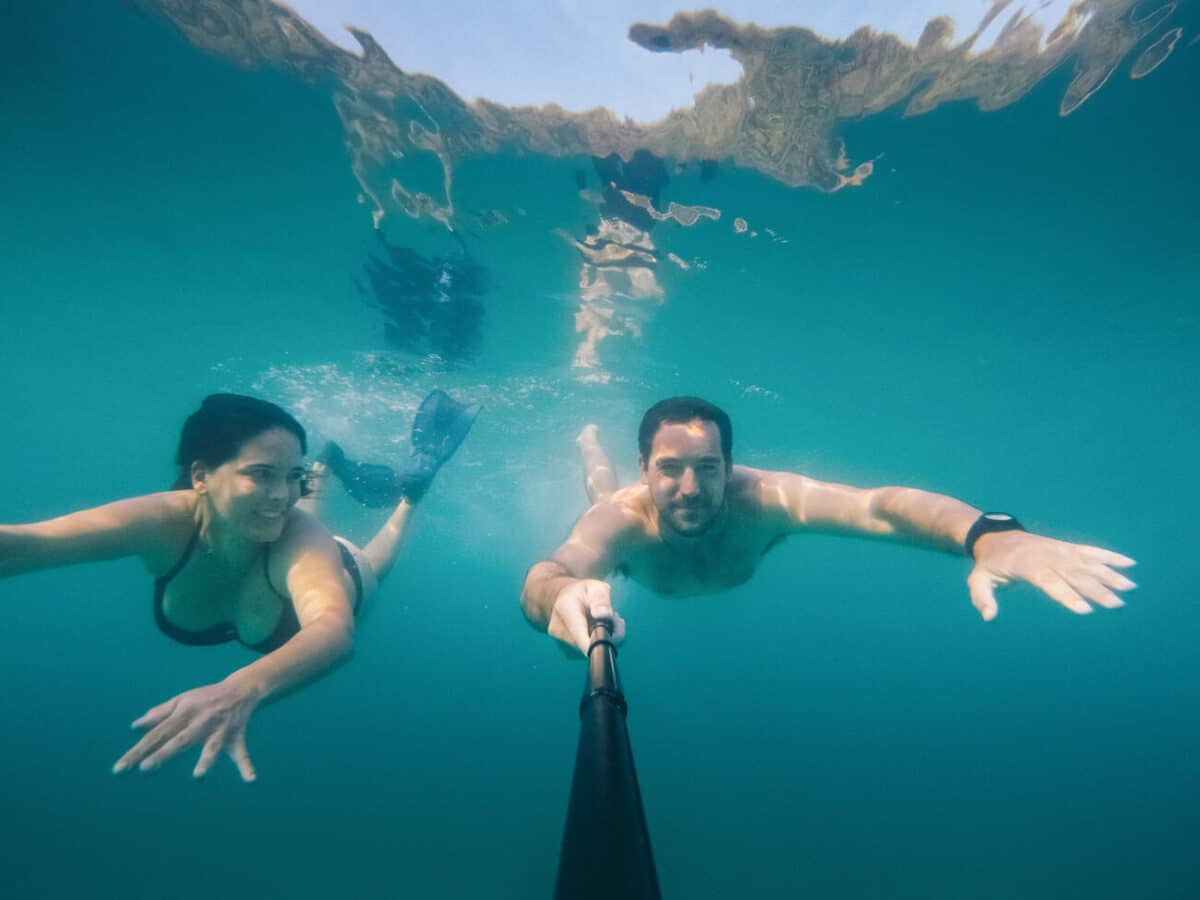 On the other hand, no previous experience is needed for the snorkeling sessions. It's a perfect activity in which anybody could participate. You simply need a mask to cover your face, everything else, such as diving fins, is optional. When it comes to masks, we recommend an easy breath mask we use on our kayaking tours.
fishing
Last, but not least, fishing is also among the most popular Makarska water sports. You need to have a valid permit to go fishing and this permit can usually be bought at local fishing clubs. You can also rent some equipment there. But you don't need much to enjoy fishing, few simple pieces of equipment could be enough and these could be bought almost anywhere.
There are even some organized fishing tours so check them out. The fishing can be done either from the shore or from a boat. Renting a boat can make you much more versatile when fishing and you can quickly come to many places.
We suggest fishing early in the morning when the sea is calm. Fishing can easily be one of the most relaxing of Makarska water sports.
what to have in mind when doing the makarska water sports?
Some of these water activities we mentioned can be potentially dangerous, especially the ones that are being done at a high speed. Always make sure that the insurance is included in the price of all the tours you're participating in. Legally, you must be ensured for all the adventure tours in Croatia and it's included in the price of any serious agency.
Secondly, make sure you have all the necessary equipment for each tour. In most cases, these are provided by the tour organizer. If you are renting the equipment, make sure it's in a good state and you have all the necessary parts to safely practice the activity you want.
And that's it. Hope we have helped with this list of the best Makarska water sports. Enjoy your holiday on Makarska Riviera!