First of all, to make things clear, we need to say that we are not fans of crowded beaches which means this 'Makarska riviera beaches' list will consist of secluded beaches that are not right in the tourist places of Makarska Riviera. If you want to reach the ones we mention in the text below, you'll need to walk for a while. Every beach from this list will be marked on Google maps so you can know where it is.
But it will pay off since you're going to enjoy in the silence and far from the crowds, and that's exactly how the beach experience should look like. When we say far from the crowds, it doesn't mean that these beaches are empty, they simply have fewer people around than, let's say, the main beach in the city of Makarska.
introduction to makarska riviera beaches
Makarska Riviera is one of the most beautiful and most popular landscapes in Croatia. Especially among many tourists who choose to spend their holidays here. When you see all the beautiful places you can experience here, things become much clearer.
First things first, Makarska Riviera beaches are among the most beautiful ones in the whole of Croatia. They are made of small pebbles, sometimes as small as sand. Sure, there are beaches like this in other parts of Croatia too, but nowhere are they scattered like in Makarska Riviera. And there is only one Biokovo mountain that makes the landscape of Riviera so unique.
Most of the Makarska Riviera beaches are easily accessible. Some are right in the tourist places so you don't need to walk far if you are staying in one of these. But beaches that are secluded and not so easy to reach are the best. At least to us. And these are the kind of beaches that we are going to explore now.
nugal beach
We are starting right in the city of Makarska. Nugal beach is one of the most popular beaches in Croatia. What else do you need to know about this beach apart from its beauty? Well, it's an FKK beach (nudist beach), at least a larger part of it. Approximately 80% of the beach is reserved for nudists, and 20% for clothed swimmers.
Nugal beach is characterized by steep cliffs that surround it. It's not so far from the city of Makarska, but when you are at it, you don't feel like you're near the urban center. To reach it, you'll need to walk for about 20 minutes from the city of Makarska.
Since this beach is very popular and close to Makarska, you can expect to be at least a bit crowded, especially in the summer months. If you want to avoid crowds, it's best if you visit it early in the morning or later in the afternoon hours.
vira and duba beaches
Vira and Duba are among our favorite Makarska Riviera beaches. These 2 beauties are situated near Drvenik on Makarska Riviera and we often spend our summer free time there. Our Makarska Riviera sunset and night kayaking tours are starting on Vira beach.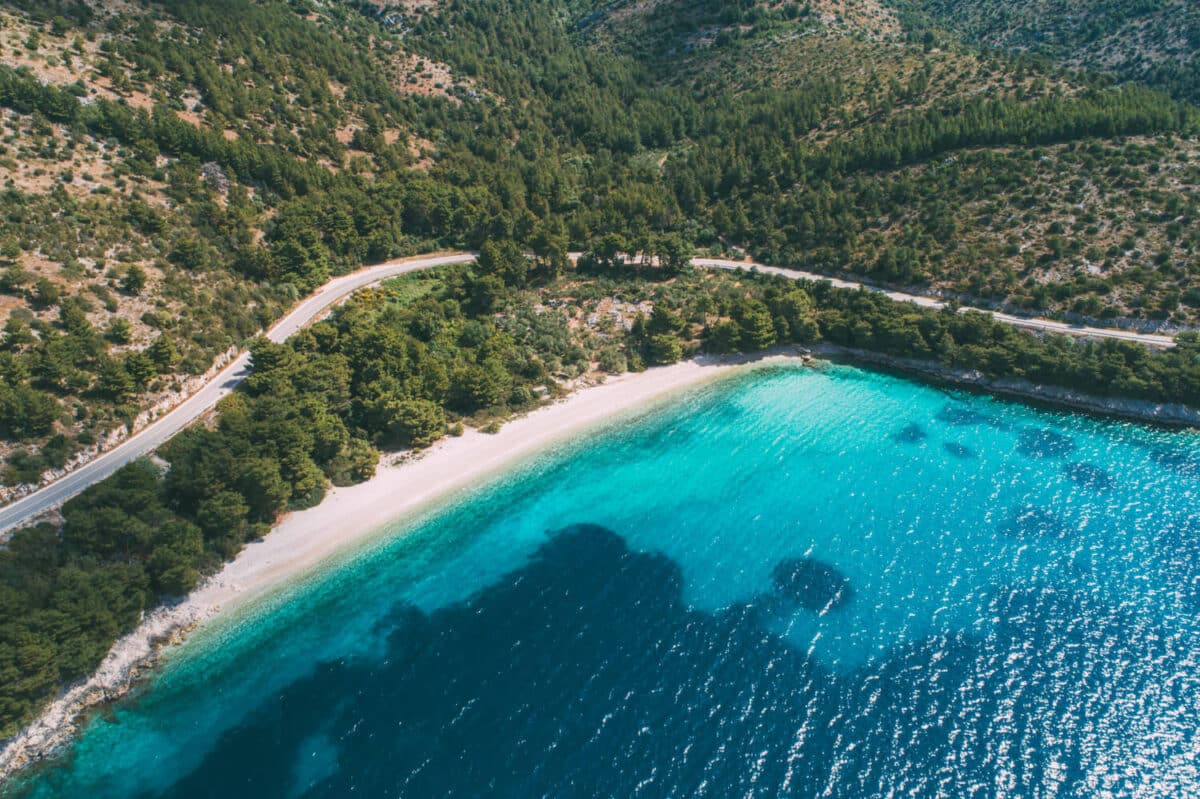 Vira and Duba are 2 separate beaches, but they are so similar and close to each other that we needed to put them as one. Vira beach is larger. Both of the beaches have parking spots on the main road and you need a few minutes of walking to reach them.
The fact that these beaches are spacious (Vira especially), and there is limited parking space available, make them less crowded than some other similar beaches.
secluded beaches near zivogosce blato
These beaches are situated between Zivogosce Blato and Duba beach near Zivogosce Mala Duba. They are usually accessible either by boat or from the land. Since they are not so far away from the Zivogosce, you can even swim to them.
The land approach is maybe the most problematic one since few improvised trails resemble real hiking trails and you need to be extra careful when taking these. But in the end, you'll be surprised how beautiful this set of smaller beaches is.
We pass and stop at these beaches on our Makarska Riviera sunset kayaking tour.
klokun bay beach near drasnice
Getting closer to the city of Makarska again. Klokun bay beach is situated near Drasnice and it's the longest of all beaches mentioned in this post. It's also set in a beautiful landscape with high Biokovo cliffs rising right above it.
If you want to visit this beach, we suggest you leave your car at the designated place on the coastal road and head down toward the sea. You'll need about 10 minutes to jump in the crystal clear sea of this beach.
another beach near zivogosce blato
These smaller Makarska Riviera beaches usually don't have a name because they are too small and there are too many of them. So this is another one of these smaller beaches. This beach is also situated near Zivogosce Blato, but not as close as these mentioned before. This one is closer to camp Čiste.
In fact, there are a few beaches here again, but the one we like the most is the one with a cave near it. Amazing place to see and relax at. And again, we stop on this beach both in our night kayaking and sunset kayaking tours on Makarska Riviera.
Hope we have helped you to find best one among many beautiful Makarska Riviera beaches. If you have any questions, feel free to contact us any time. Enjoy your vacation in Croatia!!