We can't get enough of Bacina lakes. During summer we spend almost every day at them and still, with every new morning we return to Bacina lakes, we feel that rush of beauty. If you are staying somewhere near, maybe on Makarska Riviera, then you should visit Bacina lakes.
And when visiting this lakes group, there are some places you need to experience. The lakes as a whole are a beautiful landscape in karst but some places stand out and shouldn't be left out during your visit.
A cycling / walking trail is going all around the lakes and all the places we mention in this post are accessible by using this trail. We suggest renting a bike at one of the beach bars and start your exploration. And while you are in the city of Ploce area, we suggest you visit Ploce tourist board website to find more cool places to visit around.
introduction to bacina lakes
Bacina lakes is a lake group consisting of 7 lakes. Six of these lakes are connected by smaller and larger passages, and the smallest one is secluded. The lakes are situated near the city of Ploce in southern Croatia and they are one of the landmarks of the south.
If you are traveling on a main coastal highway between the cities of Split and Dubrovnik, Bacina lakes will be the inevitable sight for you. They are a peaceful oasis, and, although not so large, they are never crowded, not even during the high season. We don't know why is this so, but we like it since it's one of the rare quiet places on Croatian coast in summer.
The nature of the lakes is astonishing, especially in the summer months. Everything is lush and green and it relaxes both body and the spirit. Bacina lakes are beautiful during the autumn months too, with all the colors making the unique sight. Interesting fact about the lakes is that every lake has a different color which is, again, very visible during the summer months. It's visible when on the lakes but much better when observed from the higher ground.
Being on the edge of Neretva river valley, Bacina lakes are full of life, especially bird species. From the last year, there is even an bird observation point that let's you to unwind and enjoy in gazing at winged creatures of the lakes.
Let's start with the places you don't want to miss during your visit to Bacina lakes.
mindel beach & bay
We are starting with one of the most popular places on the lakes. Mindel is a secluded beach and a bay that is full of water lilies and the water is always calm here. Mindel is a water spring too. This place is popular among locals and tourists who come here to swim in the warm water of Bacina lakes. We didn't mention that the water temperature of the lakes is always around 3 degrees warmer than in the sea which is perfect if you like it warmer.
Mindel beach is situated at the end of the cycling / walking trail and it's the place of the loudest crickets songs on the lakes. When visiting this place, we suggest you carry a hammock beacause there are many trees and laying in your hammock and listening to the crickets is one of the most relaxing experiences you can have at Bacina lakes.
Maybe you could visit this place last and relax from the exploration of the lakes.
ocusa spring
Bacina lakes are full of fresh water springs and Ocusa is one of the most popular among these. Did you know that the city of Ploce gets drinkable water from the lakes, from a spring called Klokun. That one is protected and not opened for visiting but who cares when you have Ocusa.
Ocusa is a place with few smaller and one larger spring. It's also a perfect place to spend some time at, just like Mindel is. Although, there is no beach at Ocusa. But there is something else. If you are brave enough and you don't have problem with swimming in cold water, you can jump in one of the springs here and find out what a true refreshement looks like.
Ocusa spring is accessible both from the lakes and walking trail.
maricevac tunnel
When talking about cool places of Bacina lakes, Maricevac tunnel is maybe the coolest one. And one with the most interesting story too. It's a tunnel designed and built to take away excess water that floods the valley behind the hills during the rainy season. It's 2 kilometers long and it has been built almost 100 years ago.
A good news is the fact that the tunnel is dry during the summer months and it's possible to walk through it. You just need a good flashlight and maybe some warmer clothes. The tunnel is situated at the Peracko blato beach and you shouldn't have problems in finding it.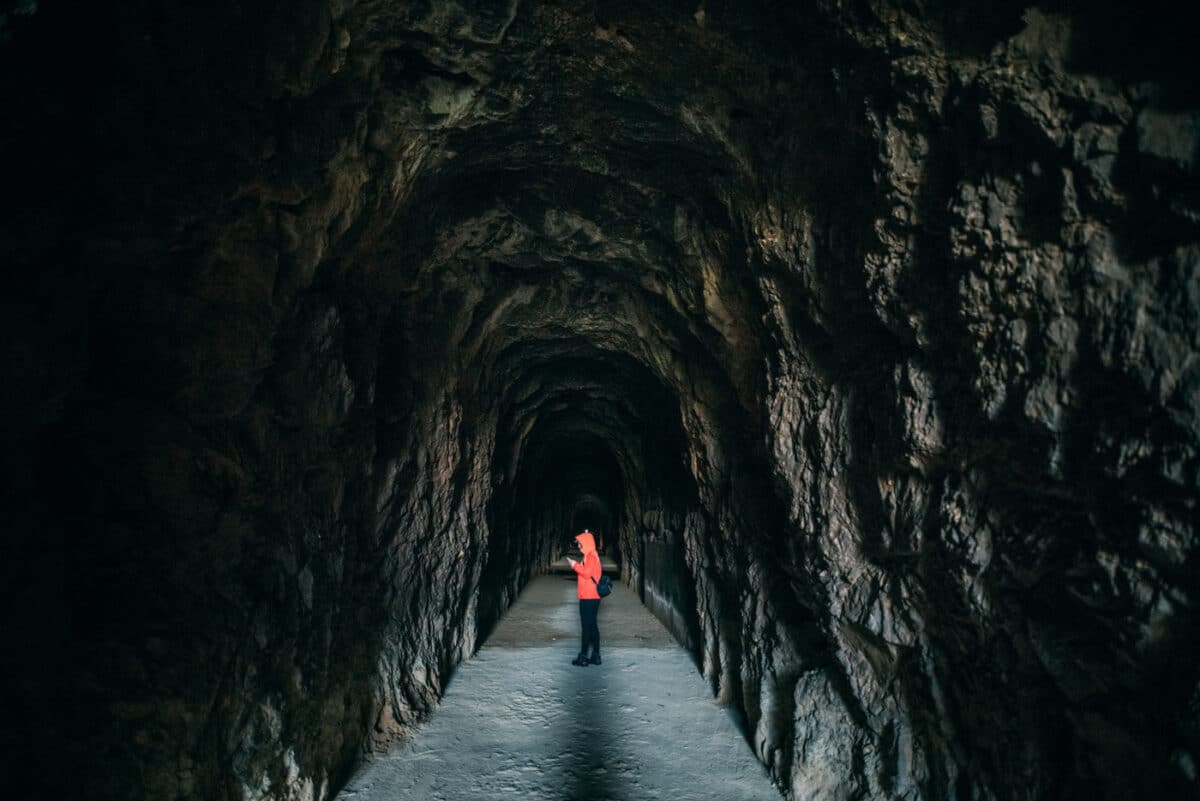 This tunnel is the reason why the water level in Bacina lakes is few meters higher during the winter months. The places near the lakes, Mindel beach, Ocusa spring, everything is under the water after the rainy season. There is another, shorter tunnel that takes away the water from the lakes to the Adriatic sea.
old campsite
Old campsite is laying in ruins right now, but few decades ago, it was very popular place to spend your vacation at. We are not interested in the devastated park buildings here, but rather in the places used to put your tents at. I still remember how we were going to a trip with a kindergarden group there.
It's a nice place engulfed in the forest and secluded from any views. Some openings in the vegetation separate land and the lakes and these are used as a beaches. This is perfect place for a romantic picnic and nobody should bother you here.
peracko blato beach
If you plan to visit Maricevac tunnel, then you'll be starting from Peracko blato beach. Full of weeping willows and a meadow underneath them makes a perfect place to spend your afternoon at. Beach is large and it's easy to get in and out of the lakes here. If you are into sports, there is a sandy volleyball playground at Peracko blato beach and you are welcome to use it if you have the ball with you.
extra – bacina lakes adventure tours
There are currently 2 adventure agency organizing adventure tours on Bacina lakes. We are one and we run our Bacina lakes kayaking tour here. Our friend runs SUP tours and you can visit him at Paddlesurf Croatia website. During our kayaking tour, we visit all few of the places mentioned in this list.
On the other hand, organized boat tours are starting from the beach bars on the lakes. Their tours last for a little bit more than 1 hour and they go all around the lakes.