We spent most of our lives in Dalmatia. You know how you tend to get bored of one particular place when you are living in it. To everybody else, it might be awesome but you somehow lose the ability to feel so stunned by the landscape you are seeing every day. Well, it's not like that with the Dalmatian coast. Yes, we live at one particular place, but through the years, we have explored a lot of it and we are still equally amazed by it.
If you wonder where is Dalmatian coast or have some other doubts, this article will explain it all. You'll find out all about the nature of Dalmatia, national parks in Dalmatia, and Dalmatian islands. Consider it a virtual introduction to a place you simply have to explore by yourself. We believe all the images of this article will make you pack your suitcases and visit Dalmatia.
And yes, beaches in Dalmatia are the most beautiful ones in the whole of Croatia!
where is dalmatian coast in Croatia?
In case you wonder where is Dalmatian coast, we'll answer that question first. Dalmatian coast is located in a small European country called Croatia. You have probably heard of it since it's one of the most popular choices for holidays in Europe. Dalmatian coast is the most beautiful part of Croatia and part of the Dalmatia region.
This region covers the surface from Pag island in the north all the way to the southern Croatian border with Montenegro. It's one of the largest regions of Croatia and it's the most visited one by numerous tourists who come to enjoy it every season.
Now when we have answered where is Dalmatian coast, it's time to move on to other peculiarities of this landscape.
traveling along the dalmatian coast
Traveling along the coast of Dalmatia is the experience for itself. The best way of exploring all of its features is by car. Or bicycle. Depending on how adventurous you are and amount of the time you have at your disposal. We always suggest renting a car to anyone who comes to Croatia by airplane. That's how we do ii when visiting other countries and so far it has proven to be one of the best ways to explore all the things the foreign country has to offer.
Dalmatian coast in Croatia is meant to be explored since many different places are worth visiting in Dalmatia. The roads are in good condition and safe for driving if you are concerned about it. There's simply nothing stopping you to spend your vacation driving from place to place and discovering everything Dalmatia has to offer. The coastal highway in Dalmatia is among the most scenic routes in Europe.
beaches in dalmatia
Beaches in Dalmatia are the most beautiful ones in Croatia. That's one of the reasons why this region is so popular among tourists. Usually, Dalmatian beaches are made of pebbles of varying sizes – some beaches have larger stones while some other pebbles almost as fine as sand. There are not many sandy beaches in Dalmatia, few of these are located at the mouths of rivers flowing into the Adriatic sea. Neretva river mouth is such an example of a sandy beach paradise in Dalmatia.
If you want us to be more specific and go even further and choose the part with the best beaches in Dalmatia, we would have to say it's Makarska Riviera. We'll talk about this part later in the text, but let us just say that it's the home to some of the most amazing beaches you'll find in Croatia.
Dalmatian islands have very nice beaches too and some of the clearest sea you'll ever see. If you are going to swim at any of Dalmatian islands, make sure you have a snorkeling equipment with you. It's the experience you won't forget so soon.
weather in dalmatia
The whole of Dalmatia has a Mediterranean climate with hot and dry summers and mild winters. You could say that weather in Dalmatia is perfect. Dalmatia is most visited during July and August, months of the hottest days and warm sea. But the weather is perfect every month from April to October. The sea is warm enough for swimming in June, July, August, and September. You could swim even in May and October although the sea is not as warm as in the middle of the summer.
The summers are usually crowded and if you want to enjoy warm and nice weather in Dalmatian, but still want to avoid the crowds, we suggest you pick either preseason or postseason periods. September is the best option if you want to swim in the sea and experience the ending of the summer in Dalmatia. September is also the next month with the warmest sea temperature, right after July and August.
Summers in Dalmatia are really hot and they are perfect for enjoying the crystal clear Adriatic sea. Sometimes it gets so hot that all you want to do is just relax in the sea and never get out. There are not so many rainy days throughout the summer season, although there might be a storm or two during the hottest days. These usually past the very next day.
Air temperatures in the summer can go as high as 40 degrees Celsius, but these rarely happen. The usual daily summer temperature in Dalmatia is around 34 degrees Celsius. In the shade. When it comes to sea temperature in Dalmatia it ranges from 18 degrees Celsius in June to around 22 degrees in July and August.
largest cities on dalmatian coast in croatia
Dalmatian coast has been populated for a long time and all these cultures forming and living here have left their marks is what Dalmatia is today. From the Illyrian tribes living here a few thousand years ago to more recent Roman settlements all across Dalmatia.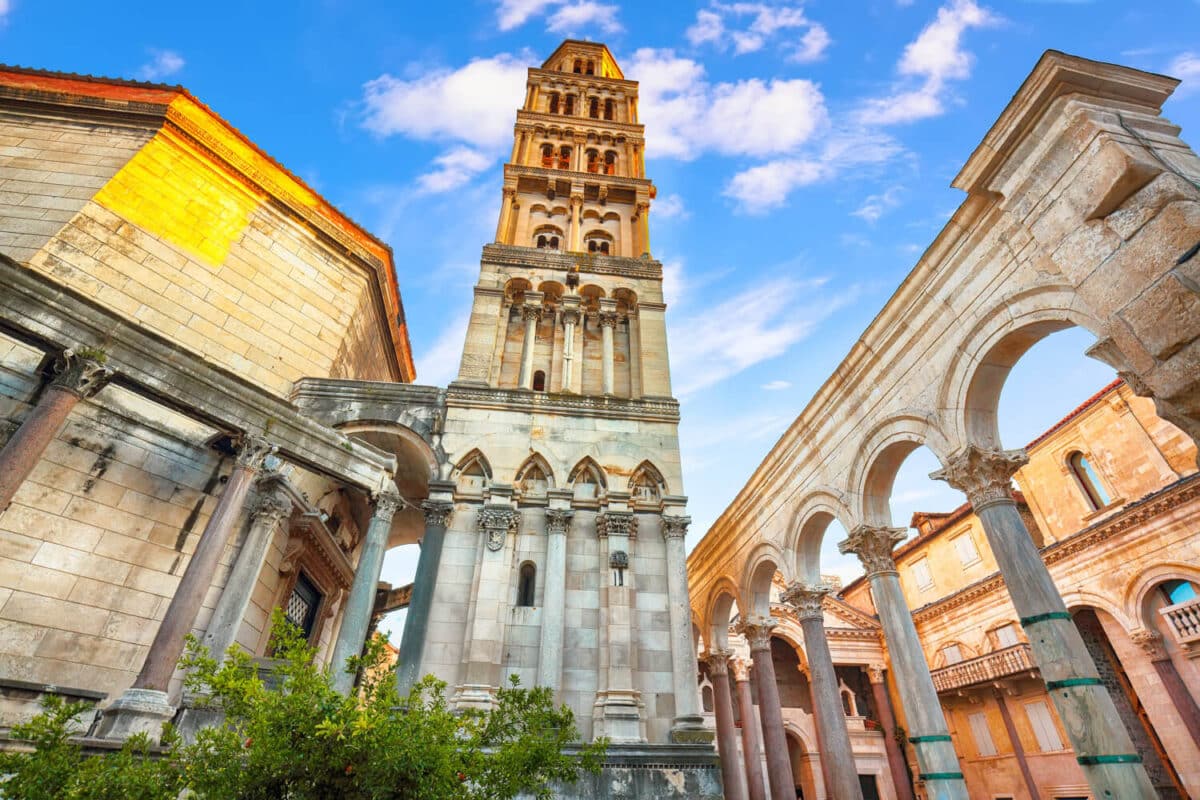 Many cities on the Dalmatian coast are beautiful, but few of the largest and most popular ones are Zadar, Split, Dubrovnik, Korcula, Trogir, Hvar, and Sibenik. Dalmatian cities often have preserved old parts of the city and you might feel like you're walking through the open museum when you walk through the streets of these cities.
Many monuments are usually found in the city center and these are usually few hundreds of years old. Some of them even older. Split is the largest city on the Dalmatian coast and it's the second-largest city in Croatia. It's famous for many things and one of its most famous buildings is the Diocletian's palace.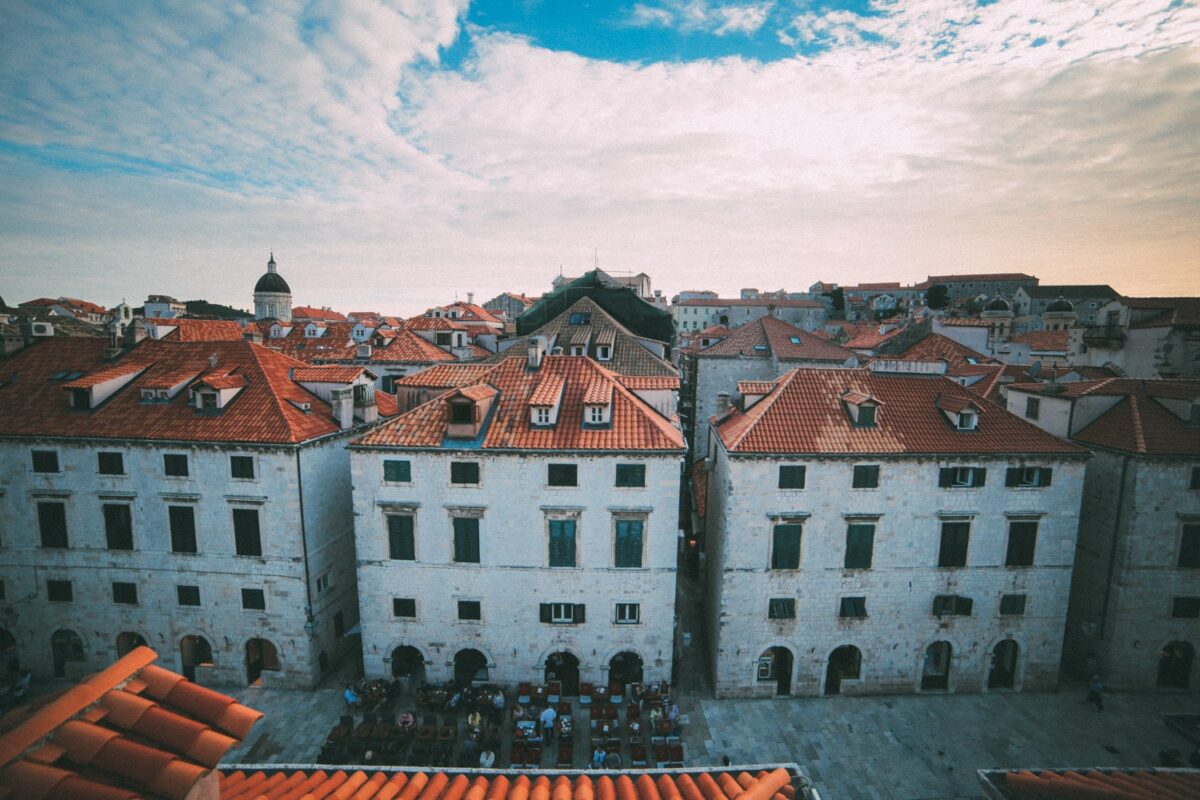 Dubrovnik is maybe the most famous of all the cities on the Dalmatian coast. It's one of the most romantic cities in Croatia and it has a rich and diverse past. Just Google the term Dubrovnik if you are not familiar with it and you'll be stunned with the images you see on your screen. Dubrovnik got very popular because of the TV show Game of Thrones too and there are many tours through the town that visit the filming locations of this series.
national parks in dalmatia
Croatia has a total of 8 national parks and half of them are located in Dalmatia. National parks in Dalmatia are Paklenica, Kornati, Krka and Mljet. We suggest visiting at least one but visit all of them if you have a chance. Croatia has a rich and diverse nature and national parks are the best places of protected nature and preserved natural landscape.
Apart from the national parks, there are many nature parks in Dalmatia too. These too are protected areas with valuable and diverse nature. Beware that both national parks and nature parks are very visited during the summer months, so you need to plan your visit smartly if you want to avoid the most crowded hours. We suggest you check the most crowded hours on the Google. Personally, we would go to these places early in the morning to experience the best of them.
Paklenica is a canyon with high and steep cliffs. It's located on Velebit mountain, not so far away from the city of Zadar. It's one of the most popular places for rock climbing in Europe and it's perfect for hiking too.
The Kornati is a national park made of many islands scattered in the Adriatic sea, just opposite of the city of Sibenik on the Dalmatian coast. There is a legend that says that God had some of the material left when he was making the world and tossed it behind his back. He has turned around to see where this material fell and liked what he saw and thus the Kornati was born.
Krka is one of the most popular national parks in Dalmatia. It's a landscape made by the Krka river on its journey toward the Adriatic Sea. It's a canyon full of waterfalls and rapids and a nice place to roam through.
Mljet national park is the southernmost of all the national parks in Dalmatia. It's located on Mljet island. Not the whole of the island is the national park, but the whole island is worthy of exploring. Mljet national park is located on the northern part of the island and it's characterized by shallow lakes filled with seawater and with some of the best shades of blue you'll ever see.
dalmatian mountains
Some of the most beautiful mountains in Croatia are located in Dalmatia. Part of the Velebit mountain, Dinara, Biokovo, all these beauties are just waiting for hiking enthusiasts to hike them. The highest peak of Croatia is Sinjal (1831 m) and it's located on Dinara mountain, deep in the Dalmatian hinterland.
Some other mountains, such as Biokovo, stretch along the Dalmatian coast in Croatia. Part of the Biokovo mountain is a nature park too and we suggest you visit it while traveling through southern Dalmatia. The second highest peak of Croatia – Sv. Jure is located on this mountain.
Dalmatian mountains are not among the highest ones in Europe but they are places of true adventures and wild nature. They might be very dangerous, especially in the hot summer months, and many of the hikers find them difficult to climb in this period. Hiking is best done in the preseason or postseason periods, but if you are embarking on a hiking adventure during summer, we suggest you take all the proper gear with you along with a lot of water. And we mean a lot.
dalmatia adventure tours
Dalmatia is made for adventure and Dalmatia adventure tours are among the best experiences you can have. There are many things to try – rafting on some of the wildest rivers in Croatia, some of the most stunning zip lines, kayaking along with the untouched piece of the coastline in the sunset… You name it, it's all right here, in Dalmatia.
The adventure potential of Dalmatia and our love for the great outdoors is what made us design and start with our adventure guided tours in the south of Dalmatia. Our base is in the city of Ploce, we like to call it the outdoor capital of Croatia. There are beautiful Bacina lakes and Neretva valley near it and they make a perfect place for an outdoor adventure of many kinds.
Try any of the Dalmatia adventure tours and you'll spice your whole holidays in Croatia.
makarska riviera scenic route
Makarska Riviera is yet another part of Dalmatia that we especially love. We spend a lot of time there, just roaming and discovering new places. Makarska Riviera is a perfect blend of Biokovo mountain and crystal clear Adriatic sea. Makarska Riviera beaches are among the most beautiful ones in the whole of Croatia.
The coastal highway that goes through this landscape has been proclaimed as one of the most scenic routes in Europe. You need to take at least one day to explore Makarska Riviera and take a swim at least on one of its numerous beaches. If you want to add some adventure to the whole story, we organize 2 of our tours on Makarska Riviera – sunset kayaking tour and night kayaking tour.
discover dalmatian islands
Dalmatian islands are pieces of land torn away from the mainland a long time ago. These islands have kind of a different culture than one on the mainland and their inhabitants had to learn to live by what they have at any given moment. Dalmatian islands are very beautiful and most of them are easy to reach.
Hvar and Brac islands are among the most popular ones and not so far away from the Dalmatian coast. All of the Dalmatian islands are full of small and picturesque stone villages. Islands in Dalmatia are not so large and you could explore a lot in only one day.
dalmatia elopement
This section is for all the couples traveling or planning on traveling across Croatia. Since we are wedding and elopement photographers in Croatia, we do a lot of photo shootings in Dalmatia. If you are interested in eloping in Croatia, we recommend Dalmatia as one of the best regions for that purpose.
Dalmatia elopement might just be the thing you were looking for. Croatia is one of the most popular places for elopement in Europe too. If you are interested in this topic or have any particular questions about Dalmatia elopement, go and check our Love and Ventures website.
don't forget about dalmatian hinterland
Finally, as we reach toward the end of this article, we need to mention one more landscape that forms Dalmatia and that is the Dalmatian hinterland. It's maybe not as visited as the Dalmatian coast, but it, too, has some great places to discover and experience. We'll deal with these places in some other blog post. Let us just say that the Dalmatian hinterland is home to many mountains, rivers, and lakes. It's perfect for some other types of adventures. While water sports prevail on the Dalmatian coast, there is a whole range of other activities that are more popular in the Dalmatian hinterland.
You can enjoy bicycle tours, quad rides, horseback riding, and all other land adventures here. If you are an outdoor enthusiast like we are, you'll love the Dalmatian hinterland as much as we do.
Thank you for staying with us to the end of this article. We hope we have helped you with some useful info about the Dalmatian coast. If you still have any questions, feel free to contact us and we'll gladly answer you.
Enjoy your adventures!