We don't live in Makarska but we ensure you we know this city almost to the bone since we spend a lot of our time there. Occasionally. If you ever planned to visit southern Croatia and not sure is Makarska worth visiting, you'll find all the answers you need right in this article.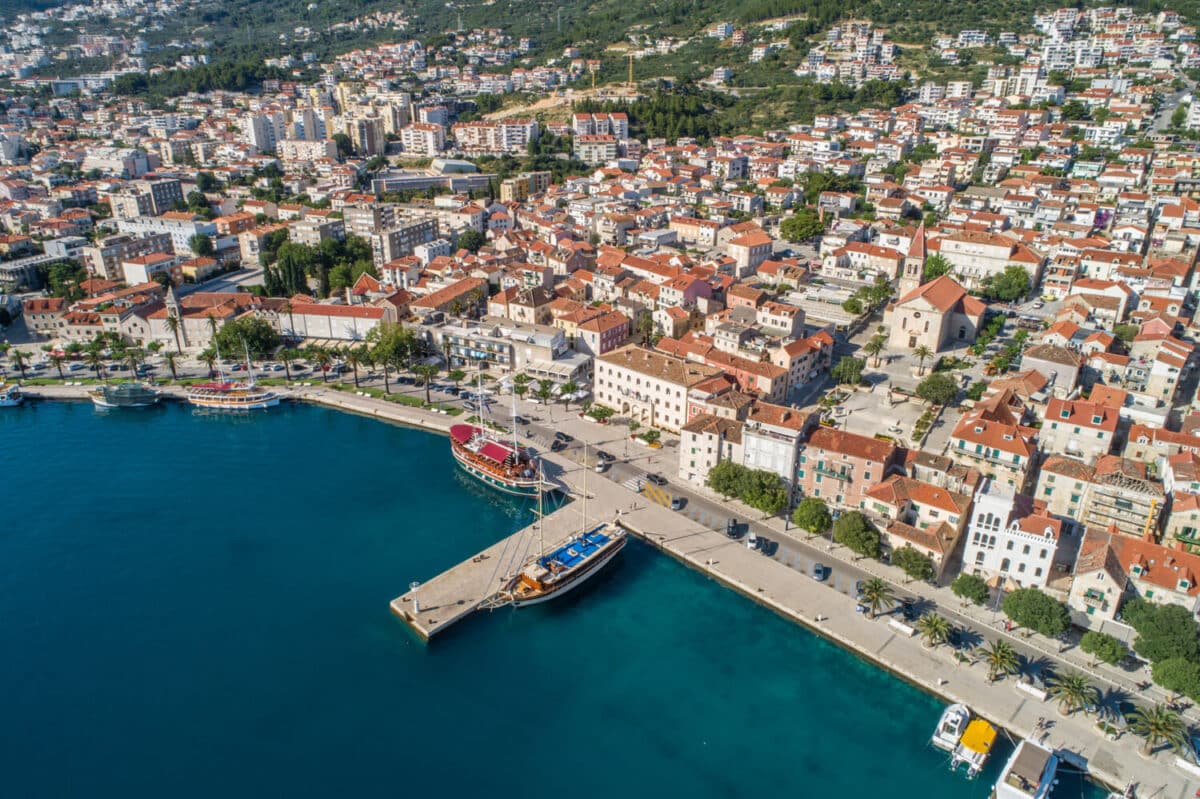 Through the years we explored Makarska bit by bit. We know all the best places and things to do in Makarska. Since we are outdoor enthusiasts, we always check the outdoor possibilities of someplace first. And let us just say that Makarska has some real potential when it comes to adventure tours.
But the list goes much further whether you want to enjoy the nightlife or just want a good base for the exploration of the nearby islands. You'll find out why Makarska weather is a perfect sweet spot for a great holiday.
Let's find out is Makarska worth visiting in 2021!
about makarska
Makarska is the main city of Makarska Riviera and it's located in southern Croatia. It's also one of the largest cities in this part and as such it's the economic center of this part of the coastline. It has been one of the most popular holiday choices for many years now. Honestly, we don't think that there is anyone who visits Makarska Riviera and doesn't come to Makarska at least for one day.
Biokovo mountain and some of its best peaks are situated just above Makarska. We'll talk about Biokovo nature park later in this article. Let us just say that Makarska Riviera and the city of Makarska would lose a lot of their charm if this mountain never existed.
As a city, Makarska has anything you would need from a city this size, a beautiful beach, many hotels, and different accommodation options, and many different activities you can do here to make your holiday or visit even more memorable.
Makarska has a rich past too and remnants of the old city are still visible to this day. The old city is our favorite part of the Makarska center. The Waterfront promenade is another cool place and it's full of people in the evening hours. If you are visiting Makarska, you need to take a walk on this promenade as well as visit the st. Peters peninsula.
how to reach makarska?
As we already mentioned, the city of Makarska is located in southern Croatia, in a part called Dalmatia. It's one of the most famous parts of Croatia so you probably heard about it. A lot of people from countries that are not far from Croatia choose to visit Makarska by car. In that case, the fastest and most convenient way is to use the main Croatian motorway which will greatly reduce the time necessary to reach this city.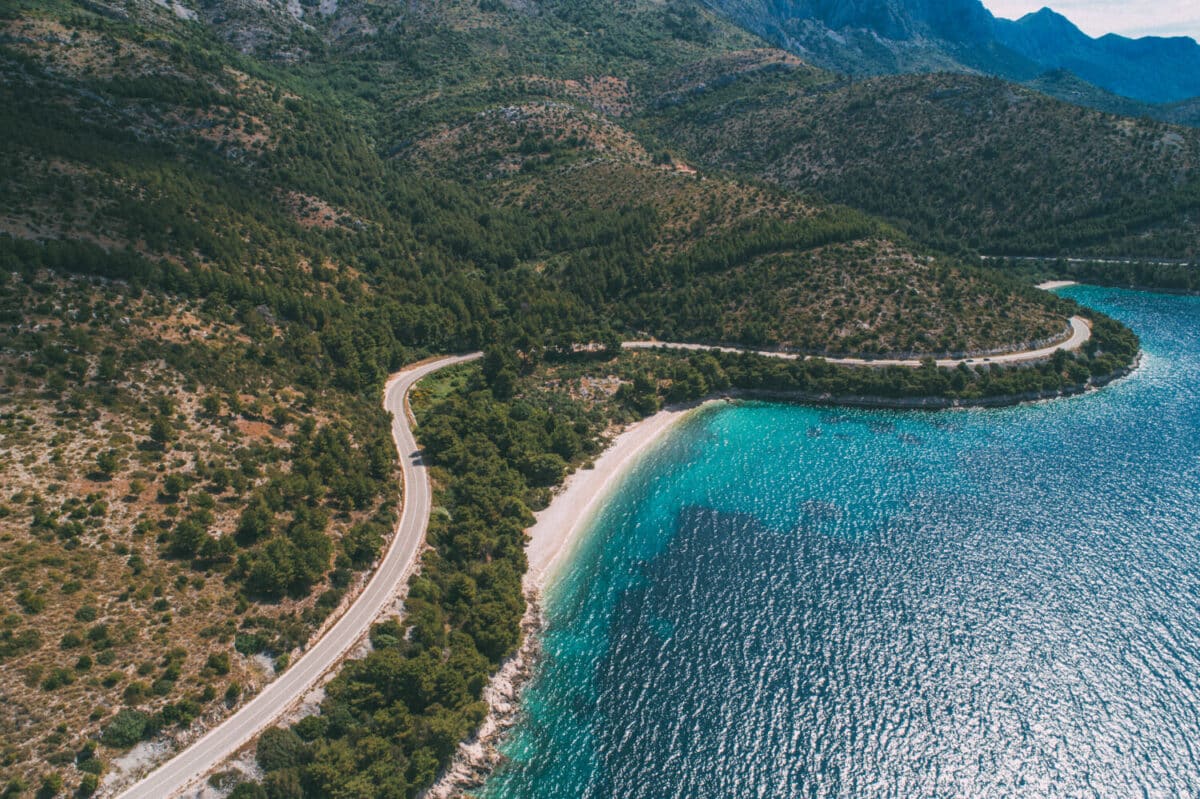 On the other hand, Croatia is known for its scenic routes that go through beautiful nature so if you have few extra hours, we suggest you take these regional roads instead. If you are coming from countries that are not so close then flying to Croatia is probably your choice. The closest airport to Makarska is the Split airport and you need around 1 hour of driving to reach Makarska from it.
Makarska is a well-connected city and easy to reach in any way. There are many public transport lines that pass through it every day. If you are visiting Split and want to travel to Dubrovnik then you are going to pass through Makarska. That is if you choose to use the coastal highway which we recommend you use since it's one of the most scenic routes in Croatia.
things to do and see in makarska
We have already written an article about the best things to do in Makarska so we suggest you read it if you are interested in visiting this city. It will give you a clearer image of it and might answer the question is Makarska worth visiting for you.
Although it's the largest city of Makarska Riviera, the good thing about Makarska is that you can either spend a day in it and see the most popular things or you can spend few days and explore it more. But one day might be just enough to see all the popular places and experience a few of the most popular activities.
However, we suggest you spend at least 2 days in Makarska since there are a lot of places to see that are not so far away from it. Makarska has many outdoor options and beautiful natural places and that's what we like the most about this city. We love hiking on the Biokovo mountain and climb some of the peaks that are rising just above Makarska.
makarska riviera – the pearl of southern croatia
Makarska Riviera is one of the most attractive parts of the Croatian coastline. There are many smaller tourist places scattered all across the Riviera and Makarska is the largest city in this part. Makarska Riviera is truly the heaven on the Earth. It's the perfect blend of Biokovo mountain and the Adriatic sea.
Makarska as the city is a good starting point for the exploration of the rest of Makarska Riviera. It's not so large and you would need a bit more than an hour of driving to go from one part to another. And that's without stopping. But once you start driving through this stunning landscape, you'll see how hard it is to drive without stopping at one of the places that simply call you with their beauty.
makarska riviera beaches
One of the main features of Makarska Riviera is definitely its beaches which are among the most beautiful beaches in Croatia. Most of the beaches of Makarska Riviera are made of pebbles, some of them have smaller ones and some have larger rocks that form a beach.
Some of the Makarska Riviera beaches are secluded and if you ask us, these are our most favorite ones. You usually need to take a longer trail to reach these, but once you find yourself alone on the perfectly hidden beach, you'll know that it was worth it.
Some other beaches are located right in the middle of the urban areas and these are usually crowded with people during the summer months. It's up to you to choose which beach you want to swim at but you need to visit at least one of the Makarska Riviera beaches.
makarska weather
When it comes to Makarska weather, it doesn't differ much from the rest of the Croatian coastline. Makarska has a Mediterranean climate with mild winters and hot and dry summers. You could say that good weather in Makarska starts somewhere in March and lasts all the way to the end of October.
All the months in between are perfect if you want to visit Makarska. It depends on what you want to do around. If you are interested in the sun and sea combination, then the summer months are the best option for you. July and August are the warmest months and that's when Makarska is most visited too. If you like warmer weather but still don't want to have a lot of people around you, then September is a good choice for you. If you are keen on doing some of the outdoor activities in the area, choose the spring months.
Makarska weather during summer is very hot and dry. When it comes to sea temperature, it's warmest during July, August, and September. June is also a good option for swimming although the sea is a bit colder than during the following months. If you are fine with the sea being a bit colder than swimming in May or October will be just fine for you.
nugal beach
Nugal beach is one of the most famous beaches of Makarska Riviera and it's very close to Makarska. The best thing about this beach is that you would never say that you are near the city when you are swimming in it. Nugal beach has been proclaimed as one of the most beautiful beaches in Croatia.
It's characterized by steep cliffs rising from the sea and it's possible to reach it only from one direction. If you are walking from the city of Makarska, you'll need around half an hour of walking through Osejava forest park to reach this beach. Let us just say that most part of Nugal beach is a nudist area, approximately 70% of its area is reserved for nudists while the rest is for clothed swimmers.
If you want to visit Nugal beach, we recommend you take a walk in shoes that are better than usual flip-flops.
biokovo nature park
Biokovo nature park is yet another attraction near the city of Makarska. Biokovo is the largest mountain in Dalmatia and it has many high peaks that are perfect for hiking. The highest peak of Biokovo mountain is Sv. Jure with a height of 1762 meters. It's also the second-highest mountain peak in Croatia. Vosac peak is located just above the city of Makarska and it's one of our favorite Biokovo peaks. The view from this peak is simply amazing.
If you are not fun of hiking we have some great news for you. You can explore the Biokovo nature park in your car too. There is a narrow road that goes through the park and the entrance to it is not so far away from Makarska. The entrance fee is 50 HRK for the adult person and a good thing is that you don't need to pay additionally if you are entering the park in your car.
Be advised that the road through the Biokovo nature park is narrow and you need to have some serious driving skills if you want to visit it during the crowded summer months. We have written an article about visiting the Biokovo nature park and you can find a lot of useful tips and information inside it.
adventure activities near makarska
The best things come at the end. Outdoor activities. The best spice of every great holiday. We believe the largest potential of Makarska and Makarska Riviera lies in adventure tourism. We have been organizing adventure tours on Makarska Riviera for 5 years now and we still enjoy the very same tours we do every day during the tourist season.
We currently have 2 kayaking tours near Makarska. The first one is the sunset kayaking tour in which we explore one of the most beautiful coastline parts of Makarska Riviera. The second kayaking tour we organize near Makarska is the night kayaking tour. We cover the same area like in the sunset kayaking one, but this time you get to paddle during the night which is truly the magic experience. It's one of the most unique of our adventure tours currently.
Then there are many other adventure options. You have the zipline in Tucepi. There are many gravel roads that are perfect for cycling. Makarska Riviera is famous for road cycling too. Water sports are very common in the Makarska area and there are many boat tours organizing the excursions to the nearby islands of Brac and Hvar. Is Makarska worth visiting when it comes to adventure activities! Absolutely.
makarska for couples
If you are a couple visiting Makarska, you might want to know if this city is good for you and your partner. Well, it depends on what the two of you love. We had a lot of young couples on our tours that said that Makarska is great for them and they loved being there. There are a lot of nice places to visit in Makarska that are good for couples. If you want to have dinner with the view, we suggest Panorama restaurant, one of the restaurants with the best views there is on Makarska Riviera.
Since we are Croatia wedding and elopement photographers too, we do a lot of couple photo sessions in Makarska. There are many great places that we use as a backdrop for unforgettable memories from your holiday. If you are interested in surprising your partner with a couple photo session or love the idea of eloping in Croatia, just let us know. You can find more info on our Love and Ventures website.
so is makarska worth visiting at the end?
We hope we have answered the 'is Makarska worth visiting' question. As you can see, it's a city you can spend a day in and explore much of it. It's also a city where you can spend your whole vacation in. Many people choose to visit Makarska on their journey from Split to Dubrovnik, a route often traveled by those who want to explore the Croatian south.
We have a lot of articles that cover the Makarska area, explore them and you'll know is Makarska worth visiting for you.
Enjoy in Croatia and have a nice holiday!