Zaostrog is a small village in the southern part of Makarska Riviera. We like to call it the outdoor paradise of the Riviera because of the many outdoor things to do in Zaostrog. It's also one of our most favorite places on the Makarska Riviera.
Zaostrog is also a popular vacation destination and many tourists enjoy it every summer. And in the times of modern tourism, the usual sun and sea combination is not enough anymore, a place has to have a lot more than that. Zaostrog has it all, although some potentials have still to be developed.
We end this introduction with one cool fact about Zaostrog – it's the only place on the Earth where you can have 2 sunrises in the same morning. And all because Viter peak that rises above Zaostrog.
Join us and let's embark on this journey through the Zaostrog area.
about zaostrog
If you translate the word Zaostrog in the English language it would read 'Evilstrict' with 'Zao' meaning evil and 'Strog' meaning strict. Cool, isn't it? Zaostrog has a long past too. There is an old Franciscan monastery dominating the central part of the Zaostrog. Inside of this monastery, there is a museum and a library with over 30 thousand books.
The landscape of Zaostrog is simply stunning. Maybe the most stunning than in any other place of Makarska Riviera. As you already might know, Makarska Riviera is a blend of the azure Adriatic Sea and Biokovo mountain that rise above it. And all the villages of the Riviera are located somewhere in between. It's this blend that makes Makarska Riviera one of the most favorite destinations for a vacation in Croatia.
There is a large pebble beach right in the middle of Zaostrog, but we believe that the true potential of this place lies in the outdoor things to do in Zaostrog. The main landscape feature that makes Zaostrog so special is the Viter peak that dominates the area and looks magnificent.
how to reach it?
Reaching Zaostrog is easy and could be done in many ways. If you are coming from the countries near Croatia, we suggest coming to Zaostrog by car. If you want to make your way easy and convenient, use the A1 motorway that connects Dalmatia with inland Croatia. You can take either the Zagvozd exit and drive along Makarska Riviera or take the Ploce exit and see the beautiful Neretva delta and pass near Bacina lakes. Either way is great.
We suggest considering taking the scenic routes through Croatia. Your trip might last a bit longer but you'll pass through some of the most beautiful parts of Croatia and you can stop at any of these places.
If you are coming from far away then the airplane is your best option. Zaostrog is somewhere in the middle between Split and Dubrovnik airports and you'll need around 2 hours of driving to reach Zaostrog from any of these. Dubrovnik airport is maybe a bit further away.
Regarding the public transport, many bus lines are running along Makarska Riviera and connecting all of its places, Zaostrog included. But we suggest you rent a car instead of using public transport. Renting a car in Croatia will give you the freedom to explore and discover even the most hidden places of our country.
weather in zaostrog
The weather in Zaostrog is warm and nice for most of the year. It has a typical Mediterranean climate with hot summers and mild winters. The hottest months are July and August. These are the months when most people visit Zaostrog too. But the weather is nice from April to October. It's not as hot as during the high season and that's perfect for all kinds of outdoor sports.
We suggest visiting Croatia and Zaostrog in the preseason or postseason periods when the weather is still fine and there are fewer people around. If we need to choose one particular month, we vote to visit Croatia in September.
introduction to things to do in zaostrog
The best things to do in Zaostrog are the outdoor ones. Kayaking, cycling, hiking, you name it. Water sports such as kayaking are the best option for the hot summer days. Any other activity is much better in the preseason or postseason periods when it's not too hot.
When doing any of the things to do in Zaostrog, you need to be careful, especially when doing land activities such as hiking that will take you far away from the civilization. The surrounding mountains might seem not so high but trust us, you're going to spill more than one drop of sweat when you try to reach them. Always make sure you have the proper equipment and a lot of water when doing the tours like this. And by a lot of water, we mean really a lot. If you are visiting Zaostrog in the middle of the summer, we suggest you choose less intense activities because heat can be unbearable at the times.
Stay safe and enjoy in Zaostrog!
kayaking in zaostrog – secluded beaches and perfect coastline
Kayaking is one of the most popular things to do in Zaostrog. It's a perfect activity for a hot summer day and it's the best one when it comes to the exploration of the secluded parts of the coastline near Zaostrog. Combine kayaking with snorkeling breaks and you'll get the perfect activity for any summer day. There is an option to rent a kayak in Zaostrog or take a guided kayaking tour in the area. Not only the kayaking is the great fun, it also have numerous other health benefits.
We organize 2 of our kayaking tours near Zaostrog, just 10 minutes of driving away from it to be exact. These kayaking tours explore the same piece of the coastline between Vira beach and Zivogosce Mala Duba. The first tour is the Makarska Riviera sunset kayaking tour in which we kayak in the afternoon hours with a few stops at some of the most beautiful beaches in the vicinity.
The other kayaking tour we organize near Zaostrog is the Makarska Riviera night kayaking tour. This one covers the same piece of the coastline as the sunset kayaking one, but this time you get to kayak during the night and it's one of the most unique kayaking experiences out there.
go cycling through the old villages
Before the rise of tourism, the people of Makarska Riviera were living in villages that were much higher than those near the sea. Small fishermen villages slowly formed near the sea and people started to move closer to the sea, especially when tourism became a real thing.
These old villages still exist throughout Makarska Riviera and Zaostrog has one of the most romantic ones. They are full of the abandoned houses that tell the story about some distant past of Zaostrog. Nowadays, more and more of these stone houses are being rebuilt and offered as vacation houses with a pool.
Many of the villages in the Gradac area, which the Zaostrog is part of, are connected by the unpaved road. This road is perfect for the cycling adventure and it's around 20 kilometers long. You can reach any of the old villages of the Gradac area if you go on a cycling adventure here. The view from up there is simply amazing and there are many great viewpoints you can use to rest and enjoy in the perfect view of Dalmatia.
hiking to the viter peak above zaostrog
Hiking is another popular entry of the things to do in Zaostrog list. Hiking is a great activity that has many benefits and it's one of the most popular outdoor activities in the world. A Viter peak that rises above Zaostrog is one of the best hiking options. The hiking trail starts in old Podaca village not so far away from Zaostrog and you'll need around 2 and a half hours to reach Viter.
Hiking trail to Viter is not for everybody since the last part of the ascent is done by jumping from rock to rock and you might get injured. We suggest this trail only to experienced hikers. If you are a beginner hiker, there are still plenty of options for hiking in the Zaostrog area. Vrisje viewpoint above Gradac is one example.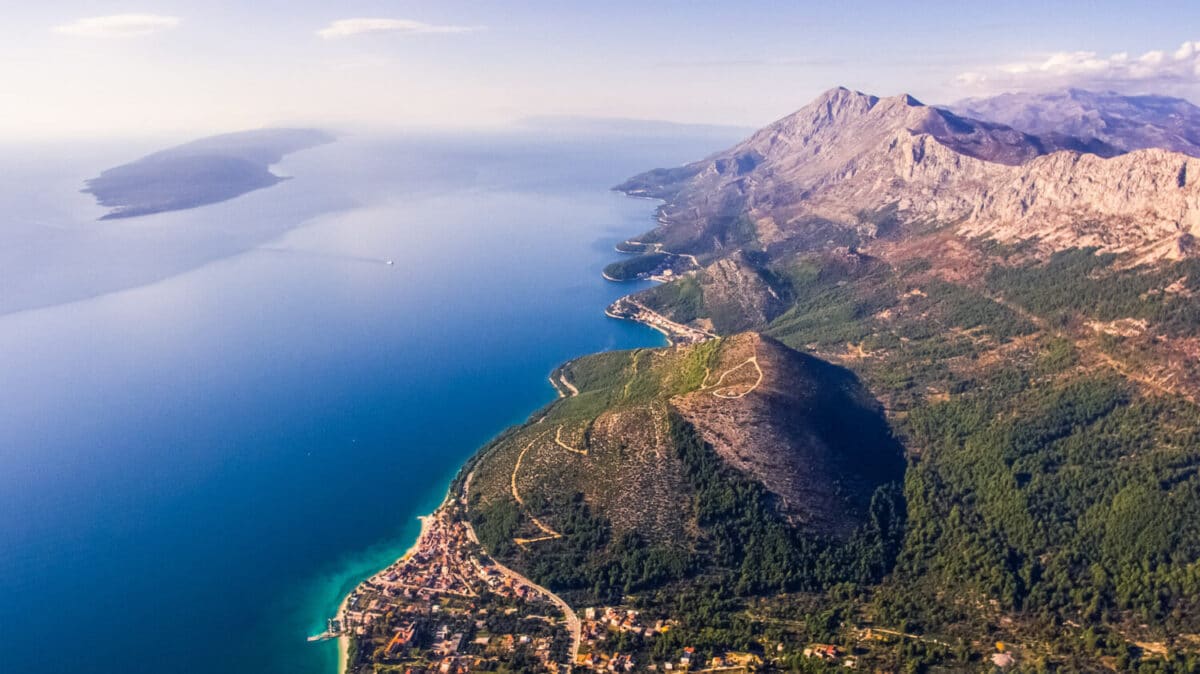 We will repeat this again – always be extra careful when going on a hike in Dalmatia, especially if you are doing it on a hot summer day. There are many dangers like snakes and lack of water that can easily turn against your favor.
explore the old zaostrog village
We already mentioned the old villages and the cycling trail that connects them all. Well, Zaostrog village is a special one. It's surrounded by mountains and a beautiful Dalmatian landscape. If you go to explore it, you can discover a lot of the old stone buildings that were used for different purposes. One of the largest buildings of Zaostrog old village is the school. Many of these abandoned buildings are marked with stone memorials with a description of the usage of a particular building.
Zaostrog's old village was very important during the WW2 era and there were a lot of partisan squads in the mountains near Zaostrog. They even used some houses of Zaostrog old village.
go running along the waterfront promenade
By using the waterfront promenade in Zaostrog, you could easily reach any place of Gradac municipality. If you are to go more south, you'll first reach Podaca, then Brist and finally, you'll end up in Gradac. If you go north, you'll find yourself in Drvenik. This waterfront promenade is perfect for a morning jogging or casual walk in the afternoon hours. It passes by the sea and near some of the most beautiful beaches in the Zaostrog area.
zjatva – a huge hole in the mountain above zaostrog
We were thinking a lot about whether to put Zjatva in things to do in Zaostrog list. In the beginning, we need to say that Zjatva is dangerous as it is magnificent. It's a monumental hole in the mountain. It's not easy to reach it or to find the trail to it. Don't even think about going to Zjatva if you don't have helmets and previous climbing experience. There is no cellphone signal inside Zjatva and there's a real possibility of an accident. We strongly advise not to hike to Zjatva in the summer months because of the heat.
On the other hand, Zjatva exists and there's no reason to hide its existence. The local hiking club is making efforts to make Zjatva easily accessible. When it becomes so, Zjatva has the potential to become one of the main attractions of Makarska Riviera. At least when it comes to mountain phenomenons which Zjatva is. If you want to go to Zjatva, please contact the local tourist board and ask them about the status of the trail. If you have any other doubts, contact us and we will help you in any way we can.
discover amazing places not so far from zaostrog
Except for these things to do in Zaostrog, there are other beautiful places not so far from it. The whole stretch of the Makarska Riviera is close to you and it's best if you explore it by car or even by bike. Makarska Riviera is full of beautiful beaches and other amazing locations. The largest city of the Riviera is Makarska and it's 30 minutes of driving away from Zaostrog. Biokovo nature park is another often visited place. It's located just above Makarska and it covers some of the most beautiful parts of Biokovo mountain.
If you are to go further south of Zaostrog, soon enough you'll reach the city of Ploce. It's a small industrial city with some real natural wonders around it. Bacina lakes are one of these. It's a group consisting of 7 connected lakes and they are the unique sight and landscape of southern Dalmatia. We organize our Bacina lakes kayaking tour there and every guest we had so far on this tour was simply stunned by the beauty of the Bacina lakes environment. It's one of the calmest places on the Croatia coast.
Not so far from Bacina lakes, the unique landscape of Neretva valley is located. Neretva river mouth is one of the most popular places for kiteboarding in Croatia. It's a place with vast sandy beaches and sandbars surrounded by a shallow sea. Neretva river mouth is the most famous and most visited place of the Neretva valley, but there are a lot more places to discover and enjoy in this fantastic landscape.
Hope you got the impression about the things to do in Zaostrog and places to see near it. If you have any questions, feel free to contact us any time and we'll gladly help you. Enjoy your Zaostrog holiday!