If you are a serious adventurer and outdoor thrill-seeker then hiking in Croatia must be on your bucket list if you ever visit this country. Famous mostly because of the beautiful and clean Adriatic sea, Croatian mountains are always kind of in a second plan. We can understand that most of the people visiting Croatia come here in summer and only a truly wild spirit will choose mountain climb instead of chilling in the sea while temperatures reaching 40 degrees Celsius are scorching the land. That is only one of the reasons we always say that Croatia is much better to visit in preseason or postseason. That's in case you are not looking only for a Sun & Sea combination like 98% of other tourists coming in Croatia. Trust us, visit Croatia in May or September and thank us later.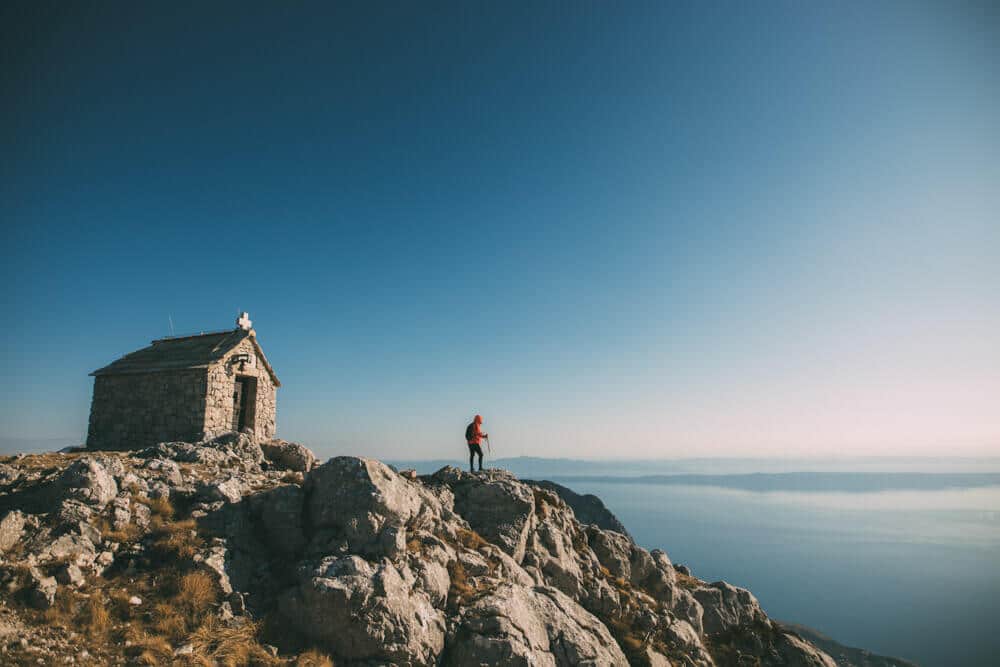 Back to the topic of this post. We are currently preparing for a hiking tour tomorrow and thought about how we haven't written about hiking in Croatia. Tomorrow we plan to do a hike that will last around 10 hours straight and in it, we are going to visit 2 famous peaks of Biokovo mountain – Sv. Ilija and Šćirovac (which is believed to be one of the most secluded mountain peaks in Croatia).
We are addicted to hiking. It's our first love when it comes to outdoor activities. Recently we started to hike more and more and it seems we have started to use most of our free time for hiking adventures. And it's good. We use hiking as stress relief, the more we walk, the better we feel and it all culminates when we reach the top, drink some warm coffee and suddenly the world becomes a better place.
Enough with hiking philosophy, let's start with our list of top Croatian mountains.
hiking in croatia: best mountains

biokovo mountain
Biokovo is the closest mountain to where we live and, logically, we explore it most. Biokovo mountain is the second-highest mountain range in Croatia with the highest peak being Sv. Jure with its 1762 meters above sea level. It's truly a magnificent mountain, wild, crude and highly potential for true adventures. Part of the Biokovo mountain that is near Makarska is also a nature park and a good thing is you can drive on a paved road to the highest peak of this mountain. If you are planning to do this in a summertime be advised that many people are wanting to do the same so the small Biokovo road often gets congested. That's the reason we don't run our Biokovo hiking and photo safari tour in high season.
Apart from the highest peak, some other peaks are reachable by this road with our favorite being Vošac, a peak just above Makarska. If you ask us, this peak has a much better view than Sv. Jure although it is a bit lower. If you want to hike, Vošac peak is also reachable from Makarska and it would take you about 4 hours to reach it and admire the view. If you are keen on doing any of Biokovo hiking trails in summer, take a lot of water and start your ascent early in the morning.
Fun fact: There's a hiking challenge in which you need to walk through the whole Biokovo mountain in winter conditions. It's called Biokovski Vuk (Wolf of Biokovo mountain) and we have written a blog post about it. We'll conclude the Biokovo topic with our favorite peak of this mountain and that is Sv. Ilija. Stunning views on both sides of the mountain, beautiful landscape, Biokovo chamois along the way – mountain at its best.
dinara
Dinara is the highest Croatian mountain and it's peak Sinjal reaches 1831 meters above sea level. We have done numerous excursions to this mountain and have been the highest standing persons in Croatia for a few times. The ascent to this mountain could be done by using different trails but the most used one is a road that starts in the city of Knin. You can combine a visit to this mountain with sightseeing in this historic Croatian city.
Like in the case of Biokovo mountain, Dinara also has a road that is unpaved in this case and it doesn't reach the top of the mountain. It's also not suitable for regular cars. If you are willing to walk it would take you 6 to 7 hours to reach the top if you are starting from Knin. There is a mountain hut up in the mountains and you can sleep there thus making your ascent in 2 days and use the extra time to climb some of the lower peaks of Dinara mountain. Unfortunately, this mountain is in the hinterland part of Croatia so the sea is not so visible, although you can see Kornati national park in a distance. Unpaved road mentioned earlier is perfect for mountain cycling so consider visiting Dinara mountain by bikes if you have them with you on your vacation.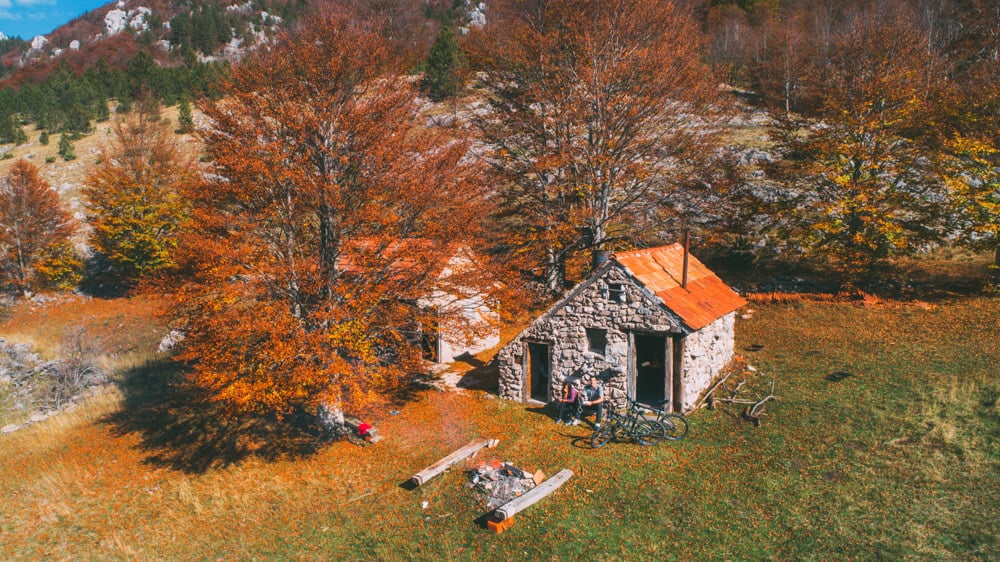 Apart from Dinara mountain, there are some other places you can visit in the vicinity while in the Knin area. Krčić waterfall and spring of Krka river is one of these places. A road that goes above Krčić waterfall and along Krčić river is perfect for cycling and if you follow it for a few kilometers it will take you directly beneath the Dinara mountain. If you follow it for more it will take you to Cetina river and valley. Dalmatian hinterland is an amazing and great place to explore in more adventurous ways.
velebit
When you talk about hiking in Croatia and the Croatian mountains, this one has to be mentioned. Its the largest mountain massif in Croatia and it has the third-highest peak – Vaganski vrh (1757 m). There are 2 national parks situated in this range – Paklenica and Sjeverni Velebit, just a confirmation of how beautiful this mountain is. Paklenica national park is one of the most famous places for rock climbing in Croatia. It's a deep canyon with a hiking trail in the middle of it, a hiking trail that will take you directly to the best places of this mountain.
If you want to experience this mountain to the fullest, the Premužić trail is one of the best ways to do so. This trail was made a century ago and it's 57 kilometers long so don't expect to walk through it in one day. The first 16 kilometers go through national park Sjeverni Velebit. Usually, it takes roughly 3 days of mild hiking to pass the whole trail. The whole mountain is full of shelters and mountain huts in case you want to spend some more time in high places. We still haven't explored this mountain to the extent we want to. It's not so near the place where we live but we plan to give this mountain the attention it deserves in the future.
crnopac and little prince trail
One of our favorite places for hiking in Croatia. What a wonderful place this is. And different from everything else. You can do the tour in one day but we suggest you sleep in a mountain shelter at the start of this trail and let this mountain show you the best it can offer. So far, mountain shelter in this mountain is the best one we have been to so far. Stunning place and landscape to build a shelter at. Trail of the Little Prince is the circular hiking trail with many different landmarks along the way. One moment you'll be climbing on a prominent peak and rise above the forest you've been walking through and in another moment you'll be descending in a pit on a long metal ladder. Technically this peak and hiking trails are also part of Velebit mountain. We have visited this place only once and didn't have a chance to hike to Crnopac peak (1402 m), a thing we plan to correct in the future.
bijele and samarske stijene
These 2 separate trails are not a mountain in its core but rather a most beautiful part of Velika Kapela mountain range. We have passed both of these trails and can only say we were astonished by the nature creations at this place. At moments it seems that nature was a surreal artist here. Megalithic rocks, deep caves and holes, forest and other characteristics make you feel like you're on the other planet. Again, it would take you 2 days to pass both of these trails. You won't stand on any high peak like you would on a regular hiking tour but you are going to visit one of the most fascinating landscapes of Croatia. You can spend the night in nearby villages but we suggest you sleep at Ratko's shelter (Ratkovo sklonište). We won't describe it, just look at the image below and you'll understand everything.
risnjak
Risnjak is the only place we haven't been to so far. We don't know why and how since it wasn't so far from us in a time when we have lived in Zagreb, capital of Croatia. It's also a national park that got its name from a lynx (Ris in Croatian). This national park is situated in Gorski kotar which is often called 'the lungs of Croatia'. Expect a lot of forests there. Fun fact is that this is one of the most rarely visited national parks in Croatia. Since we haven't been there we cannot say much about it. Risnjak is considered to be one of Croatia's most beautiful mountains. The highest peak of this mountain is Veliki Risnjak (1528 m).
snake's hill (zmijino brdo) on pelješac peninsula
The highest peak of this mountain is Sv. Ilija (960m) and it rises above Orebić on the Pelješac peninsula. It's also the highest mountain peak of Pelješac. The mountain has a name Snake's hill because it's full of snakes. Once you reach the top of this mountain you'll have a chance to enjoy one of the best views in Croatia. Just make sure you check the forecast before you embark on this hiking tour since the weather is tricky on this mountain and clouds can envelop the mountain peak in a matter of minutes making visibility very poor. This is what happened to us that one time we have visited this mountain so we can't show you the view from up there since we haven't got a chance to enjoy it.
There are many more good places for hiking in Croatia. If you have any questions regarding hiking in Croatia and you think we might help you, just let us know. If you are hiking during the summer months just make sure that you have the proper hiking equipment and good hiking boots. Don't go hiking in sandals. Yes, it sounds funny, but you'll be amazed at how many people embark on an adventure like this. The temperatures in the summer can go up to 40 degrees Celsius so make sure you take extra water with yourself. We suggest using only marked trails since it's easy to get lost. In the case of an accident in the mountain call 112 for help. Enjoy your hiking in Croatia and send us some photos!