Gradac is a small touristic place on the southern edge of Makarska Riviera and a popular vacation destination for more and more tourists visit Gradac each year. We could easily say that 99% of these tourists explore only 1% of Gradac potentials. Yes, it has nice beaches and a warm sea but if you are the kind of person not attracted only to these two, stick around and we'll discover you our top things to do in Gradac.

Except for the beach&sea combination, Gradac is full of places just waiting to be discovered and trails waiting to be walked or cycled on. Some of these places are easy to reach and for some of them you'll need to spill few extra sweat drops, but hey, no glory comes while just laying on a beach. Gradac is a nice blend of the Adriatic sea and the Biokovo mountain, just like many other places on Makarska Riviera.
Our recommendation for the exploration of the Gradac area would be exploration by bike. You can rent it somewhere in Gradac or you can contact us and rent one of our mountain bikes. A good thing is that all the places along the shore are connected by road or walking trails and you can easily get from Gradac to Drvenik in no time. You'll ride your bike near the sea most of the way and you just might stumble upon the perfect secluded beach since the Gradac area and Makarska Riviera is full of these.
Read further to find out more information about every entry of this list. If you need more info about the Gradac area, visit the official Gradac Tourist Board site.

getting to gradac
Gradac is the southernmost part of Makarska Riviera, just 40 minutes of driving away from the city of Makarska. There are few options to come to Gradac and these depend on your preferences and distance from Croatia.
Visitors from the neighboring countries choose to visit Gradac by car. If you are coming to Gradac by car, the fastest and most convenient way to reach it is by using the A1 motorway in Croatia. This motorway connects northern Croatia with Dalmatia. For coming to Gradac you can either choose the Ploce city exit (Karamatici) or Makarska exit (Zagvozd). You'll have a similar arrival time in both cases.
Getting to Croatia by airplane is another popular way of reaching this beautiful country, especially for visitors from distant countries. The closest airport to Gradac is Split airport and you would need around 2 hours of driving to reach Gradac. The good option for all that come to Gradac this way is to rent a car at the airport. Beware that in the high season roads can get pretty crowded so using the motorway is the better option.
Another option is frequent bus lines that connect Makarska Riviera with other parts of Croatia, but for the sake of adventure and exploration, we suggest you either rent a car or get by car to Croatia.
best time to visit gradac
A lot of things to do in Gradac require good weather. Let us tell you something about the overall weather on Makarska Riviera, and finally, in whole southern Croatia too. The summers are dry and sunny and that's why most of the people choose to visit Gradac at this period of the year.
The beautiful Adriatic sea is warm and everybody likes that. July and August are the warmest and driest months. The high season is between the 15th of July and the 20th of August. Most tourists are visiting Gradac in that period. There are many people around and it's very alive.
Preseason and postseason would be the best times to visit Gradac if you ask us. Months like May, June, and September are perfect too. The weather is still great, although not hot. September is very warm and calm and the sea is perfect for swimming. Similar is with June. Always consider visiting Croatia in these periods because there are a lot less people around.
Finally, some outdoor things to do in Gradac are best done when the weather is not too hot.
introduction to things to do in gradac
There are many great things to do in Gradac, some of them are relaxing and easy, like kayaking tours near Gradac, and the other ones are a bit more adventurous, such as Gradac rock climbing tours.
There are quite a few nice places not so far away from Gradac. Beautiful Bacina lakes and Neretva valley are just 15 minutes of driving away and it would be a shame not to visit them. Both of these natural wonders are situated near the city of Ploce, the largest city in the vicinity of Gradac.
gradac adventure tours
Things that involve adventure are among the best things to do in Gradac. Adventures you can do in the Gradac area range from different water sports like kayaking to land activities like hiking and rock climbing.
We organize few adventure tours in the Gradac area. One of our most popular ones, Bacina lakes kayaking is being organized in the beautiful nature of 7 Bacina lakes, just 15 minutes of driving away from Gradac.
Two of our adventure tours are organized in the stunning landscape of Makarska Riviera, also 20 minutes away from Gradac, just in the other direction other time. Our Makarska Riviera sunset kayaking tour and Makarska Riviera night kayaking tour cover the same piece of coastline but present a completely different experience.

visit bacina lakes and neretva river delta

Baćina lakes and Neretva delta are two different and beautiful landscapes near the city of Ploče and just 15 minutes of driving away. If you are traveling to Dubrovnik by car, you are going to pass near both of them and it would be a shame not to visit them. Read these texts about Baćina lakes and Neretva delta to find out more info about them.

The Bacina lakes are a group consisting of 7 different lakes and 6 of them are connected. It's a place of unique beauty and ultimate serenity. Not many people visit them (which is good) and it's the best place if you are tired of crowds or just want to recharge your inner batteries somewhere.

If you want to stay active, you can choose between kayaking and SUP tours or you can cycle around all the lakes since there is a trail that connects and goes around most of the lakes. There are 2 beach bars in the area and you can go on a safari boat tour from either one of them. The temperature of the lakes is always warmer than one in the sea which makes them perfect for swimming even in the months preceding the summer season.

Did you know that Gradac gets tap water from Bacina lakes? There are other peculiar things regarding the lakes. One of them is 2 kilometers long tunnel that connects Baćina lakes with the Matica river that runs through Jezero valley and serves as a drainage canal during the rainy season. The good thing about it is that it's dry during the summer and it's possible to walk through it in its full length. Just equip yourself with a flashlight and you're good to go.

On the other hand, Neretva delta is a completely different story. It's a place made by the Neretva river on the last 20 kilometers of its journey through Croatia. It's also situated near the city of Ploče and we recommend visiting it in combination with the Baćina lakes. We would also suggest you visit Baćina lakes in the morning and Neretva delta in the afternoon hours. If you follow our advice, you'll see a lot of kitesurfers enjoying the wind that blows almost every afternoon.
Neretva river delta has become one of the most popular places for kitesurfing (kiteboarding) in Croatia. You can even sign up for kitesurfing school here and learn the basics of this perfect summer activity.

If you are not interested in any of the activities, you can still enjoy the unique landscape. There are a lot of sandbars around and you can walk for hundreds of meters straight into the sea while it reaches only to your ankles. Neretva Delta has some of the most beautiful sunsets in the area and it's a good idea to end your day sungazing from one of the sandbars.

go hiking or rock climbing

Mountains. You can't miss them when staying in Gradac. They are all around you and since we are mountain and hiking lovers we had to put the mountains in top things to do in Gradac list. Even though, we need to be honest and say that summer might not be the best season to enjoy hiking. The reason for this is obvious – the heat. It can become unbearable so have that in mind when planning your hiking trip anywhere in Croatia.

But if you go early enough, you can still return before the hottest hours. The good thing about hiking in the Gradac area is that it has few easily reachable places such as Vrisje. It would take you less than one hour to reach this famous viewpoint and even though it's not as high as some other peaks, the view from it is amazing.

One of the most popular mountain peaks in Gradac is the St. Ilija peak with a height of 773 meters. If you are a regular hiker, it would take you around 2 hours to stand on the top of it. The view again is beautiful. Even though mountain peaks near Gradac are among the lower ones on Makarska Riviera, they still deliver a real hiking experience and beautiful views.
If you are interested in hiking or want to go hiking, there are some rules to follow. Visit the official site of Croatian Mountain Rescue Service for more details about how to prepare for the tour in the mountains. Never go alone, and always bring a lot of water.
Don't hesitate to call help on 112 if you are in any kind of trouble. Croatian mountain rescue service will rescue you for free but don't let yourself end in trouble only for being reckless. Always follow marked trails and never deviate from them. And finally, enjoy!
Rock climbing is yet another activity you can try while staying in Gradac. There is a climbing area right on a way to Vrisje (which we mentioned earlier) and there are more than 10 routes with different difficulty grades.
Gradac rock climbing area is perfect for beginners with a more than few beginner grade routes. If you have never climbed before, you should check our rock climbing tour for a beginner's basic course in rock climbing. Rock climbing is among most adventurous things to do in Gradac.

cycle through old villages of gradac area

Before the places such as Gradac were formed on a coast of Makarska Riviera, people lived in villages that were right in the middle between mountain peaks and the sea. When the people moved to live by the sea, old villages were abandoned and the houses slowly started to decay. Nowadays a lot of them are being rebuilt and serve as vacation houses. All these villages of Gradac area are connected with unpaved roads perfect for cycling.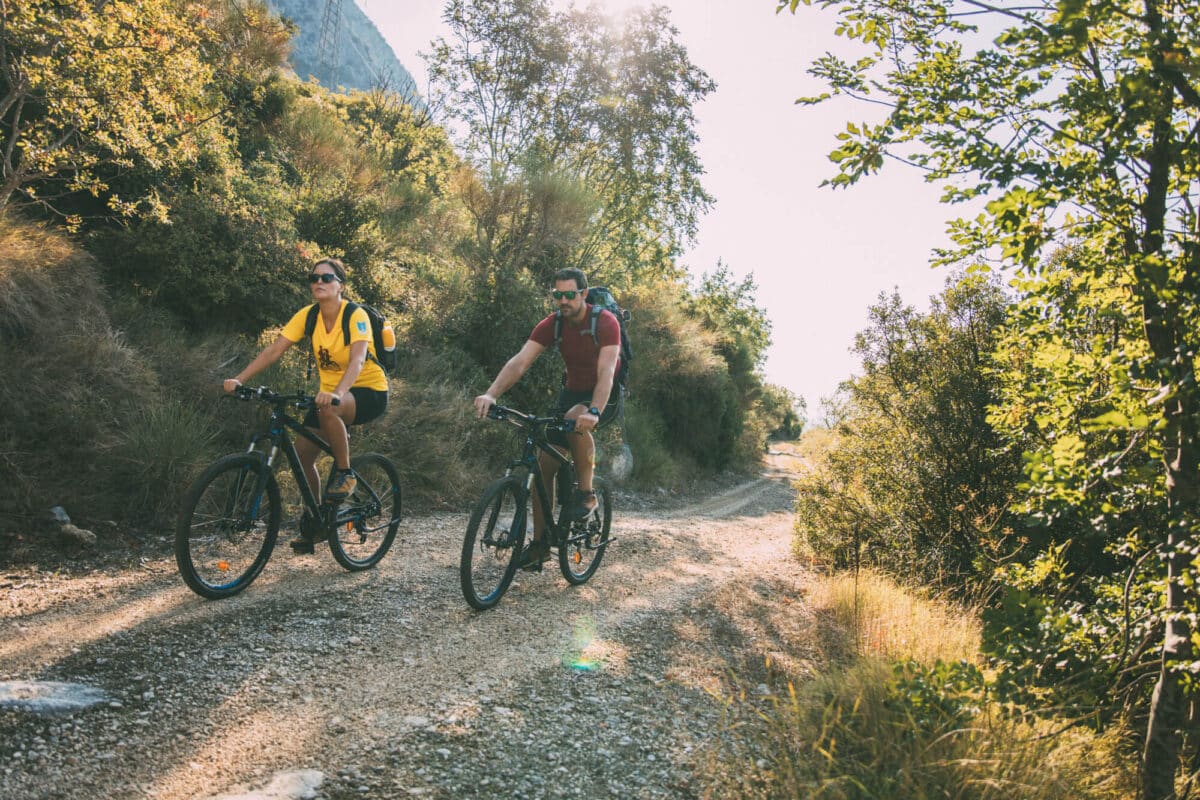 You can do multiple variations if you choose to cycle these trails, for example, you can cycle through the old villages in one direction and return by the sea in other. This way you can stop on a beach for swimming. Each of the old villages has a road that connects them with its sea counterpart. Since the roads are mostly unpaved, you should use a mountain bike for this adventure.
Once again, you can rent one by contacting us. Always go cycling in full equipment and with spare parts such as extra tires. Every village along the way is a story for itself and a place worth exploring and many of them have their tables of things worth seeing so pay attention to these while cycling. We'll just mention one of our favorite places along the way and that's Gradina, ancient fortress and viewpoint in Drvenik area. Cycling is relaxing activity and when it comes to things to do in Gradac, it's the activity perfect for the exploration.

go on a night kayaking tour near gradac or go night swimming

You can do some fun stuff even when it's dark outside. That's why we designed our night kayaking tour. Summer nights on Makarska Riviera are pretty warm and so is the sea. If you never tried night swimming, you don't know what you are missing. The sea is calm, the starry sky above you and bioluminescence of the plankton that lights up with your every move in the sea. It's something out of this world. Extra tip: don't go swimming right in Gradac.
There is so much light pollution and you won't be able to see much. Instead, go on one of the secluded beaches in the vicinity, far from the lights, and let the fun start. Extra extra tip: swim naked.

visit hvar island

We were thinking a lot about what to put as a number 5 on this list. And since we have visited Hvar island not so long ago we decided that it's the right option for many reasons. First of all, it's the most easily reachable island if you are staying in Gradac. The ferry connects Drvenik and Sućuraj on Hvar island and you can see the schedule on Jadrolinija main site. The ferry ride is pretty cheap and short and Hvar is a beautiful place. Both island and Hvar town. There are many famous places to visit there, with Red Rocks being one of our favorites.
We suggest you take one day and explore the whole island. Many of the places are reachable by car even though some of the best ones are not. Instead, you should walk a while to reach them. If you like wine, then you need to go to Sv. Nedelja and visit a famous local winery. Paklinski islands are another place worth visiting and you can go there with a local taxi boat from the city of Hvar. The city of Hvar is also very beautiful and it has been one of the most popular places to visit in Croatia for a long time.
discover the beauty of makarska riviera
As you already know, Gradac is part of Makarska Riviera. One of the best things about it is that it's full of beautiful beaches just waiting to be discovered. But just like the things to do in Gradac, there are many similar things to do in the rest of Makarska Riviera.
You don't need to drive far to experience some of it. When talking about Makarska Riviera beaches, there are many secluded ones which are a perfect choice if you want to get away from the crowded ones in the centers of the tourist places of Makarska Riviera. Even though there might be a lot of people on these beaches too, they are still less visited.
Biokovo mountain is another popular place to explore, especially for all the hikers out there. Part of this magnificent mountain is known as Biokovo nature park and it's one of the 'must-see' places of Makarska Riviera.
Hope we helped and enjoy doing all these things to do in Gradac! Contact us if you have any additional questions.