Traveling from Split to Dubrovnik is one of the best road trip experiences you can have in Croatia. Although, we have to say that whole of Croatia is a driving paradise and the roads in it pass near some of the most beautiful parts of this country. The best tip we can give you regarding the road trip in Croatia is: Always take the long road.
We have traveled all across Croatia on many occasions, we know some roads better than the others, and we have traveled from Split to Dubrovnik many many times. We know all the secrets and best places of this route. Part of this trip can be made by using the motorway, but we suggest you take the seaside scenic route instead. It will be a slower trip but a much more pleasurable one.
So let's start with our journey from Split to Dubrovnik.
arriving to split
To do the mentioned road trip, you first need to arrive in Split, the second-largest city in Croatia. You can do this in multiple ways and arriving by airplane seems like one of the most favorite ones. There is an airport near Split and it connects this city in Dalmatia with many other cities all across the world. Frequent bus lines connect the airport with the city center. There is an option to rent a car too and it's the option we suggest to anyone arriving in Split by airplane. The car will give you the freedom and ability to explore almost any place in Croatia.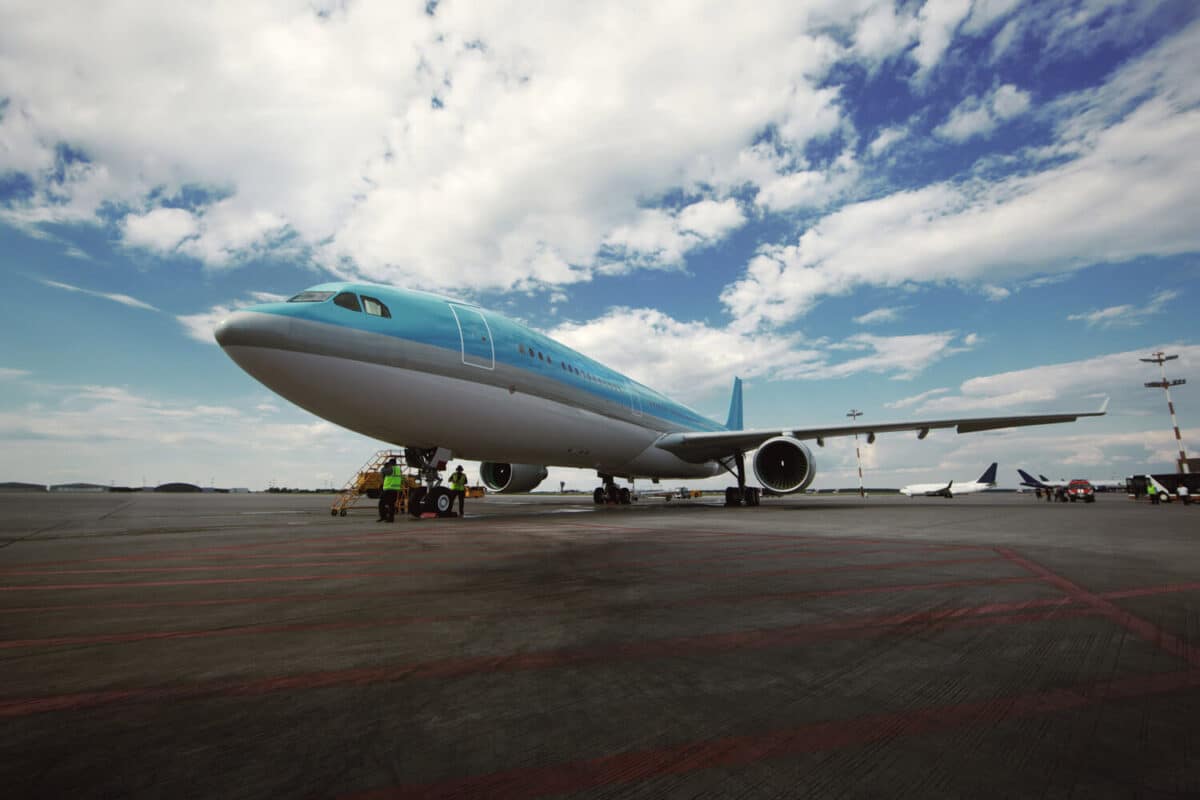 Many tourists from the countries near Croatia choose to come to Split by car. It's a good option and driving to Split from these countries is not taking so long. Croatia has a motorway that connects Dalmatia with inland Croatia and it's the fastest and most convenient way of coming to Split by car. There are many regional routes which will prolong your journey but you'll pass through much more beautiful parts of Croatia. If you love driving and exploring, we suggest you take one of these routes to come to Split by car.
Public transport is the third option for arriving to Split and you can choose between buses and train. Numerous lines are connecting Split with other cities in Croatia, especially with Zagreb, the capital of Croatia. Traveling by bus is faster than traveling by train, but then again, traveling to Split by train is a kind of adventure and something you need to experience. Although much slower than it should be, we always suggest traveling by train. Few lines run between Zagreb and Split, and the night train to Split is one of the most favorite options for travelers since you'll arrive in Split at sunrise.
a bit about split
Many things could be said about Split. It's the second-largest city in Croatia and it's one of the most popular and visited cities of this small European country. Split is located in the Croatian region known as Dalmatia which is, on the other hand, one of the most visited Croatian regions. Split is a sea city and it has a rich past. It was the largest Roman city on this side of the Adriatic sea. Old Roman palaces are still dominating the city center and driving many tourists to visit Split and these monuments.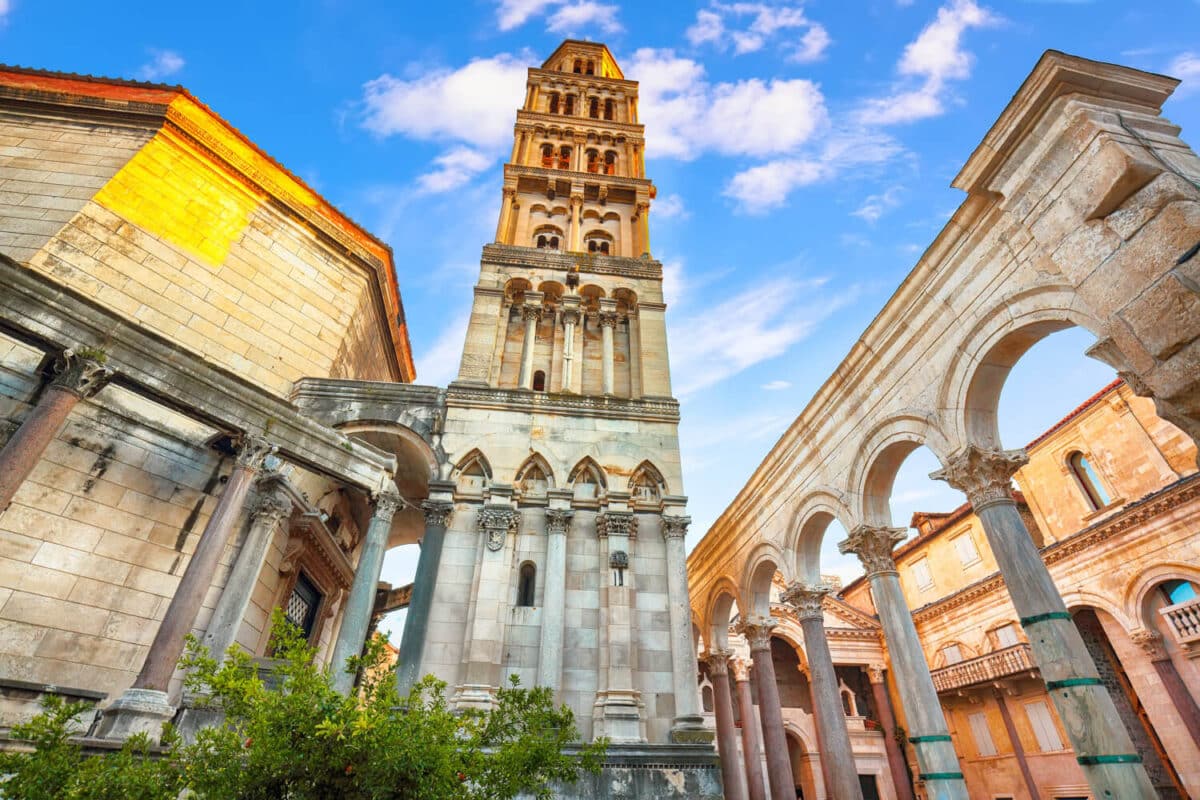 Split is also a perfect base for the exploration of the whole of southern Dalmatia. You can easily get to any place from Split, whether it is some of the islands you want to explore or you want to drive to Dubrovnik, one of the most famous of all Croatian cities. Split is also a city with vivid nightlife and many famous events most of which are organized during the summer months. Finally, Split is a city worth visiting and experiencing for many reasons and this city can provide you some great memories from your Croatia holiday.
introduction to split to dubrovnik road trip
Split to Dubrovnik road trip is the ultimate road experience of Croatia. It's also one of the routes most frequently used during the summer in Croatia. The distance between Split and Dubrovnik is around 200 kilometers. Translated into hours of driving, that means you'll need around 4 hours to reach Dubrovnik from Split. And this varies according to the season and amount of traffic on the road. Sometimes the trip might last a bit longer.
There are many things to see and experience in southern Croatia and although Split to Dubrovnik road trip could be made in one day, we suggest you take few days and explore as much as you can. People usually do it this way – they come to Split airport, rent a car, spend a day or two in Split and then they embark on a Split to Dubrovnik road trip and stop at a different place every night. Finally, they end the journey in Dubrovnik, spend a day or two there, leave a rented car at the airport and fly from there back home.
Southern Croatia is awesome!
split to dubrovnik by car
Traveling from Split to Dubrovnik by car is the experience for itself. And we suggest you do it this way. You can stop whenever you want and wherever you want to. You have complete freedom when you travel between these 2 cities by car. The road is in good shape all the way, it's wide enough and you don't have to worry about anything when it comes to driving in Croatia.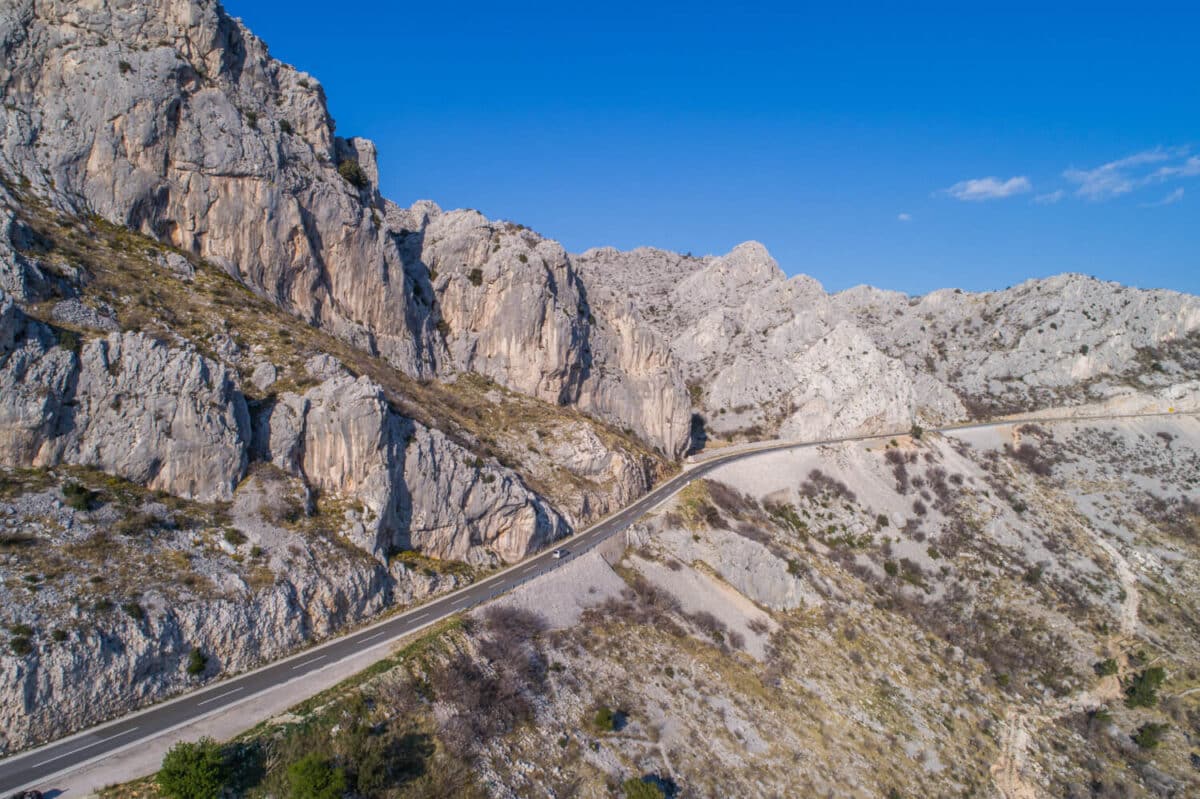 It's a 200 kilometers long trip and expect it to last at least 4 hours. In the summer months, there is a higher possibility of dense traffic so your Split to Dubrovnik road trip might get prolonged, but it's nothing dramatic and if you find yourself in a situation like this one, just stop at the first beach and take a swim.
If you want to be faster, you can take the motorway between Split and the city of Ploce which will save you around 30 minutes of driving. But the route near the sea is much more scenic and we recommend you take it. Also, always check the latest state on the road regarding traffic jams or queues.
crossing the border with bosnia and herzegovina
You might already know this, but if you don't you need to know that there is a small patch of Split to Dubrovnik route that goes through neighboring Bosnia and Herzegovina. We won't go into the details of how this happened although the story is long and interesting. It's not a long drive through B&H, in about 15 minutes you'll be in Croatia once again. You'll need a valid passport to cross the border and that's it. Also, be aware that there might be a queue on the border in the summer months and you might wait for a while.
There is a bridge being constructed between Komarna and Peljesac peninsula that was supposed to be finished in 2022. That way, no crossing of the border will be necessary anymore. If you want to avoid the border for any reason you have one more option. There is a ferry from Ploce to Trpanj on the Peljesac peninsula that will allow you to drive only through Croatia during the whole Split to Dubrovnik road trip.
split to dubrovnik by bus
If you don't have a car at your disposal, you can always rely on public transport and the bus is the best road option if you want to come from one place to another. Traveling from Split to Dubrovnik by bus will take you a bit more than 4 hours since the bus stops at many stations. There are frequent bus lines that connect Split and Dubrovnik and you shouldn't have problems with finding one. We suggest you book a ticket as soon as you can since a lot of people travel this route.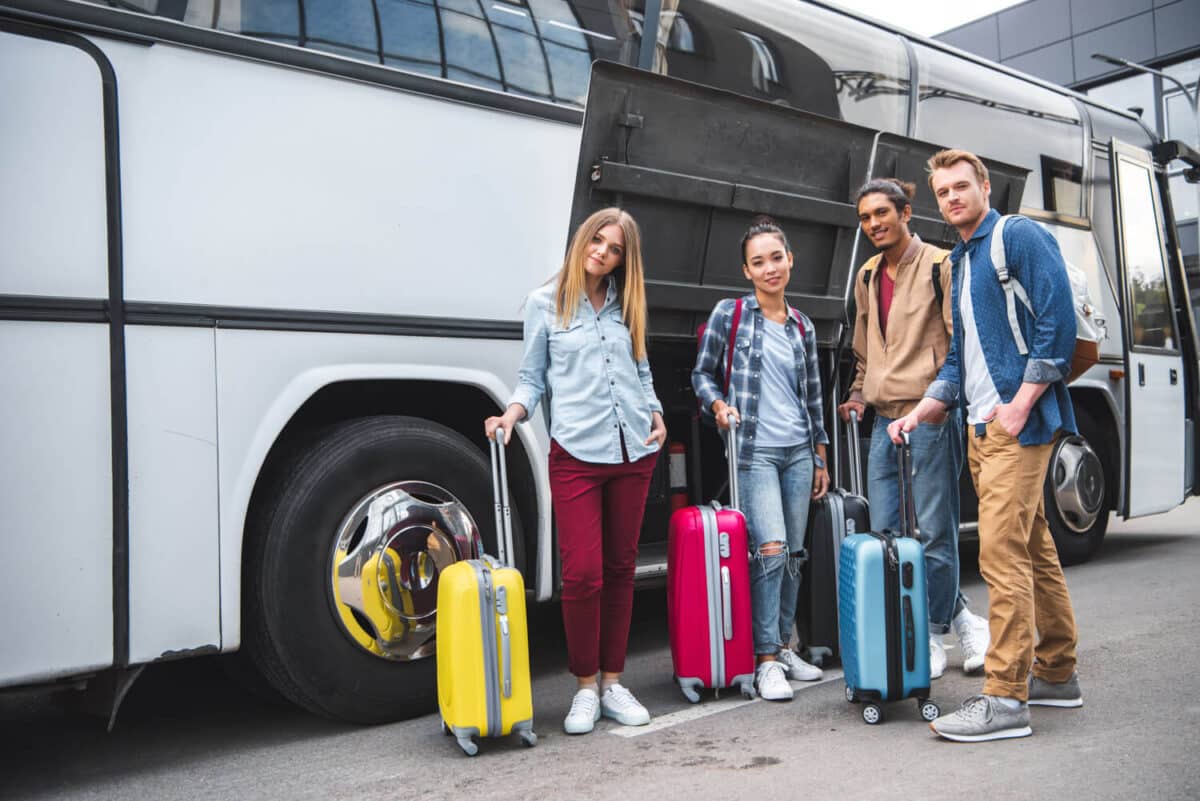 Don't expect to show up at the bus station and find a spot on the bus immediately. It might happen, but it's better if you book before. Going from Split to Dubrovnik by bus is convenient and not so expensive. We also suggest you do the travel early in the morning rather than in the midday hours, especially if you are traveling from Split to Dubrovnik in the summer months.
split to dubrovnik by ferry
Another option at your disposal is traveling from Split to Dubrovnik by ferry. Ferry routes are pretty common in the summer months and almost nonexistent through the rest of the year, especially during the winter months. When it comes to Split to Dubrovnik by ferry you can choose between faster catamaran lines and slower ferry lines. Both have advantages and disadvantages. Ferries are usually slower and cheaper. Catamaran ride will be much faster but it will be more expensive too.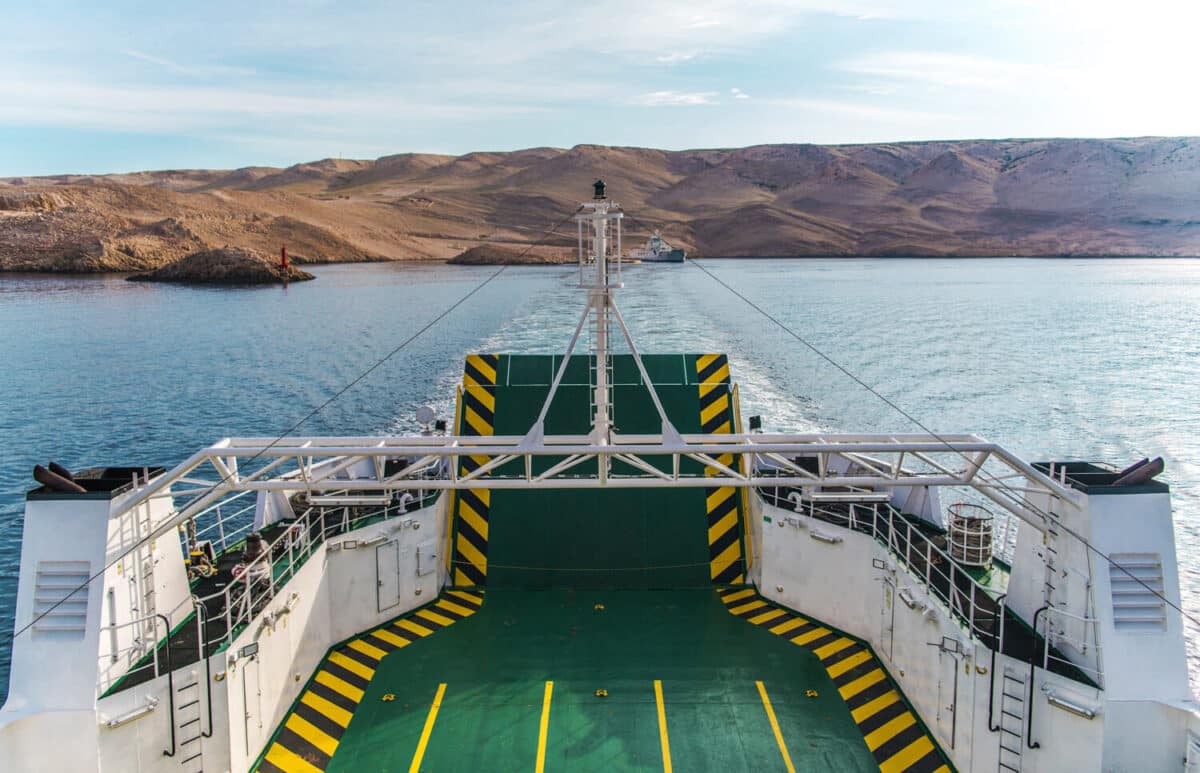 You can expect a catamaran ride to last for about 4 hours while the same ferry ride will last around 2 hours more. We suggest you buy your ticket as soon as you can since they are often sold out. You can also make different combinations when it comes to Split to Dubrovnik by ferry ride. For example, you can take the slower ferry to one island, explore it a bit and then take a faster boat to Dubrovnik.
what to see and experience in the southern croatia
South of Croatia is a beautiful piece of land and sea. It has a beautiful coastline and hinterland part. It has many equally beautiful islands. There are a lot of places to explore and experience. Lets' start with the places your stumble upon when traveling from Split to Dubrovnik.
The city of Omis is the first city south of Split. A stunning Cetina river canyon is situated near it. It's the old city of rich history and beautiful nature that surrounds it. It's perfect for rock climbing and many other outdoor activities such as zip lines or Via Ferrata trails. Rafting on the Cetina river is one of the most popular activities in the area.
You'll drive through Omis Riviera and soon enough you'll find yourself in a landscape known as Vruja. It's a world of barren rock and high cliffs. And it's simply stunning. It's also the place where Makarska Riviera starts. Makarska Riviera, on the other hand, is a perfect blend of Biokovo mountain and the azure Adriatic Sea. It's one of the most-visited parts of Croatia too. We suggest you take a swim at one of the many Makarska Riviera beaches.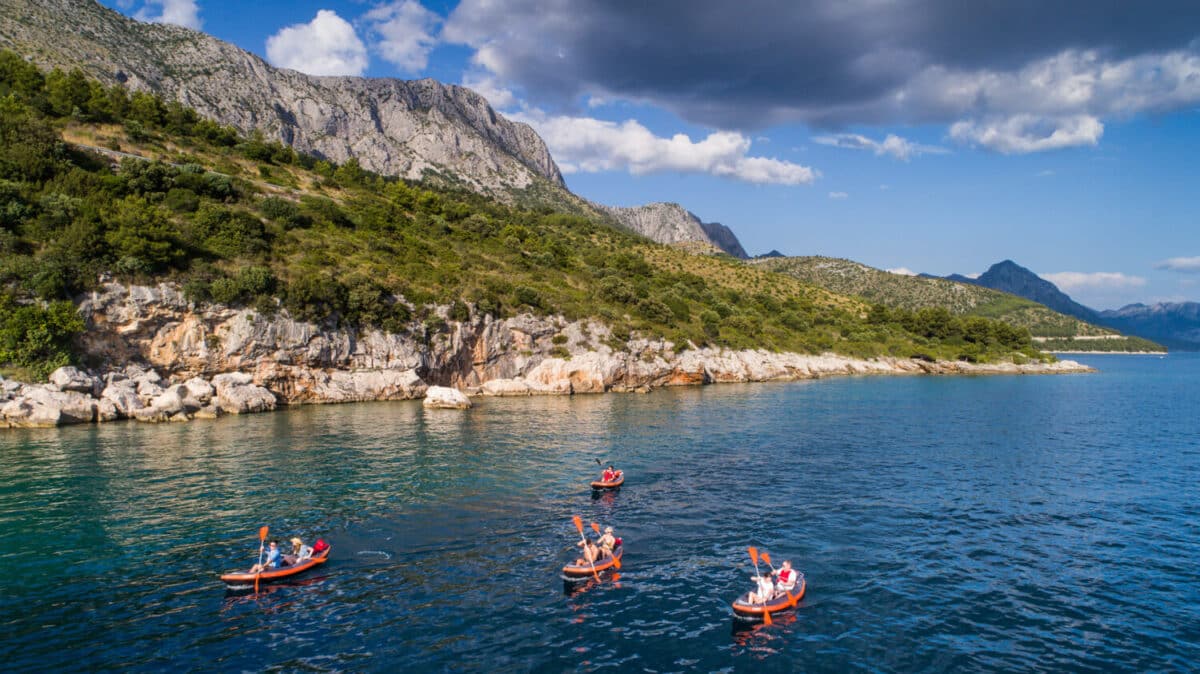 Biokovo nature park is the protected landscape near the city of Makarska, the largest city of Makarska Riviera. There is a narrow road going through the part of the park and you can reach the highest peak of Biokovo mountain if you are to take this road. There are many other interesting places to see on Biokovo mountain such as the newly built Biokovo skywalk, one of the main park's attractions.
After the Makarska Riviera, you'll reach the city of Ploce. It's a small industrial city and you can take the ferry to avoid the border crossing from here. The city itself has one of the most peculiar architectures of all the other cities in the vicinity. And there are 2 beautiful landscapes near the city of Ploce.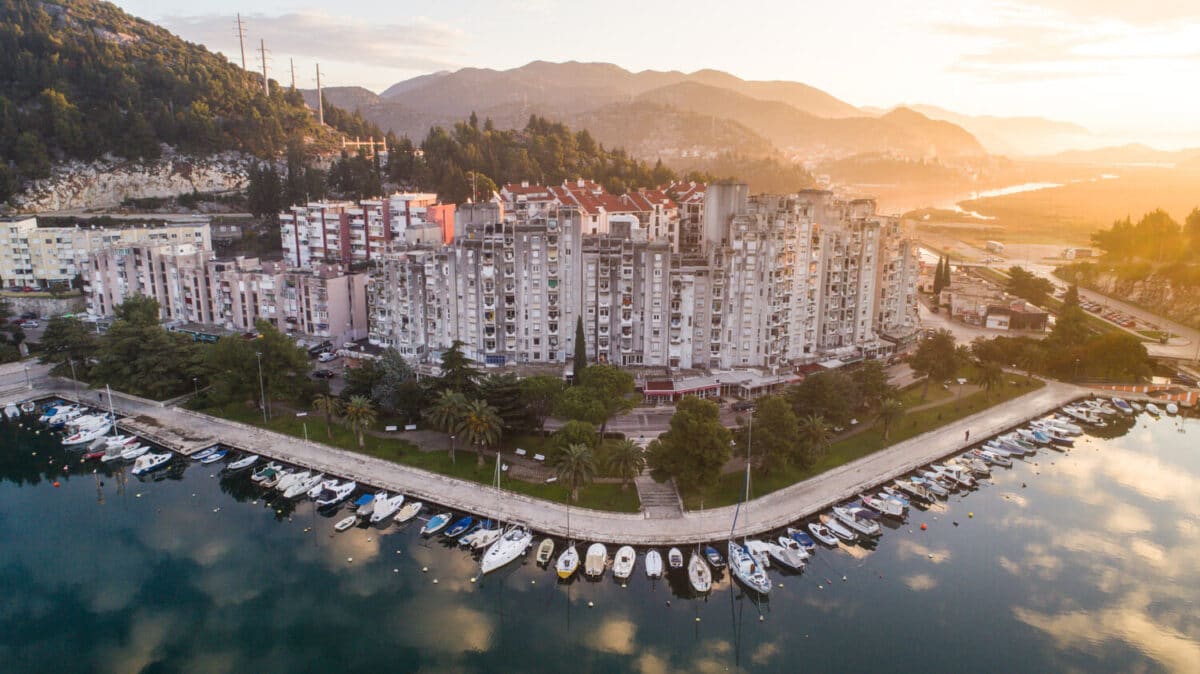 The first one is Bacina lakes, the group of 7 connected lakes. They are a place of peace and serenity, even in the crowded summer months. The road between Split and Dubrovnik passes near Bacina lakes and we suggest you visit them, at least for an hour or so. You can do many things in this beautiful landscape, enjoy in one of the beach bars or take one of the adventure tour options on the lakes. We organize our Bacina lakes kayaking tour there and it has been one of our most popular tours ever since.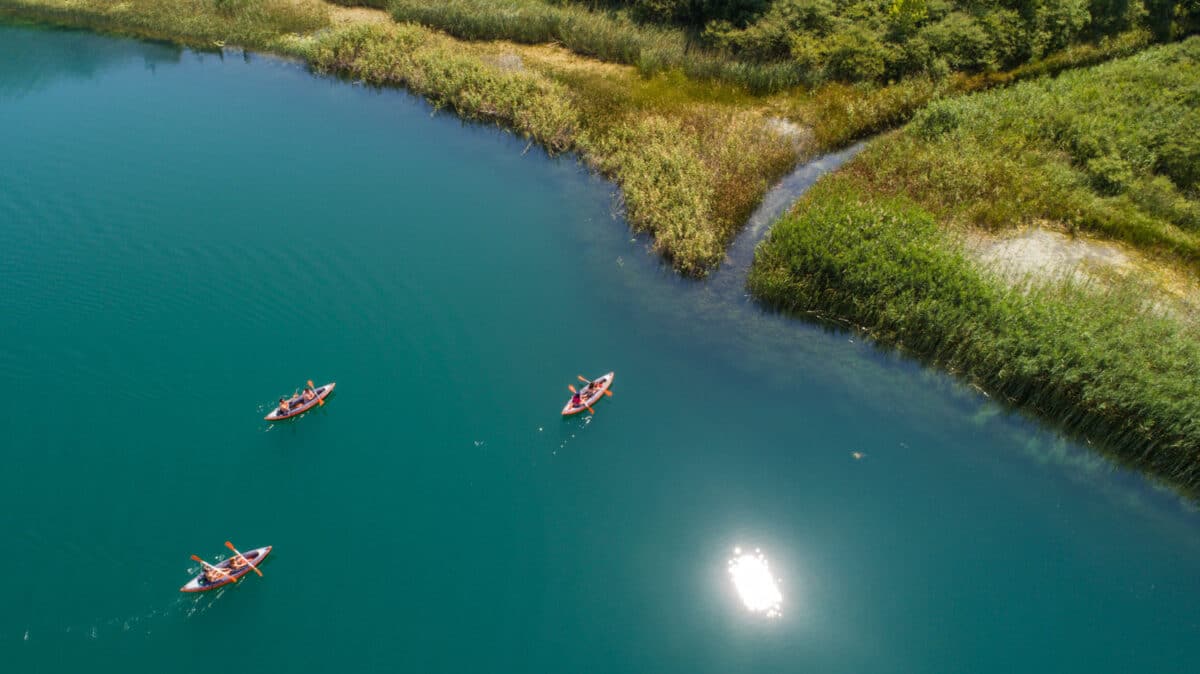 The other fantastic landscape near the city of Ploce is the Neretva river delta. It's a specific landscape made by the Neretva river and it's full of sandy beaches. The most popular place of Neretva delta is the Neretva river mouth. It's just 10 minutes away from the main road toward Dubrovnik and there is no reason for you not to visit it. It's also one of the most popular places for kiteboarding in Croatia. There are many more other places in Neretva valley that are worth visiting too.
After Neretva valley, you'll find yourself at the border crossing soon enough. After you cross the border, a Ston city is not so far away. It's the entrance to the Peljesac peninsula too. Ston city is famous for its old walls and saltworks. If you are to continue to explore Peljesac you have the option to reach some of the nearby islands – Korcula and Mljet primarily. And while in Ston we suggest you try the famous Ston oysters.
Trsteno Arboretum is not so far from Dubrovnik and it's full of different kinds of plants. It's definitely a place to visit and chill at for a while.
makarska riviera scenic route
We already mentioned Makarska Riviera and its blend of mountains and the sea. We believe this part is the most beautiful part of the whole Split to Dubrovnik journey. The view is beautiful all the way. Makarska Riviera is full of pebble beaches and it would be crazy not to stop at least once and take a swim in a crystal clear Adriatic sea. To pass through the whole Makarska Riviera you would need around 1 hour, but it could take your whole vacation to experience everything that Makarska Riviera has to offer. Makarska Riviera scenic route was proclaimed as one of the best road routes in Croatia.
Two of our kayaking tours are being organized in the Makarska Riviera landscape – Sunset sea kayaking tour and Night kayaking tour. If you want to spice up your Split to Dubrovnik journey with some scenic adventure, just let us know.
mljet national park
Mljet national park is the only national park in southern Croatia and it's located on Mljet island. To get to Mljet island, you need to take the ferry from Prapratno on the Peljesac peninsula. It's not a long nor expensive ferry ride. Not the whole Mljet island is the national park although the whole island is worth exploring.
The national park is situated in the northern part of the island. Since Mljet island is not so large, one day could be enough to explore both the island and the national park to some extent. Although, if you really want to experience this island to the fullest, we suggest you spend at least 2 days in the exploration.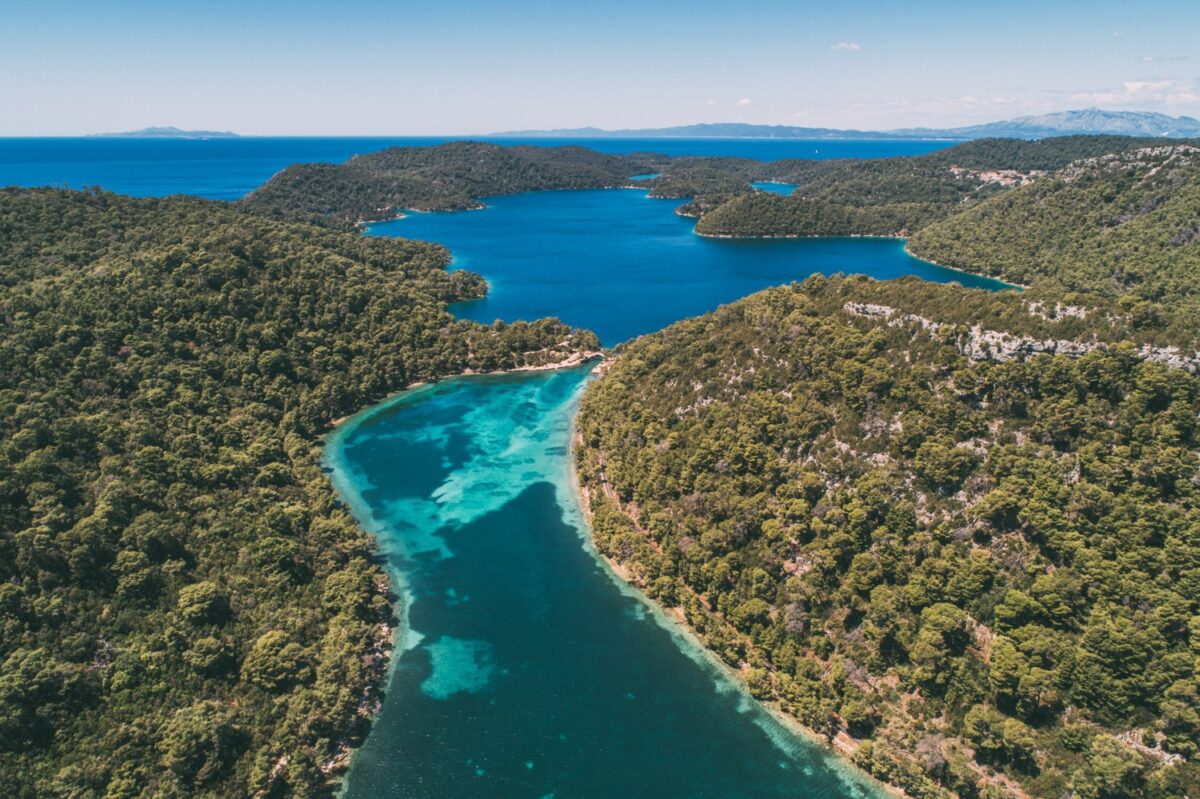 arriving in dubrovnik
Finally, you'll find yourself in Dubrovnik, the place you intended to go to. Dubrovnik is one of the most famous and most romantic of all the cities in Croatia. We believe you already know a lot about Dubrovnik. It was famous for a long time, and lately, it became even more famous because it was featured in the Game of Thrones TV show.
The old city core of Dubrovnik is still mostly preserved and surrounded by the large stone walls that were built many centuries ago. There are a lot of things to do in Dubrovnik. There are a lot of beautiful places that are outside of the city core too. But the old city core is the reason why so many people visit Dubrovnik.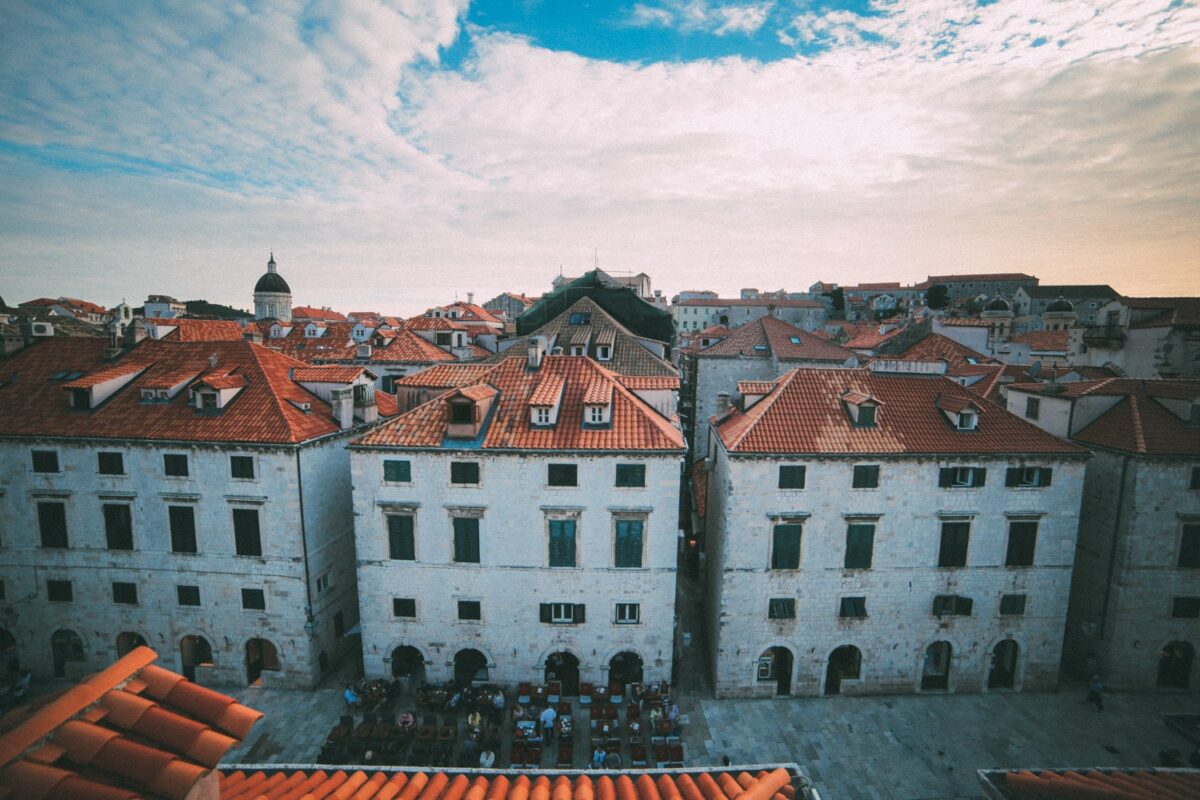 Sometimes it can get crowded in Dubrovnik and it's hard to find a parking space if you are coming by car. We suggest you try at one of the city garages.
And that would be it! Enjoy in Dubrovnik and let us know if you have any questions regarding the journey from Split to Dubrovnik.