Welcome to Baska Voda, yet another beautiful and popular place of Makarska Riviera. Baska Voda is not far away from the city of Makarska and it's near the border of Makarska Riviera and Omis Riviera. Just like neighboring Brela, it's a place chosen by many tourists for their holidays on Makarska Riviera.
When it comes to things to do in Baska Voda, there are plenty of options, most of them connected to outdoor activities. And that's great. We are outdoor enthusiasts and adventure guides and we would encourage you to spend at least one day in the exploration of the area you're staying at. You'll be surprised how much you can discover just by roaming around.
about baska voda
As we already said, Baska Voda is a municipality in Makarska Riviera which is, on the other hand, one of the most beloved landscapes of Croatia. Just like any other place on the Riviera, Baska Voda is a blend of the Biokovo mountain and the azure Adriatic Sea. That blend is especially visible in Baska Voda since some of the Biokovo highest cliffs are rising right above it. Some of the highest peaks of Biokovo mountain are located just above Baska Voda too.
Baska Voda in the past was a fishermen settlement, just like other places of the Riviera. Tourism was nonexistent at that time and people were living differently. Today, tourism is the main economic branch in the whole of Croatia, especially the Croatian coastline and islands.
Baska Voda municipality consists of other nearby villages: Bratus, Promajna, Krvavica, and Bast. Each of these villages has its own peculiarities and places worth seeing. Baska Voda today is a modern tourist center and it's the place with the most tourist visits of all the places of Makarska Riviera.
how to get there?
Coming to Baska Voda is easy and there are few transportation options at your disposal. If you are coming by car, the easiest and most convenient would be to use the A1 motorway that connects Dalmatia with inland Croatia. If you do so, you just take the Zagvozd exit, go through the Sv. Ilija (St. Elijah) tunnel and you are in Baska Voda in no time.
If you are not willing to use the motorway and want to enjoy slower driving through Croatia, then there are many regional road options you can use to come to Baska Voda.
Many tourists from more distant countries choose to visit Croatia by airplane. The closest airport to Baska Voda is the Split airport and you'll need an hour and a half of driving to reach Baska Voda. We suggest you rent a car if you are arriving by airplane because the car is the best way of exploring Croatia.
Many public bus lines are also available and these are pretty frequent during the summer season.
baska voda weather
Similar to other Mediterranean countries, the Croatian coast has a very warm climate. There are a lot of sunny days throughout the year. Summers are hot and dry and July and August are the hottest of all the other months. July and August are the months when Baska Voda is most visited too.
Preseason and postseason periods include the months of May, June, September, and October. The weather is still very pleasant during these months although it's not as hot as during the high season. The sea temperature is also good for swimming in these periods, although it's slightly colder in May and October.
If you want to visit Baska Voda just because of the sun and sea combination, then the summer is the best option for you. If you are interested in other outdoor activities, especially land ones, then preseason and postseason periods are a much better option.
introduction to things to do in baska voda
Speaking of things to do in Baska Voda all of the best ones are outdoor activities like kayaking and hiking. Since the whole area is a blend of the sea and the mountain, water sports and walking activities are prevailing.
Water sports are the best option for hot summer days since it's too hot to do any of the land activities like cycling or hiking. These could be done either early in the morning or later in the afternoon hours.
go on a baska voda kayaking tour
Kayaking is one of the best things to do in Baska Voda, no matter the season. Kayaking is the perfect way of exploring the coastline, and as you already know, the coastline of Makarska Riviera is stunning. There are many secluded beaches that you can discover only by kayaking. There are options to rent a kayak in Baska Voda. If you do so, we suggest you explore the part toward the Brela and further. You could kayak all the way to the Vruja part which is characterized by high cliffs that rise from the sea.
If you would like to have a guided tour, you still have few options for that. We organize our kayaking tours on Makarska Riviera not so far from Baska Voda. The coastline we cover in our kayaking tours is among some of the most beautiful parts of Makarska Riviera.
The first kayaking tour we organize is the sunset kayaking tour with a start on Vira beach near Drvenik. We then paddle in the sunset hours and pass through some of the most beautiful Makarska Riviera beaches. We also have a stop for snorkeling in a crystal clear Adriatic Sea. All the equipment for the tour is provided by us.
The second kayaking tour we organize is the Makarska Riviera night kayaking tour. We explore the same part of the coastline as in the sunset kayaking tour, but this time we do it during the night. What a unique experience that is. Just imagine kayaking under the Milky Way and all of its stars. Both of these kayaking tours are suitable for everyone and are easy and relaxed.
hike to sv. ilija peak
Sv. Ilija (St. Elijah) peak is the highest peak in the vicinity of Baska Voda and among the highest peaks of the Biokovo mountain. We don't recommend hiking to this 1642 meters high peak if you are not an experienced hiker. And even if you are, we don't recommend you do this hike in the summer months. It simply gets too hot and almost unbearable.
If you are visiting in less hot months, May for example, then hiking to this peak is among the most amazing things to do in Baska Voda. The view from the top is spectacular and you'll need around 4 hours to reach this peak of Biokovo mountain. Make sure you take a lot of water with yourself and be aware of your abilities and possibilities because Biokovo is one of the harshest mountains in Croatia.
If you still want to hike during the summer months, we suggest you visit the Biokovo nature park. The entrance to it is not so far away from Baska Voda and you can visit the park by car. The entrance to the park is 50 HRK per person (you don't need to pay for the car) and there are few short hikes you can do in the area.
cycle on gravel roads of baska voda area
There are many unpaved roads near Baska Voda. They usually go higher in the hills, right below the Biokovo mountain and you can have a perfect view while cycling up there. If you are starting from Baska Voda, expect a slight ascent in the beginning. If you are not an experienced bike rider, we suggest you rent an electric bike. These are perfect for exploration of the area and will take you a long way before the batteries get empty.
There are options to rent a bike in Baska Voda if you haven't brought yours. Cycling is one of the best land exploration options among things to do in Baska Voda.
book a baska voda boat tour to nearby islands
Some of the most famous Croatian islands are located just across Baska Voda. These are Hvar and Brac islands with Brac island being the closest one. Both of these islands are equally beautiful and easy to reach. There are many boat excursions from Baska Voda that will take you to some of the most popular places on these islands – Zlatni Rat beach for example.
Boat tours are available both from Makarska and Baska Voda. Choose the best one for you and enjoy your island adventure.
walk on a waterfront promenade
Waterfront promenades are a common thing for all the cities and villages along the coast and Baska Voda is no exception. These waterfront promenades are perfect for many activities – running, walking, cycling… If you are an active person, we suggest you do a morning run on these promenades and fill your day with energy.
These promenades connect all the places of Makarska Riviera and you can easily reach Makarska just by walking near the sea. Beautiful Brela is in another direction and you can reach them in just 10 minutes of walking by the sea. If you use bikes, then you can reach all these places even faster. You'll pass near many beaches along the way and who knows, you might find a perfect one for yourself.
Walking along these promenades is one of the most relaxing of things to do in Baska Voda.
exploring the rest of makarska riviera
Everybody knows about Makarska Riviera and how beautiful it is. Baska Voda is just a drop in the Makarska Riviera sea. Explore Baska Voda but don't hesitate to explore the other wonders of this part of southern Dalmatia. There are many activities you can do not so far away from Baska Voda.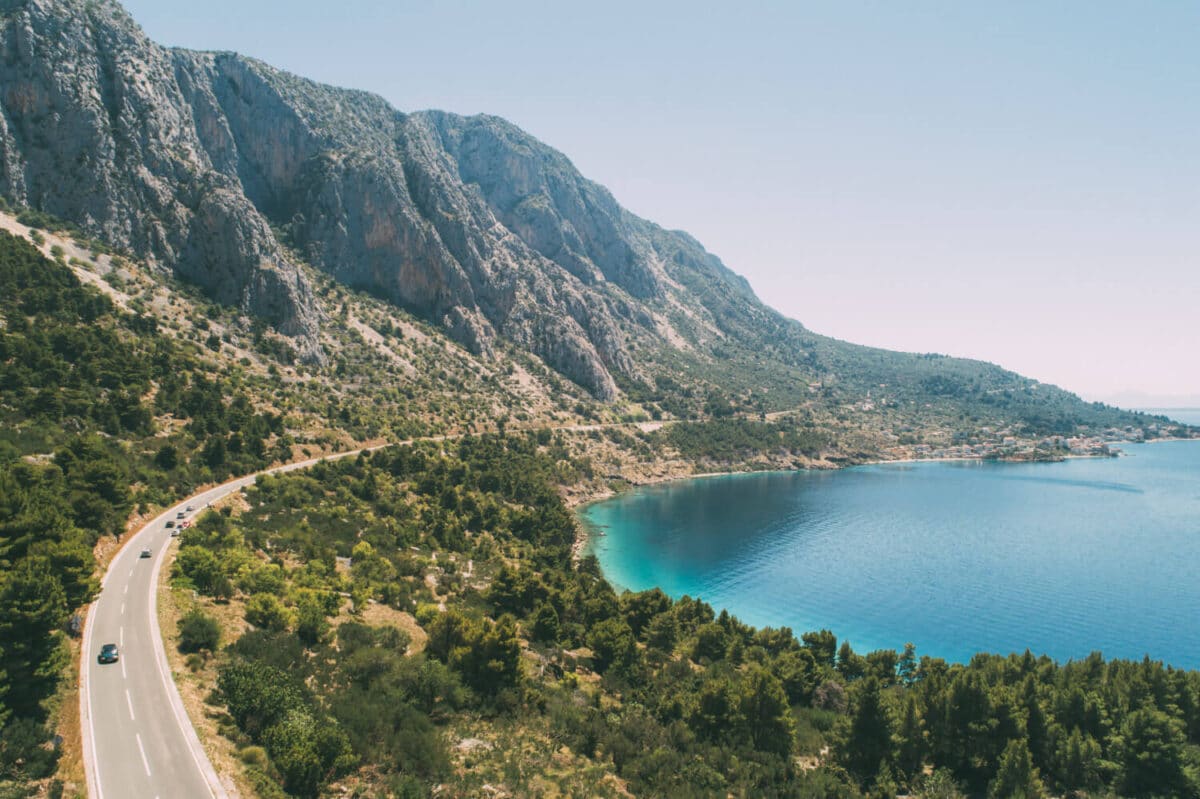 The best way of exploring Makarska Riviera is by car. It's easy, the roads are good and it won't take you long to go from one end of the Riviera to another. Makarska Riviera road has been proclaimed as one of the most scenic European routes so it would be a shame not to explore it.
Along the way, you'll pass near many beaches and other natural wonders. We suggest you take a day to explore everything. Use Google maps to find out the most hidden locations and trails. Each place of Makarska Riviera has a different past and story.
Outdoor sports are among the best activities you can do on Makarska Riviera.
what to visit in 1 hour of driving distance from baska voda
Although the Makarska Riviera might be enough for the whole duration of your holiday, there are some places on the boundaries of the Riviera that are worth exploring. Along with the things to do in Baska Voda, you can spice up your holiday and discover new places not so far away.
First of all, you have a whole Dalmatia hinterland part just behind the Biokovo mountain. And it's closest to Baska Voda because of Sv. Ilija tunnel through the Biokovo. You just need to pass through the tunnel and you'll be in completely another environment. Dalmatian hinterland is also perfect for many outdoor activities and there are many places to see there.
Just 30 minutes of driving away from Baska Voda, in the direction of the city of Split, lies the city of Omis. It's an old Croatian city and a place where the famous Cetina river meets the Adriatic Sea. The city is worth exploring since it has the old city core and many fortresses on the hills above it. Omis is also one of the most famous cities for rock climbing in Croatia. If you are an adventurous soul, we suggest you try the Via Ferrata trail in Omis. Cetina canyon is a marvel of nature and you must visit it when visiting Omis city.
If you are eager to go more south from Makarska Riviera, soon enough you'll reach the landscape of beautiful Bacina lakes – a group of 7 connected lakes that make one of the most unique landscapes in Croatia. It's one of the calmest and most serene places on the Adriatic coast. There are many tour options on Bacina lakes and we organize our Bacina lakes kayaking tour there. So far it's one of the most popular tours we offer and anyone who has kayaked in the Bacina lakes environment was simply stunned.
Not so far from the Bacina lakes, you have a chance to visit another unique landscape – the Neretva river delta. Both Bacina lakes and the Neretva river delta are situated not so far away from the city of Ploce in southern Croatia. Neretva river delta is a place made of sand and joy. It's one of the rare places with vast natural sandy beaches. It's a place you must visit if you are going toward Dubrovnik or staying near it. Lately, it's known as one of the most famous places for kiteboarding in Croatia. The whole Neretva valley is full of places to discover and enjoy.
Hope we helped you with this article and you have a clearer image of things to do in Baska Voda and places to visit near it. Enjoy your Makarska Riviera holiday!