Welcome to the youngest city in Croatia. We like to call Ploce 'The outdoor center of Croatia' because of all the outdoor potentials around it. If you choose Ploče to be your base for exploration of beautiful Dalmatia or just happen to find yourself in this small city just 50 kilometers south of Makarska here are our top things to do in Ploče.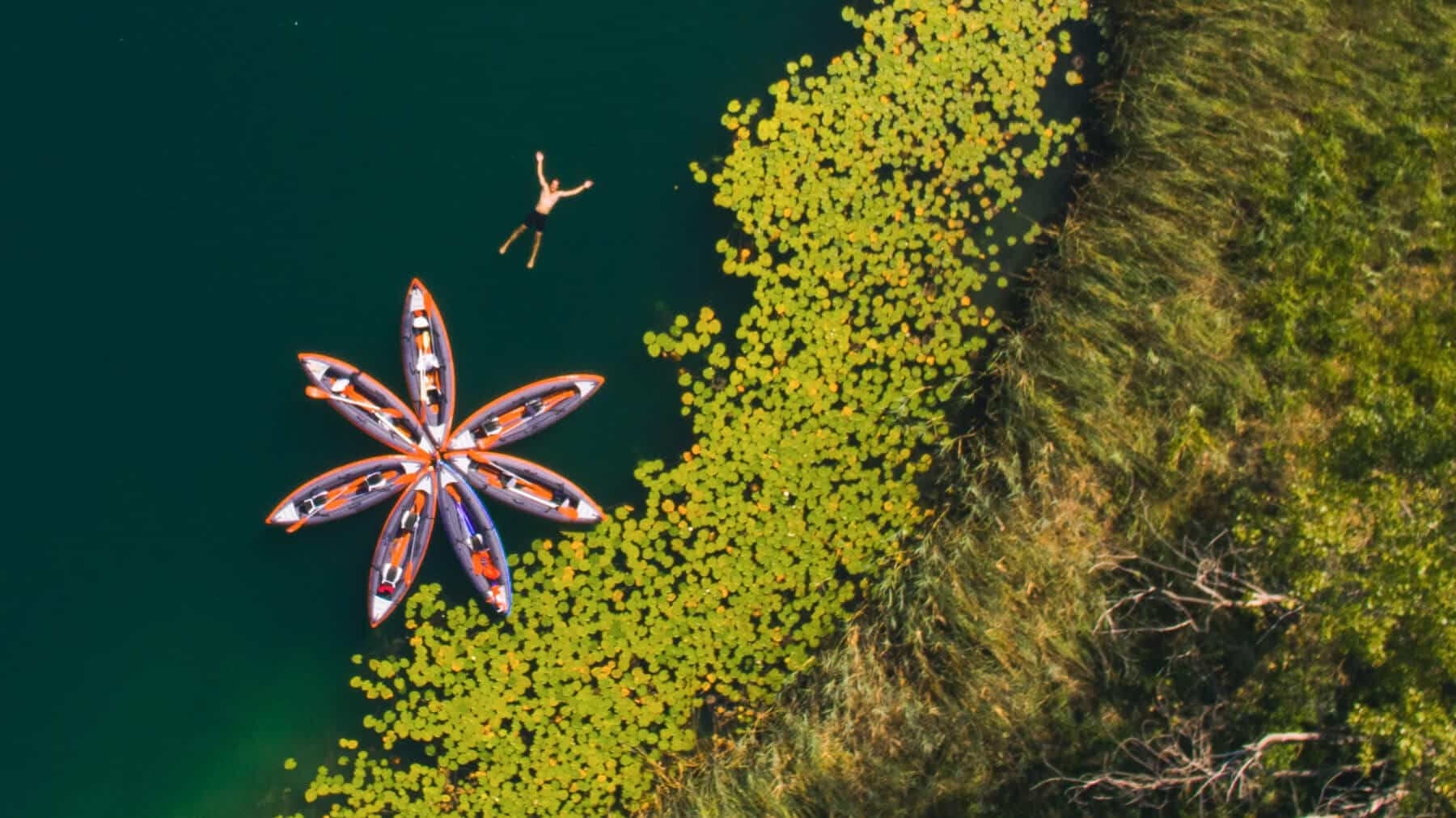 about ploce
First things first, let us tell you a bit about our city. We often call it the best place for adventure tourism in Croatia even though the city itself offers nothing adventurous. It's a small and young city, based on industry, the second largest seaport in Croatia, and everything that goes along with the port. Even though the city of Ploče has some peculiarities, like unique socialist architecture, you probably don't want to spend your vacation in the heat of asphalt. Being kind of outdoor bound persons ourselves, we'll write more about these outdoor wonders you might see around the city of Ploče and where the true adventure potential of this city lies. At least we believe so.
coming to ploce
The city of Ploce is situated in southern Croatia and it's one of the most infrastructurally developed cities in Croatia. It was never meant to be a tourist city and it was developing in other directions. The city of Ploce is a traffic center of the Croatian south and there are many ways to reach it.
The main Croatian motorway currently ends in Ploce and it's the most convenient way to reach this city if you are coming from countries not so far from Croatia. Practically, your whole trip through Croatia might be done by using this motorway. Still, consider local and regional roads too. These were once the main connection between Croatian north and south and are much more scenic route than the motorway.
The city of Ploce is located right in the middle of the larger cities of Split and Dubrovnik, with the distance to each of these approximately 100 kilometers. Both of these cities have airports near them so if you are coming to Croatia by an airplane, both of these airports would be the best options. You would need around 2 hours of driving to reach Ploce from them.
Once, the Ploce was a very important railway center with the railroad lines going to Bosnia and Herzegovina and other countries of former Yugoslavia and the rest of Eastern Europe. Unfortunately, passenger railway traffic is no more existent.
introduction to things to do in ploce
We already mentioned that the city of Ploce is mostly an industrial city. Still, there are plenty of beautiful natural wonders around it and a lot of things to do in Ploce. There are some cool places to explore even within the city.
However, we believe that the true beauty and tourist potential of Ploce lies just a few kilometers away from it, in the mesmerizing nature around this southern Croatian city. Let us take you there and show you the best things to do in Ploce.
go kayaking or stand up paddling on bacina lakes
Baćina lakes are a lake group consisting of 7 lakes, situated just a few kilometers away from the city of Ploče. Six of those seven are connected and you can easily go from one lake to another. There are a few ways you could spend your time on Baćina lakes and explore this unique landmark. We organize a Bacina lakes kayaking tour here and you can join us any day during the summer season.
If you are more into Stand up paddling, our friend organizes that kind of tour and he'll gladly take you on a tour around. If you came just to enjoy and don't want to do any kind of physical activity you can still go on a tour of lakes by a traditional boat.
Two companies are doing these kinds of tours on Baćina lakes and it will take you around 1 hour to pass all the lakes this way. And finally, if you want to stay away from the water, the cycling/walking trail goes all around the lakes so there's that option as well.
Baćina lakes are a nice place to see and feel. Just being in the nature of the lakes is one of the most calming things to do in Ploce. It's one of the rare places where you can be alone even during the high season in Croatia. We always mention this and all of our guests are always amazed at how there are not so many tourists around. There's not and that's a good thing. It might change in the future but we hope Baćina lakes won't become classical tourist places like so many others in Croatia.
try kite surfing in neretva delta
Kite surfing (or kiteboarding) has become one of the most popular outdoor activities lately. One of the most popular places for this activity happens to be the Neretva river mouth, just 15 minutes away from the city of Ploče. But don't expect just to show up there, rent equipment and start to kite immediately.
As far as we know (we still haven't tried kitesurfing) it's an activity for which you'll need to pass a basic course to start with your kite adventure. There are few schools in the vicinity and the basic course lasts for a few days. You can find more details on the website of Kiteboarding – Komin. Kiteboarding might be one of the most adventurous things to do in Ploce.
If you don't have 3 days or just don't want to do this activity, Neretva still has other options to offer. You can walk around on sandbars stretching for hundreds of meters into the sea. Most of the sand that the Neretva river brings during its journey is accumulated here. Overall, it's a sandy place with a lot of shallow water and warm sea on one side compared to the cold river on the other one.
Apart from the Neretva river mouth, you might want to explore the rest of the valley as well. The bike would be a good choice for exploration since it will take you anywhere, it's eco-friendly and low cost. Some of the places we recommend visiting are the Norin river and Kuti lake. On both of these sites, there is an option to do a traditional boat safari tour. We organize a kayaking tour on Norin river in a case you want to explore this jungle-like part of Neretva with us.
Neretva river is full of different bird species and if you are into bird-watching, you can spend some time at the newly built bird observation point.
explore the military past of ploce area
There are many war relics scattered around the Ploče area. We have written a bit about it in our Military tourism in Ploče area post so you can find some detailed information there. Ploče is and has been a good strategic point forever. And wherever you have a strategic point you have an army as well. During WW2 there were many German and Italian forces in this area, fighting with local partisan squads. After the war has passed, many military structures are left standing until these days. There are many bunkers on local hill peaks, one on almost every peak.
Then there are some underground tunnels which are pretty cool to visit. Many of these bunkers are situated on a hill called Striževo and there is a trail that goes to every one of these bunkers. Be advised, some of these abandoned structures are not easy to reach and in a not so good condition. In case you are interested in this kind of tourist offer, contact us and we'll gladly give you some tips on what to visit.
go cycling and wine tasting in jezero valley
Some things in this world just go hand in hand. Cycling and wine are two of these things. Jezero valley offers both of them. Fun fact about Jezero valley – it has been a lake for a long time. Jezero means lake in Croatian. Until one guy went to a king a century ago and told him he wants a tunnel built to take away water so people can cultivate the soil and grow fruits and vegetables. So they made that tunnel that takes away all the water that river Matica (flowing through Jezero valley) brings. If you ever come to our kayaking tour, we'll show you the tunnel because it's at the starting point of the tour.
Back to the Jezero valley. Today, it's the largest vineyard in Croatia. There are numerous unpaved roads through it, making a real labyrinth perfect for cycling. In the past few years, locals realized that places like Jezero valley have touristic potential as well and few family wineries were opened. You can visit them anytime during the season and try some of the best local wines and other domestic products. We organize a cycling tour in Jezero valley, check it out.
find a secluded beach on makarska riviera and chill all-day
You came on vacation, remember. After all these activities you deserve a rest. Makarska Riviera starts near Gradac, a small touristic place 10 kilometers away from Ploče and stretches to Brela. It's full of beautiful beaches. Most of them are part of tourist places, but many of them are not. Try to find some of these beaches, they are a bit harder to reach but it's worth it.
There won't be many people around, you can swim naked, enjoy yourself in silence… We suggest some beaches on a stretch of coast that starts near Drvenik. One way to find these beaches is through Google maps since most of them are marked but there are few of them small enough not to be listed or even seen on Google maps.
If you are into adventure tours, there are few options on Makarska Riviera too. We organize 2 of our kayaking tours there. The first one is the sunset sea kayaking in which we kayak along some of the most beautiful parts of Makarska Riviera. The second one is one of our most unique tours, Makarska Riviera night kayaking, which explores the same stretch of the coastline but this time during the night time which makes this whole kayaking tour one of the most unique experiences out there.
And you reached the end of this post. Thanks for being with us. If you are staying (or have stayed) in the Ploče area, we hope you are having a great time. In case we can be of some assistance, just let us know. We're locals so we know a few extra things. At first, Ploce might seem like a boring small city you just want to run away from. The truth is, it's a city struggling to find its place in this world of mass tourism and that place might just be different from sea & beach tourism and somewhere more in the domain of other less mass but cooler touristic offers.
Enjoy in your vacation and all the things to do in Ploce!