Adventure guide job has been our main summer job for 5 years now. There is probably much to learn and a long journey ahead of us, but now we know what an adventure guide job looks like. We know both its good and bad sides, we know all the things you need to learn to be an adventure guide and all the things you need to have as a part of your character to be a successful one.
This article might give you answers to questions you have regarding the adventure tours guide job. You might find out if that is your dream job or is it better you skip it and search for it in some other fields.
our beginnings
We started with our adventure tours in Croatia 5 years ago, almost immediately after we ended our faculty education and living in Zagreb, the capital of Croatia. We were always outdoor kind of persons, we loved to spend every free moment immersed in some kind of outdoor activity, mostly hiking at the beginning.
In the final years of my university studies, I was looking for a summer job and couldn't find the one that will inspire me. I almost stopped searching when I stumbled upon an ad by one of the largest adventure travel agencies in Croatia. Somehow I knew that I'm going to spend that summer growing my beard and being an adventure guide in Croatia.
And that's how it was. It was one of the most valuable experiences in my life and it gave me some directions for life that was ahead of me. I spent almost 4 months as an adventure guide on Zrmanja and Mreznica rivers as well as a few other places. Our Zrmanja base was far from civilization, we were in the middle of nature and that alone is the experience to remember for my whole life. Try going in nature for a few days with no connection to the world around you, no media, nothing. You'll see the difference in just a few days.
And after that season I knew that I want to spend my summers like that. I knew that the adventure guide job was a perfect job for me. And that's how Life and Ventures started.
adventure tour guide course
You can't apply to be an adventure guide without any experience. You can, but you'll need to go through the intense course that will show you how your job will look like. You need to know that you can face some potentially dangerous situations while guiding the adventure tours. Adventure means potential problems but also a fulfilling experience. Your job as an adventure guide is to make sure that the adventures you guide be more of a fulfilling experience.
The adventure guide course I went through was organized by the company I was supposed to work at and it lasted for 3 months. We spent many weekends in nature, working on real scenarios we might face in our adventure guiding career. These were intense 3 months and I have learned a lot. And I mean a lot. We were instructed by senior adventure guides and they have been through a lot and could pass us the knowledge we needed to become an adventure guide.
adventure tour guide salary
You are probably asking yourself how much an adventure guide job is paid. You can love nature and people as much as you want but it's the money that buys your new kayak. The answer to this question depends on many variables such as the country where you are doing your adventure guide job, the type of adventure tours you're guiding, and so on.
One thing you must know when it comes to money you'll make by adventure guiding is that your salary will be lower if you are a novice. Senior guides have higher salaries. When it comes to Croatia, I was earning around 30 Euros per day as a novice guide. I'll leave the conclusions about whether this is low or high to you. In some countries, even 30 Euros per day is considered to be a high salary.
Your salary will reflect the type of tours you're doing too. If you are guiding some unique and expensive adventure tours, expect a higher salary too.
croatia guided adventure tours
When it comes to Croatia, there are many options and adventure tours available. Since Croatia is a country with rich natural resources, it attracts many people who are visiting a particular country mainly because of its nature. And that's where the adventure tour guides step in. You need to have an adventure guide to safely take you through dangerous places.
Croatia has many water bodies, it has a beautiful sea, many lakes, and rivers. Because of all that, water sports and adventure activities are prevalent. When I was taking an adventure guide course, we were preparing for rafting and kayaking tours. In fact, kayaking is one of the best adventure activities you can do in Croatia and most of Life and Ventures tours are kayaking ones.
Apart from kayaking, there are other adventure tours in Croatia – zip lines, hiking tours, rock climbing, and the list goes on.
a day in a life of adventure guide
Apart from the adventure guide job salary question, you might want to know how your life as an adventure guide will look like. If you thought that your job is only the adventure guiding, you're wrong. In fact, adventure guiding is the best part of your day, but many hours will be spent preparing the equipment and welcoming and communicating with your guests.
And this is the same for every adventure agency in the world. Don't just expect to show up and guide your tour and that's it. You'll have a lot more work do to. You're the one responsible for all the equipment and being with the guests before and after the tour.
To conclude, you can expect your working hours to be up to 12 hours per day. This might be a deal-breaker for you, but for me, it was an experience much needed.
is the adventure guide job the best one you can have?
Depending on the type of person you are. If you ask us, we enjoy our adventure guiding part of the job the most. We do some other things too, we're into the photography business, doing the adventure weddings in Croatia and so on. Wherever there is an adventure involved, we like it.
Adventure guiding can be stressful too. You're working with people and you are the one in charge of their safety. You are their best friend, father, and mother during the tour and your job is to ensure they have the best experience possible. And that can be stressful. It's not always easy to work with people. You need to be a psychologist too and see when somebody is not having a good time and act accordingly.
Adventure guiding is the job but it's also a craft and art. And our answer would be, yes, adventure guide job could be the best job out there.
things you need to know
There are some things you need to know or possess if you are interested in an adventure guide job. First of all, you need to like nature and be the type of person who would like this job. It will easily show up if you are accepted to be an adventure guide even if you are not into it or maybe even don't like to spend your time outdoors.
Secondly, you need to be good with people. Some of them could be tough and you need to handle situations like a pro. It's something that can be learned but it's much better if you have it naturally.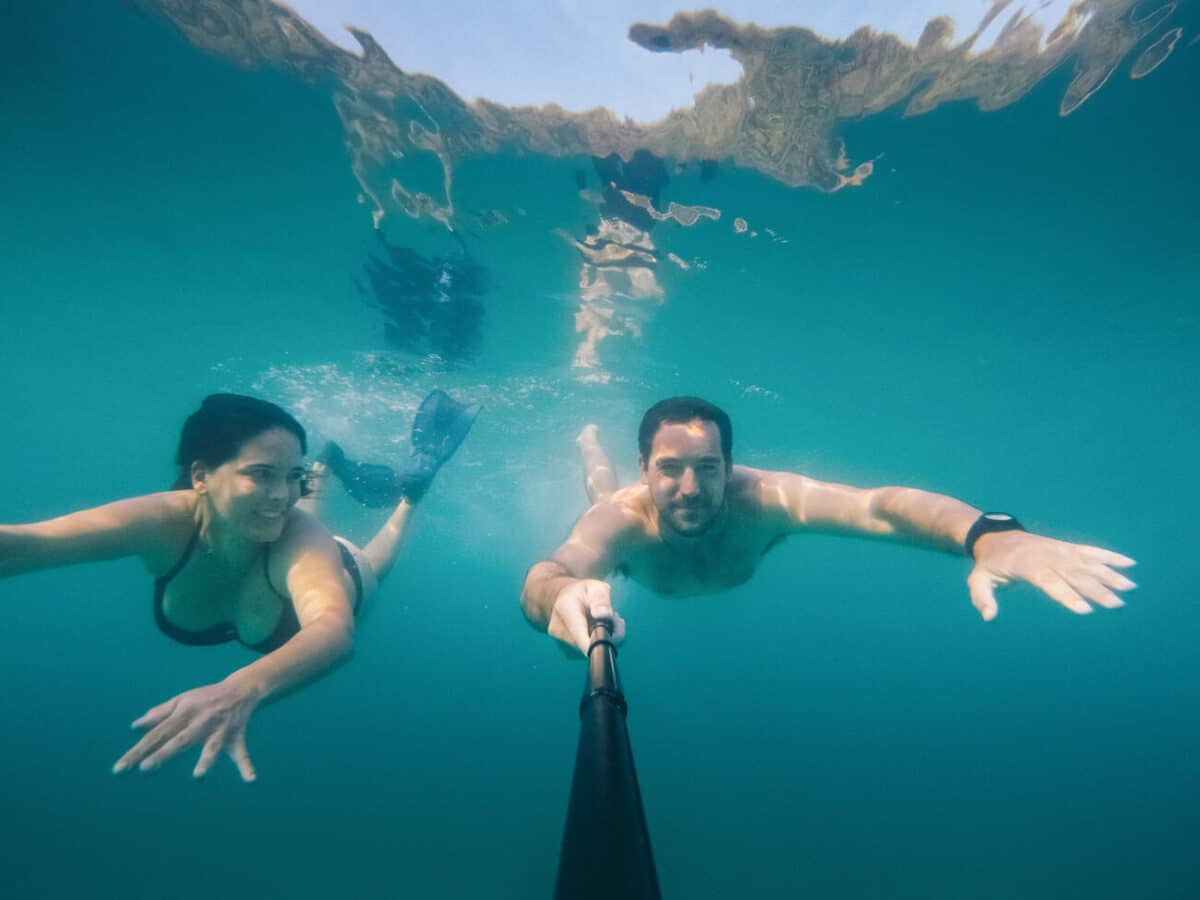 It would be good to apply to be an adventure guide for the activity you have already tried and have some experience with. In my case, I was training kayaking for some time before applying to be a kayak guide on the Zrmanja river. It's a big plus if you have previous experience.
It would be good to have a valid First Aid course. That's a must for and adventure guide out there. Imagine an accident happens and you don't know what to do. That's the worst thing that can happen to an adventure guide.
You must be in good shape and able to withstand prologued physical efforts. You must always be the most physically prepared one in the group.
working for an adventure travel agency or starting an agency of your own?
This is an easy one and our answer would be starting an agency of your own. It's a straight answer and we don't have any doubts about it. But we still suggest you spend a season or two working as an adventure guide in an agency that has a good reputation and has been in this business for a long time. That way you'll be able to learn from some of the best adventure guides there are and starting your own agency will be much easier.
Of course, there are some other things to think about when starting up your own business. It's not always easy and many other expenses are going along with it. When you have your own adventure guiding business you need to have an insurance policy for all of your guests, you need to buy all the necessary equipment and many other costs go hand in hand with opening an adventure agency.
You need to be aware of that. But every journey starts with a first step, so does the adventure guide job. The first steps are usually the most important ones so don't rush and make sure you're making the right decisions. Always think about something before you start if in real life.
And one final thing, if you're running your adventure agency, your job doesn't end with the season. You work for the whole year. Designing new adventure tours, working on your marketing strategies, managing social network accounts. The adventure guide job will take you some of your time but will also take you to the best places there are.
We just told you our story, the way how we choose things to develop. Your story might be different. In any case, we wish you all the luck of this world and we wish that the adventure guide job becomes your dream job that will bring you pleasure for the years to come.
P.S. Your first season won't be as you expect it. Prepare for it and don't quit just yet. Better days will come.