Zagorje is the northernmost part of Croatia. It's a land of hills, medieval castles and it's a place where the remnants of Neanderthals were found. Word Zagorje literally means "beyond mountain". It's an unique region of Croatia and a great place to visit and explore. It's picturesque green hills and intact nature will leave you breathless, its healing thermal waters will rejuvenate your body and its castles and legends will take you to some distant times. Enjoy in this virtual tour through Zagorje.
We started our trip from Zagreb in the early morning hours and we planned to end it in Varaždin, largest city of Zagorje. In between these two cities we visited some of the most interesting places in the region and first of them was City of the Labyrinths in Donja Stubica. It is a place of 9 labyrinths formed by rock boulders and with every labyrinth having its name and purpose. It is believed that walking the paths of labyrinths will awake ones energy centers and will remove negative energy accumulated in our bodies and minds. We were already happy, euphoric and excited about the trip so walking had no effect on us.
An hour of driving from the labyrinths city of Krapina is situated. It's a place where Dragutin Gorjanović Kramberger found remnants of Neanderthals in a nearby cave. Bones of the approximately 70 persons were found and some cuts in them made the scientists to believe that Neanderthals were cannibals. They were also much more smarter and advanced than we believe. The age of the remnants is 130 000 years. We visited thematic museum of evolution. Amazing place which tells the story about the beginnings of mankind and evolution and do it in a such interactive and great visual ways that we were astonished.
After the trip through the time in the museum of evolution it was time for some castles. Next two destinations were Veliki Tabor castle and Trakošćan castle, the largest and most beautiful castles in Zagorje which is also the only region of Croatia to have more traditional castles rather than other kinds of fortifications. First castle on our way was Veliki Tabor. It's a castle and a museum dating from 12th century but the present appearance dates back to 16th century. Today the castle hosts international festival of short films and it's a place where some of the old battles are recreated in skirmishes by modern medieval organizations and clubs.
We had one more round of driving through the beautiful winter landscape of norther Croatia. Surrounded by hills covered in snow we were heading to another castle, one much more famous – Trakošćan castle. This one dates back to the 13th century and it's also a museum full of medieval weapons, torture devices, furniture and so on. We were lucky this time as we had a special tour through the castle and we visited places and rooms otherwise closed. In front of the castle there is a lake which was frozen and ice was thick enough to walk on. When it's not frozen there is a possibility to rent a small boat and enjoy in romantic scenery.
In the final hours of daylight we have headed toward our last destination – city of Varaždin. It's the largest city in northern Croatia, famous for its baroque architecture and the old city core. One of the most popular places is city's cemetery which dates back to 18th century and it's one of the most beautiful cemeteries in Europe. It is a blend of nature park and cemetery and it's a really good place to walk around. Largest festival to be organized in northern Croatia is Špancirfest that takes place in Varaždin. It's a street festival that lasts for 10 days and more than 100 000 tourists visit it each year.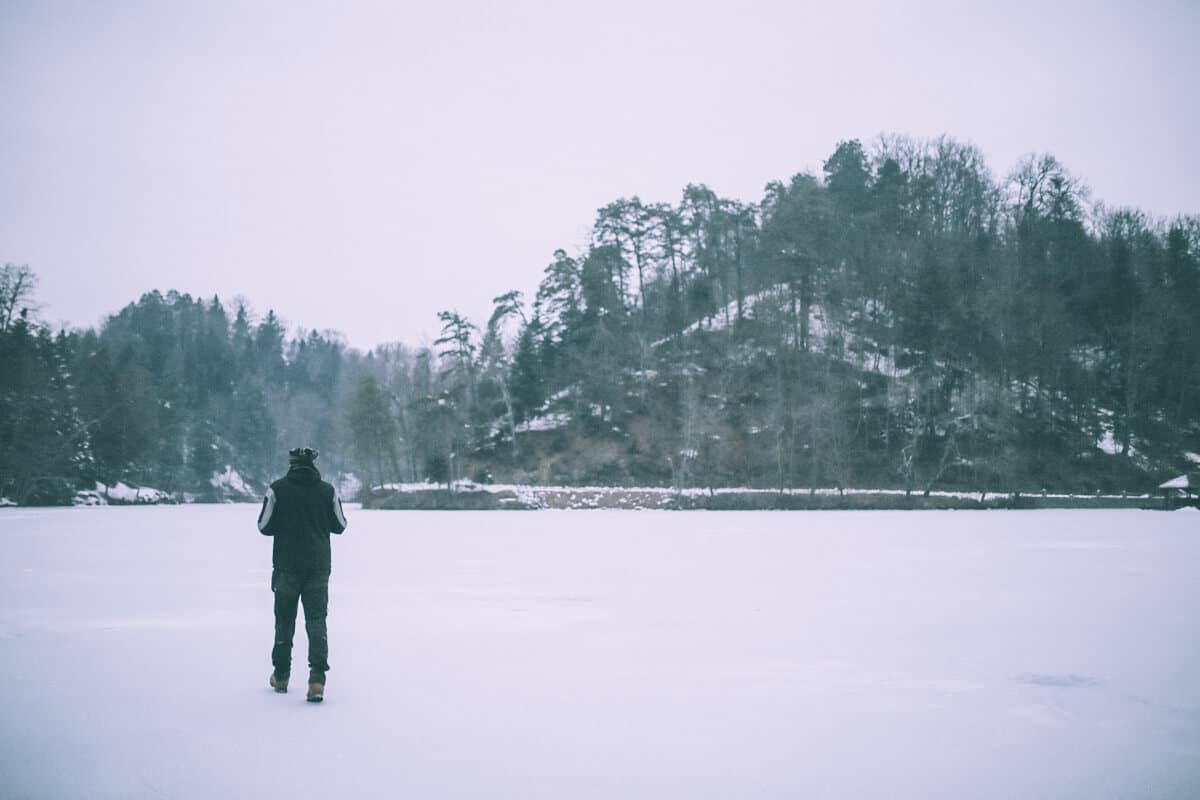 And finally, we ended our trip in local restaurant, trying some of the Zagorje gastronomical specialities, strukli among them.To conclude, Zagorje is a great place to explore and experience. Being the northernmost part of Croatia it's on the route for all those coming from Western Europe. It's a unique region with all its beauties and cultural heritage. Pack your backpacks and go explore it.