Tucepi is yet another famous place on Makarska Riviera. They just might be the second most famous one, right after the city of Makarska. But to enjoy your holiday here, you want to stay active and know the best things to do in Tucepi. Because holidays are boring if you spend them just on the Tucepi beach. They are made for explorations and enjoyment.
There are many things to do near Tucepi too. Some of the best things out there are sometimes just around the corner, and by this, we mean that you should drive for 30 minutes or so to discover some of the most famous places in southern Croatia.
about tucepi
Tucepi is a small tourist place on Makarska Riviera and they are closest to the city of Makarska, the largest city in this part of the coastline. Just like any other place on the Riviera, Tucepi is the perfect blend of the Adriatic sea and Biokovo mountain rising above it. It's the mountain that gives that special charm to the whole of Makarska Riviera.
The first inhabitants of the Tucepi area were Illyrian tribes who came here some 4 thousand years ago. Like in the most of nearby places, people were living in upper villages for a long time. If you are in Tucepi, you can easily see the old village high in the hills. When tourism became a real thing in Croatia, people slowly started to move near the sea and build their houses there. But old villages are not dead, there is always something going on up there, there are many nice restaurants and events happening during the summer.
Tucepi today is the tourist center of Makarska Riviera. Tucepi beach is among the longest ones in the vicinity and the place is craving with tourists every summer. When it comes to things to do in Tucepi, we believe that outdoor activities are the best way to experience the true Dalmatia.
arriving at tucepi
Arriving at Tucepi is easy and you have many transport options at your disposal. Many people choose to visit Tucepi by their car. Especially those coming from countries that border with Croatia. The fastest and most convenient way to reach Tucepi by car is to use the main Croatian motorway. It's a modern motorway and you should take the Zagvozd exit to reach Makarska Riviera. After the exit, you need about 15 more minutes of driving to come to Tucepi.
On the other hand, if you are not in the hurry, you can use the regional roads. These are usually much more scenic routes and make a much more pleasant driving experience. They often pass near popular national parks and other marvels of nature you might want to visit on your way to Tucepi.
If you are coming from countries that are far away from Croatia then flying is your best option. Split airport is the closest one to Tucepi and there are many lines connecting this airport with many others out there. Once you land in Split, we suggest you rent a car to have the best exploration experience and possibilities. You'll need around an hour and a half to reach Tucepi from the Split airport.
Public transport is another option. And by public transportation we mean buses. They are rather cheap and there are frequent lines that connect the city of Split with Tucepi and the rest of Makarska Riviera.
what the weather is like
It's nice and pleasant. Summers are hot and dry. Spring and autumn are just perfect. Most people visit Tucepi in the summer and that's when this place is full of people. Tucepi beach is full of swimmers and many people are roaming around. The sea is warmest in this period. The months of July and August are the hottest and that's the high season in the whole of Croatia.
More and more people choose to visit Croatia in preseason and postseason periods. The weather in these periods is still very nice. We are talking about April, May, June, September, and October here. Months closer to the summer months are the warmest ones. The sea is still fine for swimming, especially in June and September. If you ask us what's the best month to visit Croatia, we would say it's September. Most of the people went to their homes and sea and air temperatures are just perfect.
introduction to things to do in tucepi
We finally reach the topic of this article – the best things to do in Tucepi. Since we are outdoor enthusiasts who run the adventure tours on Makarska Riviera, we're going to focus on the outdoor experiences you can pursue in Tucepi and near it.
There are many things to do near Tucepi too. You don't need to go far away to find yourself in a completely different landscape – for example, beautiful Bacina lakes are just 40 minutes of driving away from Tucepi but they are something completely different than anything you'll see on Makarska riviera. We would say it's worth a drive.
explore the biokovo nature park
We already mentioned the mighty Biokovo mountain that rises above Tucepi and the whole Makarska Riviera. Well, part of this mountain is a nature park which means that it's a protected area full of different plant and animal species. The entrance to Biokovo nature park is located just above Tucepi. The entrance fee is 50 HRK for an adult person.
There is a narrow road going through the park area and you can visit Biokovo nature park by car. You don't need to pay extra if you choose to do it this way, you pay only for the ticket for yourself and the persons with you. Be advised that the road through Biokovo nature park is pretty narrow and you need some driving skills to safely drive through the park. If you are ok with this, then exploring Biokovo nature park will be among your best things to do in Tucepi. We wrote an article about a visit to Biokovo nature park so make sure you read it and find out the best information for the visit.
Once you are in the park, we suggest you visit a famous new attraction called Biokovo skywalk. It's visible from Tucepi too. It's possible to reach the highest peak Sv. Jure by a car. Vosac peak is another Biokovo peak with the best view of Makarska Riviera and nearby islands. To reach Vosac peak, you'll need to hike for about 30 minutes from a parking lot.
go on kayaking tours near tucepi
Kayaking is among the most serene and relaxing things to do in Tucepi. It's also the best way of exploration of the beautiful coastline that can be found near Tucepi. You can either rent a kayak or go on a guided kayaking tour. It's up to you. One of the best places to reach with a kayak from Tucepi is the famous Nugal beach. This beach has been proclaimed as one of the most beautiful beaches in Croatia.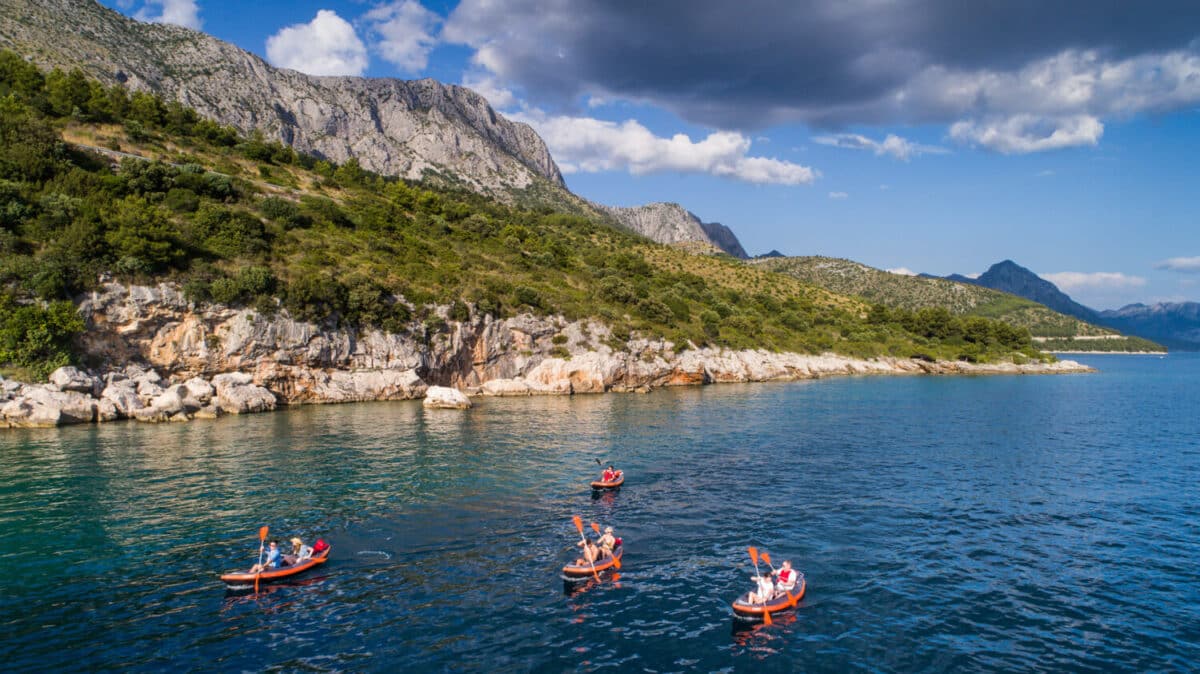 We organize 2 kayaking tours near Tucepi. The first one is the sunset sea kayaking. This kayaking tour explores some of the most stunning parts of Makarska Riviera between Vira beach near Drvenik and Zivogosce Mala Duba. This part is characterized by secluded beaches and other interesting features such as sea caves and so on.
The second kayaking tour we organize near Tucepi is one of the most unique outdoor tours you can experience in Dalmatia – a night kayaking tour. This tour is perfect if you want to experience something completely different. In this kayaking tour, we paddle under the stars and a calm night mood makes this experience feel almost like meditation.
try the zipline
If you are an adrenaline seeker, this is the best of the things to do in Tucepi for you. Zipline is situated just above Tucepi and it's run by Tip Extreme adventure agency. The price of Tucepi zipline is 300 HRK for adults and children between 5 and 12 years pay half of the price. Children under the age of 5 are not allowed to descend down the zipline.
This zipline consists of 6 steel cables with a total length of 1000 meters.
go cycling or running near the sea
Cycling is another of the great things to do in Tucepi. It's the best way of exploration and you can easily cover great distances by bike. There is a long waterfront promenade going through the whole of Tucepi and connecting it with nearby villages of Makarska Riviera.
If you are fond of more adventurous types of cycling, you can explore the upper villages of the Tucepi area. Many trails leading to these scattered villages are not paved and riding on them makes a real adventure cycling experience. If you need to rent a bike for your adventures, let us know.
bonus for couples – tucepi couple photo session
We have been getting a lot of inquiries regarding the couples photo session in the Tucepi area. We are also the elopement photographers and you can check more of our work in this field on our Love and Ventures website.
The couples photo session is a great way to make great memories of your vacation in a form of an image. We are specialized in outdoor photography and Makarska Riviera makes a perfect backdrop for any kind of couples photo shooting. There are many great places near the sea and up in the mountains. Let us know if you are interested or want to surprise your partner.
things to do near tucepi
After we have found out the best things to do in Tucepi, let's discuss things to do near Tucepi too. There are many great places to explore and discover and these are not so far away. The whole of Makarska Riviera is worth exploring and there are many things to see.
But let's move just a little bit further to the south. The first landscape you'll stumble upon when you exit through the southern boundary of Makarska Riviera is the stunning landscape of 7 Bacina lakes. It's a lake group consisting of connected lakes and these are among the most unique lake formations in Croatia. Bacina lakes are a true place of peace and serenity, even in the crowded months of July and August. We organize our Bacina lakes kayaking tour there and it has been one of our most popular kayaking tours ever since.
Not so far away from Bacina lakes, another famous landscape lies, that of Neretva river valley. It's a place made by the Neretva river and it's full of different kinds of adventures and places to see. The most famous place of the Neretva river delta is the river mouth which has been recognized as one of the most popular places for kiteboarding in Croatia. Neretva river mouth is also full of sandy beaches that are not so common in Croatia. Both Bacina lakes and Neretva river valley are close to the city of Ploce and we suggest you visit both since they are significantly different landscapes.
On the other side, if you go from Tucepi toward Makarska and further, you'll find yourself in the city of Omis after about 30 minutes of driving. It's the old historic city and there are many adventure options there too. Cetina river canyon is one of the most recognizable features of Omis city and Cetina river rafting is among the best things to do in Omis. The whole city is surrounded by high cliffs so it's perfect for rock climbing too. If you want to try something in between rock climbing and regular hiking, we suggest you try the Omis Via Ferrata trail.
tucepi beach
Just like any other of the Makarska Riviera beaches, Tucepi beach is a pebbly beach with rather small pebbles that are easy to walk on. Tucepi beach stretches through the whole place and the Adriatic sea here is crystal clear and perfect for swimming. There are many other smaller beaches that you can find in the Tucepi area. Dracevac beach is a nice beach on the edge of the Tucepi.
Tucepi beach gets pretty crowded during the high season, so if you are not fond of the crowds, we suggest you find yourself a nice place on one of the smaller beaches in the area.